Kari Lake Defends Sitting During Super Bowl Black National Anthem
Kari Lake, the former Arizona gubernatorial Republican candidate recently defended her own decision to sit during the Black National Anthem, which was played during this year's Super Bowl LVII.
"I'm against a 'Black national anthem' for the same reason I am against a 'white national anthem,' a 'gay national anthem,' a 'straight national anthem,' a 'Jewish national anthem, a 'Christian national anthem,' and so on," Lake said during an interview with the Washington Examiner this week.
The comments by Lake come just a few days after she was seen sitting during the Super Bowl's playing of the Black National Anthem. The official name of the song is Lift Every Voice and Sing, and it was performed by Sheryl Lee Ralph ahead of the game between the Kansas City Chiefs and the Philadelphia Eagles.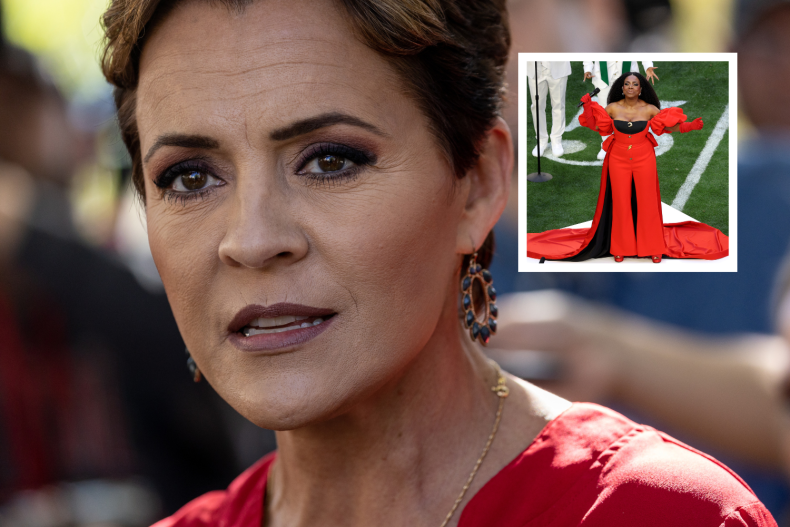 "The @NFL played two different 'National Anthems' tonight. Someone just sent me a photo of @KariLake sitting during the first one," conservative commentator Benny Johnson wrote in a tweet, sharing a photo of Lake sitting during the Black National Anthem.
The Kari Lake War Room Twitter account posted a tweet with a similar response to Lake's comments made to the Washington Examiner.
"Our girl is against the idea of a 'black National Anthem' for the same reason she's against a 'white National Anthem,' the tweet said. "She subscribes to the idea of 'one Nation, under God' @KatieHobbs is against it because she just simply hates black people."
In her interview with the Washington Examiner, Lake said, "We are one nation, under God...Francis Scott Key's words ring true for every single American citizen regardless of their skin color. James Weldon Johnson's 'Lift Every Voice' is a beautiful song, but it is not our national anthem."
According to the National Association for the Advancement of Colored People (NAACP), Lift Every Voice and Sing became a "rallying cry during the Civil Rights Movement of the 1950s and 1960s" after it was written in 1900.
The NFL first began featuring the Black National Anthem following nationwide protests in 2020 led by the Black Lives Matter movement, calling for an end to police brutality against Black Americans. The NFL also allowed players to feature decals on the back of their helmets with sayings calling for an end to racism.
"It's an opportunity to highlight messages that are important to the league, players and personnel and our communities," NFL spokesman Brian McCarthy told the New York Times in 2021. "We've seen tremendous work done by our players to make an impact, and we can increase that through the high-visibility platform that the N.F.L. provides."
Newsweek reached out to Lake's press team and the NAACP for comment.