Kari Lake Meets With Top Republicans as She Mulls Conceding in Arizona
Former Arizona governor candidate Kari Lake met with officials from the National Republican Senatorial Committee amid claims she is considering a potential Senate run.
Lake met with the NRSC members on Thursday and discussed the differences between running a Senate and a gubernatorial campaign, Lake's senior advisor Caroline Wren told Politico.
Lake has been touted as a potential Republican candidate to challenge independent Senator Kyrsten Sinema in Arizona in 2024, along with Democrat Ruben Gallego.
However, Wren said that the meeting was "more listening" and that Lake still hasn't decided whether to run for office again or not.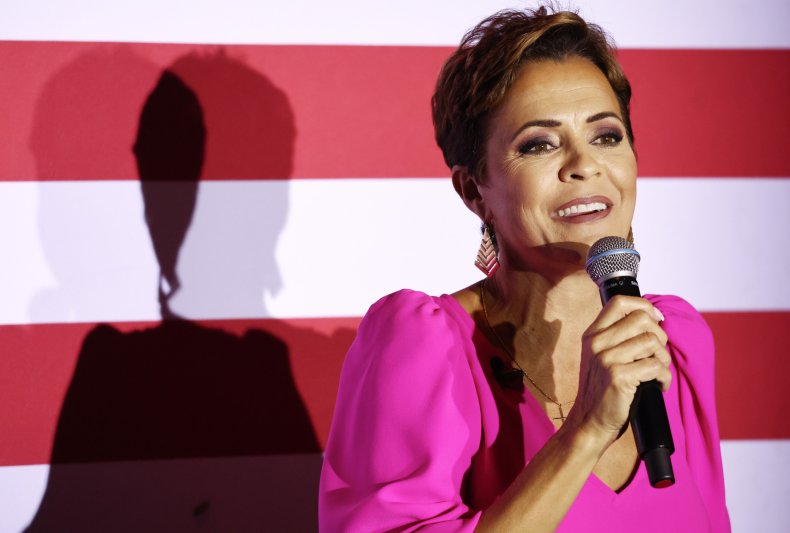 Lake has insisted she is not interested in a bid for the Arizona Senate as she is still fighting the gubernatorial election she lost to Katie Hobbs through the courts.
The Donald Trump-endorsed candidate was defeated in the November midterms by more than 17,000 votes. Lake claimed that issues with voting machines on Election Day and voter "disenfranchisement" cost her the race.
In December, Maricopa County Superior Court Judge Peter Thompson threw out a lawsuit from Lake contesting the results because she failed to provide any "clear and convincing" evidence following a two-day trial.
Lake is appealing the decision to the Arizona Court of Appeals, which will decide on the future of the suit. She is said to be waiting until her election lawsuit is exhausted before making any decision on her future.
Paul Bender, professor of law at Sandra Day O'Connor College of Law in Arizona, said that Lake "does not have any chance" of overturning the Arizona gubernatorial election.
"The election is over. No court is going to interfere with it anymore, her chance of legally of changing the election is zero," Bender told Newsweek. "In law, there's a phrase—res judicata—means it's been decided. And this has been decided."
In January, Gallego suggested that Lake may have to admit she lost the gubernatorial election before she can decide to run for Senate.
"Arizona has a very strict resign to run law. It's not possible for her to be Arizona's shadow governor and a Senate candidate at the same time," Gallego tweeted.
Arizona's resign-to-run law mandates that elected officials who seek other jobs in office must quit their current role if they are not in the final year of their term.
However, the rule will not apply to Lake, who is not an elected official or even a gubernatorial candidate anymore. Hobbs was officially sworn in as Arizona governor on January 2.
Newsweek reached out to Lake for comment.