Kari Lake Pressed by Piers Morgan to Concede in Governor's Race
Former Arizona gubernatorial candidate Kari Lake quarreled with Piers Morgan on Wednesday after the British broadcaster prodded Lake on her ongoing fight to prove the 2022 election was stolen from the Republican.
Lake, who was endorsed by former President Donald Trump and lost to Democratic Governor Katie Hobbs in the November vote, has insisted that intentional ballot printer issues on Election Day cost her the governor's seat.
Despite her election lawsuit being thrown out by a state judge in December, however, Lake has stayed determined to see her case through as her legal team awaits a decision from the Arizona Court of Appeals.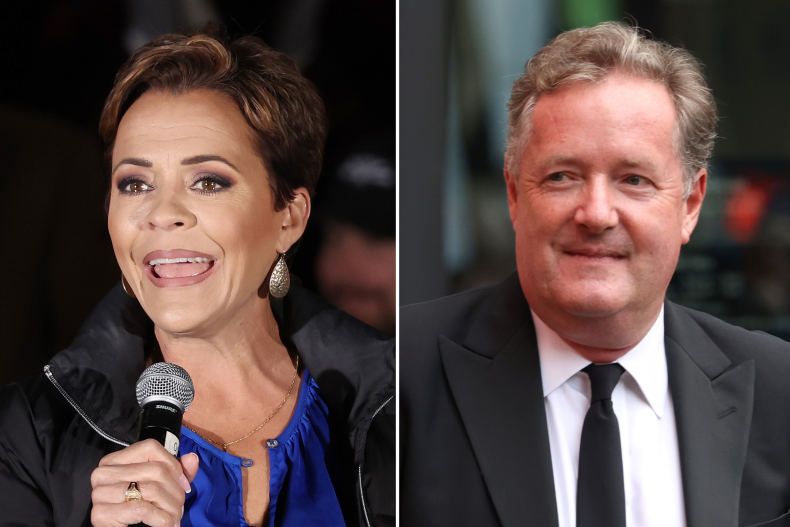 Morgan pressed Lake about her firm stance that the election was stolen from her, pointing to the fact that her close ally Trump continues a similar claim over his loss to President Joe Biden in 2020.
"I don't mind your fighting spirit," Morgan tells Lake during Wednesday's episode of his talk show, Piers Morgan Uncensored.
"But it does come a point when for the future of democracy, you and Donald Trump have to accept at some point you lost an election," he continued. "Otherwise, the entire system collapses. If your simple response to losing is always, 'we didn't lose, we won,' then democracy dies."
Lake continued to defend her position despite the pushback from Morgan, claiming she would concede to Hobbs if she had lost "fair and square."
"I'm fighting for the people of Arizona," Lake said. "In Arizona, I can't walk 10 feet without an Arizonan saying, 'I voted for you, everybody I know voted for you, our ballot was rejected on Election Day, please keep fighting for us.'"
Lake goes on to tell Morgan, "I don't mean any offense to you, but I frankly don't give a damn what you think. I'm fighting for the people of Arizona."
Morgan also did not shy away from questioning Lake on when she would accept that she lost the midterm election, to which the Republican responded, "We are taking [the lawsuit] to the [Arizona] Supreme Court."
Lake, when asked about her rumored Senate run, also repeated to Morgan that she has "had many people reach out," asking her to run in 2024 to challenge independent Senator Kyrsten Sinema.
"It is in the back of my mind, but my No. 1 priority is my case," Lake added. "And I want to see my case through."
Last week, Lake met with officials from the National Republican Senatorial Committee (NRSC) to discuss the differences between running a gubernatorial campaign and one for Senate. According to her senior adviser, Caroline Wren, the meeting with NRSC officials was "more listening," as Lake has still not decided if she wants to run for office again.
On Tuesday, Lake told conservative talk show host Charlie Kirk that she was "entertaining" a Senate run if her court case doesn't get a "decent ruling."
Following her appearance on Uncensored, Lake promoted her conversation with Morgan as a "spirited debate" on her Twitter account, telling her followers it was "a great chat."
Morgan responded to one of Lake's tweets, writing: "I enjoyed it too—thanks for coming on Kari."
Newsweek has reached out to Lake's team for comment.