Kari Lake Takes a Jab at Ron DeSantis Amid 2024 Speculation: 'Trump's Turn'
Former Republican Arizona gubernatorial candidate Kari Lake has taken a swipe at Florida Governor Ron DeSantis amid increasing speculation about the 2024 presidential election.
DeSantis is widely believed to be considering a GOP primary challenge to former President Donald Trump, although he has yet to declare his candidacy. The former president is reportedly considering Lake, who lost the Arizona gubernatorial election to Democrat Katie Hobbs last year, as his 2024 running mate.
Lake urged DeSantis to back down during a Newsmax interview on Wednesday, insisting that the 2024 election was still "Trump's turn." She said that DeSantis had been an "effective governor" and urged him to complete his current term, which ends in January 2027, before suggesting that he was not ready for "the world stage."
"The people of Florida just reelected [DeSantis]," said Lake. "I'm assuming when they reelected him, they were hoping he'd stay around for a while ... I think he should respect that the people just voted him in as governor and serve out that term for the people of Florida."
"And then he could obviously run for president," she continued. "But this is President Trump's turn ... We haven't seen Ron DeSantis on the world stage yet. And, you know, some of the people that are surrounding him are kind of the type of people ... that were pushing for the endless wars."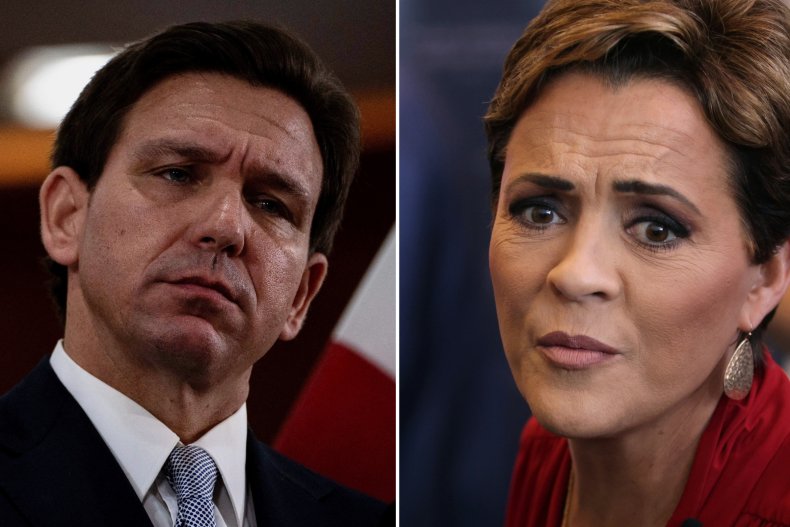 Prior to Trump officially announcing his 2024 bid in November, Lake had repeatedly praised DeSantis. She said that the governor was "fantastic" during a Turning Point USA conference in the summer, asserting that he rivaled Trump in "BDE"—which she jokingly said stood for "Big DeSantis Energy."
During the Conservative Political Action Conference in Maryland over the weekend, Lake beat out DeSantis in a straw poll of potential running mates for Trump's 2024 campaign. DeSantis, who did not attend the conference, also lost a straw poll on presidential candidate preference to Trump.
The former president has been waging an escalating war of words against the Florida governor, often calling him "Ron DeSanctimonious." Trump's team has recently been considering new nicknames including "Ron DisHonest," "Ron DeEstablishment" and "Tiny D," according to Bloomberg.
An Axis report published on Tuesday claimed that Lake was one of four women whom Trump is considering as his running mate. British bookmaker Betfair has offered 7/1 odds on Trump selecting Lake.
The other purported contenders are Arkansas Governor Sarah Huckabee Sanders, South Dakota Governor Kristy Noel and former South Carolina Governor Nikki Haley—who announced a primary challenge last month.
Lake has been a prominent proponent of the former president's election fraud conspiracy theories concerning the 2020 election, which Trump lost to President Joe Biden by more than 7 million votes.
She has emulated the former president with similarly unfounded theories to explain her loss to Hobbs, which she continues to challenge in court despite suffering a series of defeats.
Lake's campaign recently addressed the Trump speculation by claiming that she would be unable to serve as vice president due to her non-existent gubernatorial duties.
"We're flattered," the campaign tweeted on Saturday. "But unfortunately our legal team says the Constitution won't allow for her to serve as Governor and VP at the same time."
Newsweek has reached out to the office of DeSantis for comment.