Kari Lake Chances of Becoming Donald Trump's Running Mate Gather Steam
Donald Trump is reportedly considering former Republican gubernatorial candidate Kari Lake as his potential running mate for the 2024 presidential election, with one bookmaker offering odds of 7/1 on her being his vice presidential pick.
Lake stood as the Republican candidate to be governor of Arizona in November, losing out to Democratic rival Katie Hobbs. However Lake refused to concede defeat, and is insisting the election was stolen, despite her claims of voter fraud being rejected by the Arizona Court of Appeals, and she has announced an appeal to the state's Supreme Court.
Trump is "strongly considering" a female running mate, according to news website Axios, in a bid to boost his appeal with "white suburban women." The site lists Lake, a Trump loyalist on the right of the Republican Party, as one of four main contenders, along with three other female GOP politicians. Lake would be a controversial selection, given that, like the former president, she has refused to accept an election result.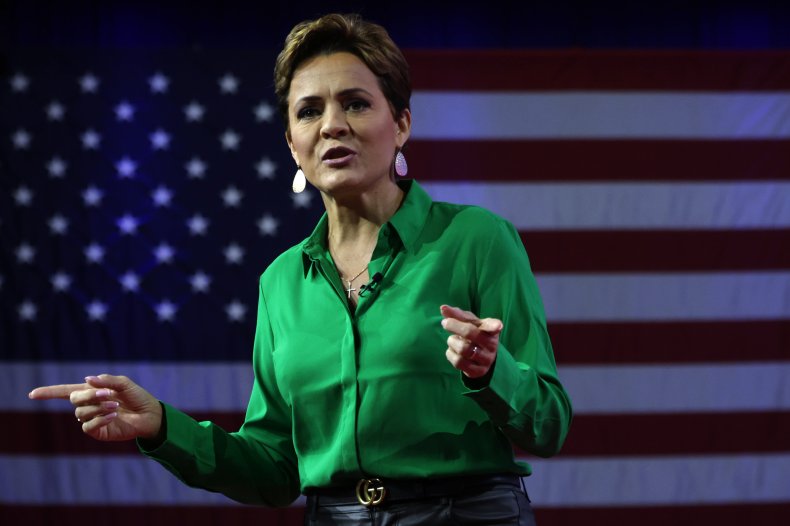 British bookmaker Betfair is offering odds of 7/1 on Trump selecting Lake to be his 2024 running mate, along with odds of 7/5 on Lake being the 2024 Republican vice-presidential nominee, under any candidate.
Speaking to Newsweek, Betfair spokesperson Sam Rosbottom said: "Kari Lake is 7/1 to be Donald Trump's running mate in the 2024 presidential election amid reports the former president is considering the defeated Arizona governor candidate for the position. Meanwhile, Kari is 7/5 to be the Republican vice-president nominee for the 2024 election."
Axios reported that the other candidates Trump is considering are former U.S. UN ambassador Nikki Haley, Arkansas Governor Sarah Huckabee Sanders and South Dakota Governor Kristi Noem.
Haley has already announced her own bid for the White House, though on March 3 at the Conservative Political Action Conference (CPAC) she was surrounded by attendees chanting "We love Trump!" and "Trump," while posing for selfies.
Sanders, who assumed office in January, was Trump's White House press secretary from July 2017 to July 2019.
On Friday, Michael Reagan, son of former President Ronald Reagan, said putting Lake "on the Ticket in 24 would be guarantee win for Biden."
He added his father would be "embarrassed" that Lake had been invited to speak at a dinner named in honor of his father, which took place during CPAC.
Speaking to Axios, Trump spokesperson Steven Cheung denied any shortlist has been drawn up by the former president.
He said: "Anyone who thinks they know what President Trump is going to do is seriously misinformed and trying to curry favor with 'potential' V.P. candidates."
Newsweek has contacted Kari Lake for comment via email, and Donald Trump using his official website.