Kari Lake's Election Fraud Claims Rejected by Most Arizona Republicans
Most Republican voters in Arizona believe that the results of the state's 2022 gubernatorial race are legitimate, despite former GOP candidate Kari Lake's claims of election fraud, according to a recent poll.
The latest Arizona Public Opinion Pulse (AZPOP) survey by OH Predictive Insights' on Thursday showed that among three-quarters of voters polled said that there is no evidence of election fraud. This includes 93 percent of Democrats, 58 percent of Republicans, and 76 percent of independents.
The survey was conducted from January 31 to February 9 among 1,000 registered voters in Arizona and had a margin of error of 3.1 percent. The poll aims to measure the impact of election fraud claims on voters' confidence in Arizona's electoral system.
Lake lost the November midterm election to Arizona's Secretary of State Katie Hobbs, a Democrat, by more than 17,000 votes. However, she has repeatedly refused to concede and legally challenged the results, claiming election fraud and doubting the electoral system.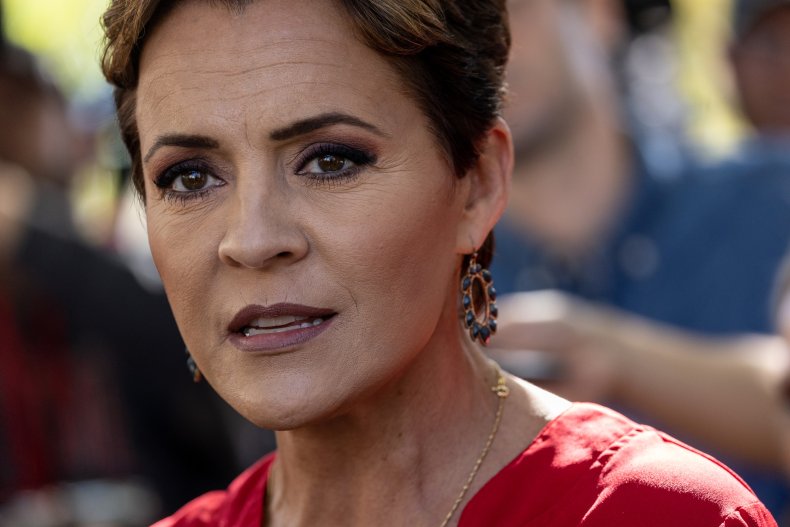 The AZPOP survey also showed that the majority of Arizona voters are confident in the security of the state's elections. Fifty-five percent of Arizona voters said that they are extremely or moderately confident that the 2022 midterm elections in the state were administered fairly, including 36 percent of Republicans.
Meanwhile, 75 percent of Arizona's registered voters said that they believe that Hobbs was elected legitimately.
"Regardless of the narrative of a stolen gubernatorial election coming from Kari Lake, the acceptance of Katie Hobbs' win is shared in majorities across party lines," said Mike Noble, chief of research and managing partner of OH Predictive Insights. "In fact, voters are 20% more sure that the Governor's race was accurate than they are confident in the midterm elections as a whole."
Still, Lake insists on proceeding with her lawsuit alleging problems with printers and tabulation machines in Maricopa County on Election Day that prevented voters from casting their ballots.
The Republican has faced a series of court losses as her lawsuit was dismissed by both Maricopa County Judge Peter Thompson and the Arizona Court of Appeals for lacking evidence that the problems were intentionally caused by election officials to disenfranchise Republican voters.
However, failures in courts didn't stop Lake from announcing on Wednesday that she had again petitioned the Arizona Supreme Court, saying on Twitter that it was a "Historic Election Integrity case."
Newsweek reached out to Lake's press office for comment.
Meanwhile, some of Lake's allies, including former President Donald Trump who endorsed her in the midterm election, urged her to challenge the results, according to a New York Times article published in November.
Trump accused Democrats of trying to steal her victory, saying on social media "they just took the election away from Kari Lake." Meanwhile, Steve Bannon, who served as the former White House chief strategist during the Trump administration, shared a similar sentiment and invited guests on his War Room podcast who called on election officials not to certify the results.
Additionally, Seth Keshel, a former U.S. Army intelligence officer, said on Truth Social that Lake, who he said he knows, "won't be conceding a damn thing." In addition, Michael Flynn, former national security adviser, demanded a hand count of the results, according to the Times article in November.