Kari Lake Calls for Prayer as She Sends Off Another Election Appeal
As promised, Kari Lake has filed an appeal with the Arizona Supreme Court to review her challenge of November's midterm election.
Lake, the former Republican gubernatorial candidate, has repeatedly refused to concede in her loss to Arizona Governor Katie Hobbs, the Democrat who beat Lake by more than 17,000 votes.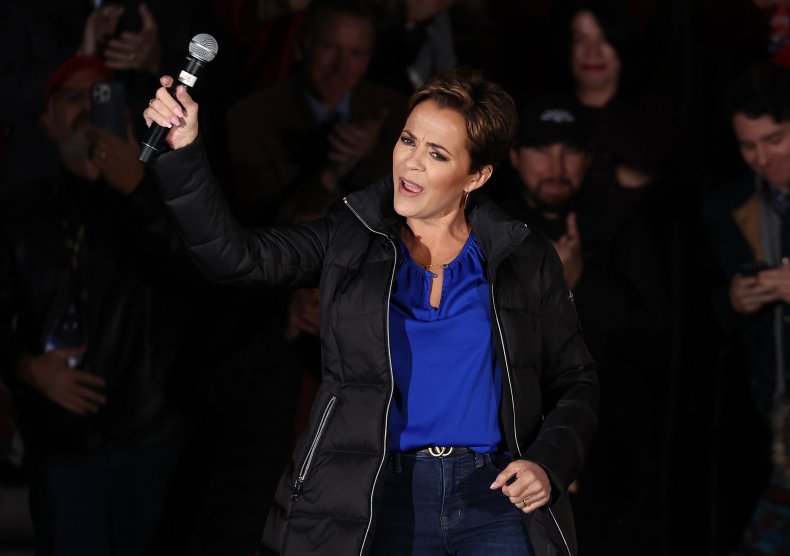 Instead, the candidate endorsed by former President Donald Trump has faced a string of court losses in her election suit that alleges problems with printers and tabulation machines on Election Day prohibited same-day voters from casting their ballots. Lake's lawsuit has been dismissed by both Maricopa County Judge Peter Thompson and the Arizona Court of Appeals for lacking evidence that the hiccups were intentionally caused by election officials to disenfranchise Republican voters.
On Wednesday, Lake announced that she had again petitioned the state's Supreme Court, writing on Twitter that it was a "Historic Election Integrity case."
"Pray for our Attorneys. Pray for the Judges. Pray for Justice. Pray for America," she added.
Following her loss in the state's Court of Appeals, Lake promised her supporters on Twitter that she was going to take her case "all the way to the Supreme Court." Arizona's high court previously denied Lake's petition, however, and asked the state's appeals court to hear the case first.
In its opinion published in February, the Arizona appeals court wrote that Lake's claim about printer issues "was, quite simply, sheer speculation," affirming Hobbs' win as governor.
Legal experts have speculated that Lake has little chance of prevailing at the Supreme Court level given her previous failures in the lower courts. David Schultz, professor of political science and legal studies at Hamline University, previously told Newsweek that Lake would have to "show as a matter of federal or constitutional law the lower courts made an error or mistake" to overturn the previous rulings.
"Even if she wins at the Supreme Court level they will at best order a new trial at the lower court level," Schultz added. "But this is unlikely."
Lake has also denied the results of the 2020 presidential election in support of her ally, Trump, who baselessly maintains that the election was stolen from him due to voter fraud.
Despite remaining adamant that her focus remains on her election case, Lake is "entertaining" a 2024 Senate run to battle incumbent Senator Kyrsten Sinema for the open Arizona seat. She has also been considered a potential running mate in Trump's reelection bid.
Matt Roberts, communications manager for Maricopa County Elections Department, told Newsweek on Thursday that his department does not typically comment regarding ongoing litigation.
Update 3/2/23 4:20 p.m. ET: This story has been updated with additional information and background.