Kari Lake's Chances of Prevailing in Arizona Supreme Court Election Case
Former Arizona gubernatorial candidate Kari Lake is certain to fail yet again to have November's midterm election thrown out as she takes her case to the Supreme Court, legal experts have said.
Lake, who lost her race to Democrat Katie Hobbs by more than 17,000 votes, is still refusing to accept the results while claiming, without evidence, that voting irregularities and misconduct cost her the election.
Lake's arguments focus on claims that issues with printers and tabulation machines and long lines on Election Day in November 2022 resulted in "thousands" of Republican voter being unable to cast their ballots.
On Sunday, Lake said she will be taking her election lawsuit to the Supreme Court, with the case previously being thrown out by a Maricopa County Superior Court judge and the Arizona Court of Appeals.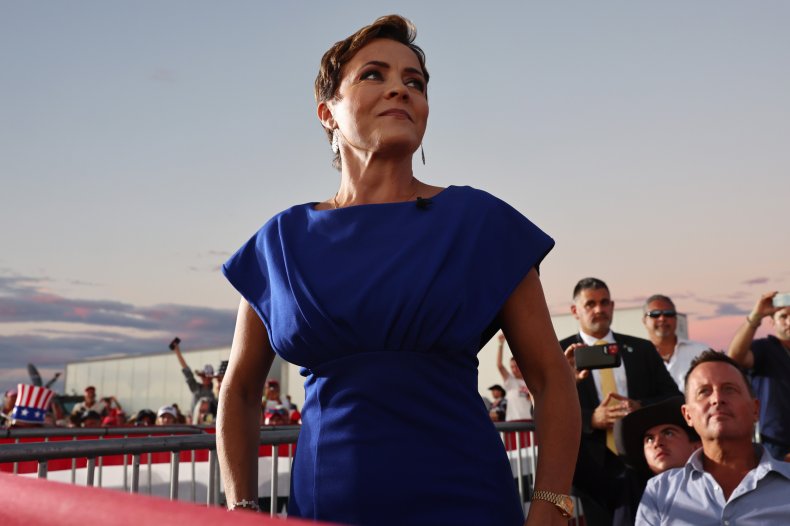 Lake said she will be filing her case at the Arizona Supreme Court on Tuesday to ask for an "expedited review," without specifying further.
David Schultz, distinguished university professor of political science and legal studies at Hamline University, said it does not matter on what grounds Lake argues her case as she has "no chance of prevailing" at the Supreme Court level.
"She has to show as a matter of federal or constitutional law the lower courts made an error or mistake that demands an overturning of the lower court decision," Schultz told Newsweek. "This assumes she raised the federal issues at the lower court level. Even if she wins at the Supreme Court level they will at best order a new trial at the lower court level. But this is unlikely."
Schultz added that Lake's case is also affected by what is known in legal terms as "laches"—which takes into consideration the timing or delay in bringing forward legal proceedings—and also means her case will be rejected.
"The new governor is already in office for nearly three months and the principle of laches will preclude any court from removing the current governor and sitting Lake," Schultz said. "The lawsuit is a political stunt to keep Lake's name in the news and to raise money for her next electoral campaign."
Even if Lake is able to produce new evidence to argue her case—which the previous courts ruled she failed to with any claim—Paul Bender, professor of law at Sandra Day O'Connor College of Law in Arizona, said the Supreme Court will still reject the case as it has essentially already been ruled on.
"If she had a chance earlier to make her arguments, and they were either rejected or the courts refused to consider them, courts, including the Supreme Court, will refuse to consider them now, because they have already decided them," Bender told Newsweek.
"There has to be an end to litigation. Even if she has something new, I am not aware of any court that has overturned an election at this late date."
On February 16, the Arizona Court of Appeals rejected Lake's lawsuit as her claims were "quite simply, sheer speculation."
In its ruling, the court noted that even a cybersecurity witness called by Lake to testify said the ballots that originally couldn't be read because of printing issues with the tabulations were eventually counted.
In December 2022, Maricopa County Superior Court Judge Peter Thompson threw out the lawsuit because Lake failed to provide any "clear and convincing" evidence of irregularities or misconduct costing the Republican her midterm election.
Lake has been contacted for comment.