Kari Lake Wants the RNC to Float Her Legal Bills
Kari Lake, the embattled former GOP gubernatorial candidate in Arizona, said she is asking the Republican National Committee (RNC) to pay for some of her legal bills as she fights the results of her election loss.
Lake, accompanied with MyPillow CEO Mike Lindell, sat down with Steve Bannon on his War Room podcast on Friday to express disappointment in Ronna McDaniel's reelection as RNC chair, and repeated demands for election integrity.
"I heard that they [RNC] raised a couple hundred million for election integrity. We are asking the RNC to help us pay for some of our legal bills. We haven't had them do that yet. They've said they would help a little bit. We are hoping that they actually do that," Lake said. "The people are interested in election integrity, they know that our country is gone. It's over, it's caput if we don't have honest elections."
Lake has refused to accept that she lost the governorship to her Democratic opponent, Katie Hobbs, during last November's midterm election. In response, Lake then filed a civil case last month against Hobbs and some Maricopa County election officials in the county's superior court. Hobbs, who was Arizona's secretary of state, won the election by more than 17,000 votes.
Judge Peter Thompson ruled against Lake, prompting her to immediately announce she would appeal the decision. However, an effort to have this expedited to the Arizona Supreme Court was subsequently rejected.
Lake was then ordered by the court to pay $33,040 to Hobbs for witness fees.
The former gubernatorial candidate's election fraud claims first started after the 2020 presidential election. Lake, a staunch supporter of former President Donald Trump, has repeatedly claimed that the election was rigged in favor of Joe Biden.
Political analyst Craig Agranoff told Newsweek on Saturday, "It's not a good look for Kari Lake to refuse to accept the results of her election. It undermines the integrity and credibility of the democratic process. The peaceful transfer of power is a cornerstone of our democracy, and refusing to accept the results calls into question the legitimacy of the government and the will of the people."
Agranoff continued: "Her refusal can lead to political instability and potentially even violence if enough supporters get angered. It is important for politicians to respect the outcome of an election, regardless of whether they win or lose, in order to maintain trust of the public and the stability of our election process."
While speaking to Bannon on Friday, Lake also spoke about McDaniel's reelection.
"Ronna, who I've never even met in person, is going out on national television doing interviews attacking me. When she is hit with the legitimate concern of 'Ronna you haven't been winning elections for us,' her response is we have terrible candidates and then she throws my name into it," she said.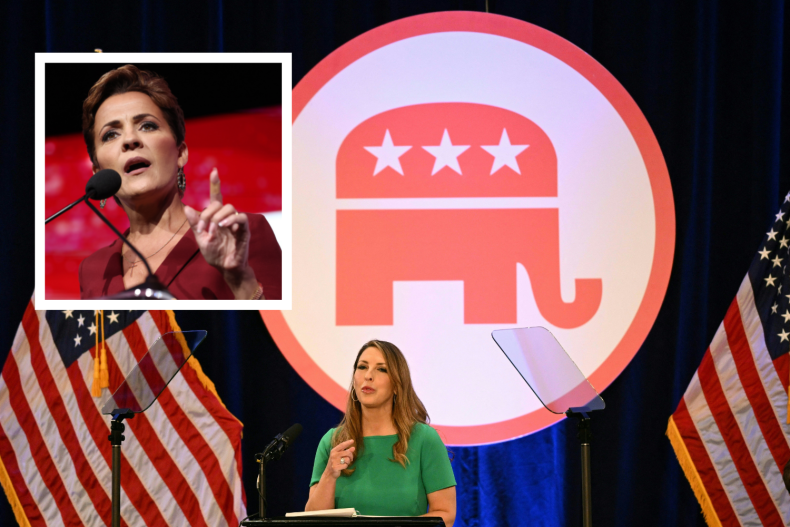 McDaniel won the seat on Friday after receiving 111 votes out of 164 cast in a secret-ballot election, besting a group of challengers that included Lindell, the California Republican Party's former Vice Chairwoman Harmeet Dhillon, and New York Representative Lee Zeldin.
Her victory comes after the GOP lost an opportunity to retake the Senate majority during November's midterms. However, Republicans were able to narrowly win the majority in the House of Representatives. Meanwhile, McDaniel also presided over Republicans when they lost the House in 2018 and the Senate and the White House in 2020.