Kate Middleton Breaking Character at Royal Events Goes Viral
Kate Middleton, Britain's Princess of Wales, has been at the center of a number of memorable moments since she became a member of the royal family in 2011, many of which have gone viral and been reposted repeatedly on social media.
The princess, who, together with Prince William, has three children (Prince George, 9, Princess Charlotte, 7, and Prince Louis, 4), has seen her number of public appearances slowly increase over the years with 2022 being perhaps her most high-profile, given it contained the ceremonial events relating to the death of Queen Elizabeth II.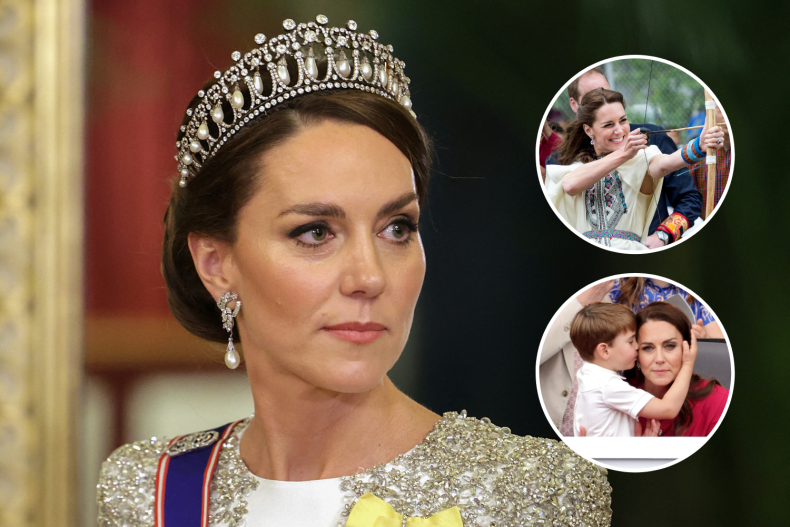 Though the royal is known for being to some degree reserved and formal, a compilation video of clips from Kate's more relaxed moments during public appearances over the years has gone viral on TikTok surpassing 180,000 views.
Posted by the TikTok account allabouttheroyalfamily, Kate is seen in the clips trying her hand at field hockey during a school visit, as well as archery on a trip to Bhutan in 2016.
A clip also shows Kate light-heartedly dancing with Paddington Bear in 2017, and also a sweet moment shared with her youngest son, Prince Louis, during the Platinum Jubilee pageant in 2022.
The young prince's cheeky antics in the royal box with his family members during the three-hour pageant sparked a parenting debate on Twitter after he was seen, at one point, covering his mother's mouth with his hand and shushing her.
William and Kate appeared to nod to this controversy in a social media post thanking the public for their support of the jubilee, writing: "We all had an incredible time, especially Louis... 👀"
The TikTok video has received in excess of 15,000 likes and a wide range of comments, many of which praise the princess and voiced appreciation at seeing the more light-hearted side of her character on display.
"Impossible not to love her! " said one user.
"It's nice to see when she can break character from the formal Princess to normal woman and fun mommy," said another, with a further comment reading: "She will be very good Queen Consort."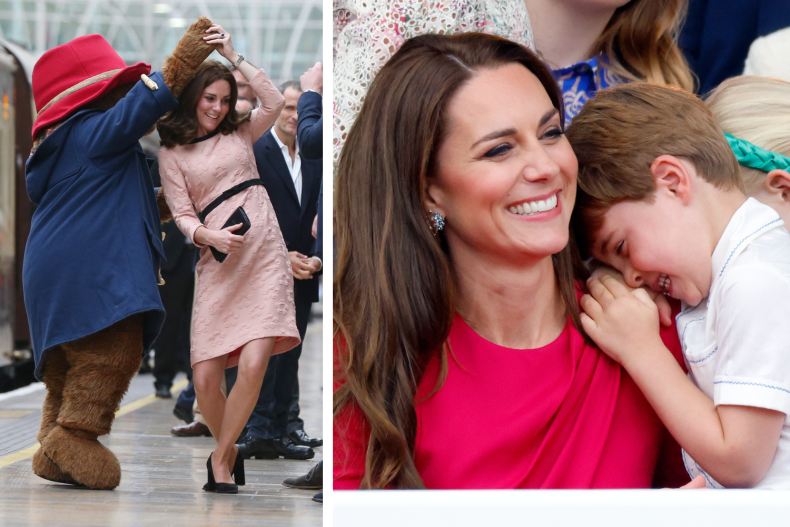 After the Queen Elizabeth's death in September, the new King Charles made his son, William, the Prince of Wales, and Kate became the Princess of Wales, the first royal to use the title since Princess Diana.
Over the years, Kate has become increasingly popular thanks to her stylish appearance, charity work and relatability. Currently, the princess is the most popular living royal with U.S. pollsters, receiving a +32 net approval rating as of February 19. By contrast William's approval rating sits at +28, King Charles' at +11, Prince Harry's at -10 and Meghan Markle's at -17, according to research conducted by Redfield & Wilton for Newsweek .
Kate's formality was recently referenced by Meghan in the Netflix docuseries Harry & Meghan released in December, when the latter recounted that the royal may have been surprised that the American actress offered her a hug when they first met.
"It's so funny if I look back at it now, because now I know so much and I'm so glad I didn't then. Because I could just authentically be myself without so much preparedness," she said.
"Even when Will and Kate came over and I met her for the first time, they came over for dinner and I was in ripped jeans and I was barefoot. It's like I was a hugger, I've always been a hugger. I didn't realize that that is really jarring for a lot of Brits."
She continued: "I guess I started to understand very quickly that the formality on the outside carried through to the inside [...] that there is a forward-facing way of being and then you close the door, and you go 'Oh... ok we can relax now.' But that formality carries over on both sides and that was surprising to me."
James Crawford-Smith is Newsweek's royal reporter based in London. You can find him on Twitter at @jrcrawfordsmith and read his stories on Newsweek's The Royals Facebook page.
Do you have a question about King Charles III, William and Kate, Meghan and Harry, or their family that you would like our experienced royal correspondents to answer? Email royals@newsweek.com. We'd love to hear from you.