Kate Middleton Wears Look-alike of Meghan Markle's Famous Beige Coat
While undertaking royal engagements Tuesday, Kate Middleton stepped out in a stylish beige coat in a similar style and from the same label known for making Meghan Markle's favorite outerwear.
The Princess of Wales visited the Oxford House Nursing Home in Slough, near her home in Windsor Great Park, where she met with staff and residents and participated in a pancake-making activity.
For the event, Kate opted for a relatively new piece, a longline camel coat from the brand Max & Co. a subsidiary label of Max Mara, which has made a number of Meghan's famous camel coats, worn throughout her marriage and during her time as a working actress in the U.S.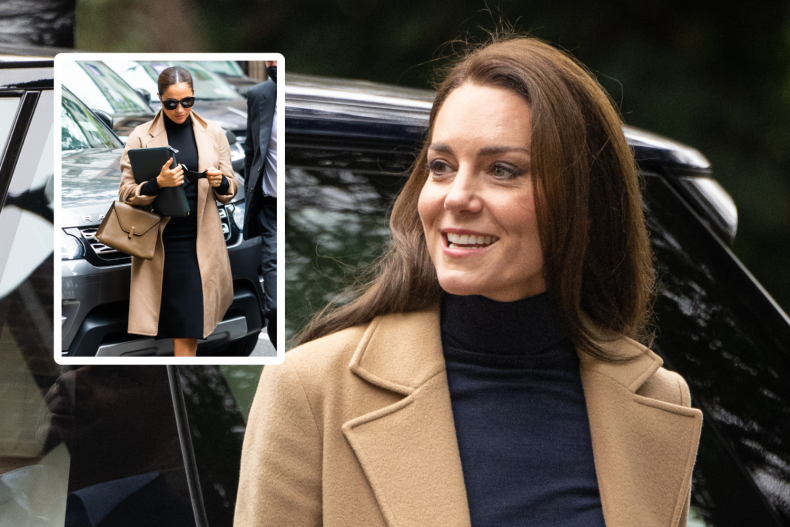 With her coat, Kate paired a navy blouse and matching wide-leg pants, accessorizing the look with a Polène Paris Numéro Sept Mini handled bag.
The princess is no stranger to wearing Max Mara, a brand that is equally patronized by Meghan. She first debuted the camel coat worn on Tuesday for a visit to Scarborough this past November. The style has become increasingly associated with Meghan, who wore a key example during her highly publicized visit to New York with Prince Harry in September 2021.
Kate's Max & Co. coat is the label's "Pure Wool Long Run" model and is priced at £470 ($568). It is described as having a "timeless wrap silhouette," and can add "instant polish" to any look. The coat features a detachable waist tie, which Kate opted not to use on Tuesday.
The princess has worn Max Mara pieces since the early years of her marriage to Prince William, notably the label's maternity wear, and also has a collection of Mara's colored wool coats in green, blue and white.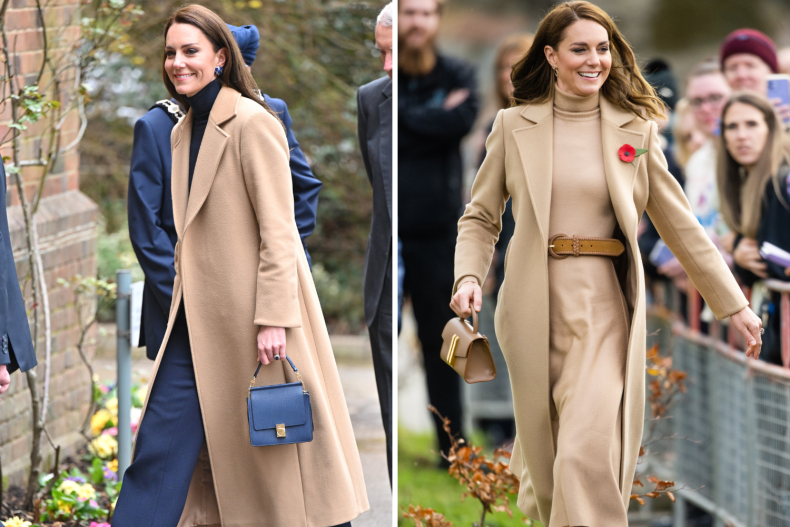 The brand's camel pieces have been the items Meghan has worn most often in public, such as the "Manuela" belted coat, worn on the streets of Toronto while the future duchess was wrapping the final season of Suits in 2016, and the "Lila" camel coat worn during a 2021 visit to the U.N. in New York.
Neutral shades of beige and camel were often worn by Meghan during her time as a working royal in Britain before she and Harry stepped away from the monarchy in 2020 and moved to the U.S.
The duchess' simple, paired-back style earned her widespread praise from the fashion press, though she revealed in December that her choice of color palette for her wardrobe was not all down to her personal taste.
Speaking in the Netflix docuseries Harry & Meghan, released in December, Meghan told viewers that she chose neutral shades for her public event-wear in an effort to "blend in" and not take away the focus from more senior royals.
"Most of the time that I was in the U.K., I rarely wore color," she said.
"There was thought in that. To my understanding, you can't ever wear the same color as Her Majesty [Queen Elizabeth] if there's a group event. But then you also should never be wearing the same color as one of the other more senior members of the family. So I was, like, 'Well, what's a color that they'll probably never wear? Camel? Beige? White?'
"So I wore a lot of muted tones, but it also was so I could just blend in. Like, I'm not trying to stand out here," she said.
She turned this convention on its head for her final week of engagements before making her royal exit. She told Netflix viewers: "Until that last week in the U.K., I rarely wore color. I never wanted to upstage or ruffle any feathers.... So I just tried to blend in. But I wore a lot of color that week.... I just felt like, 'Let's just look like a rainbow.'"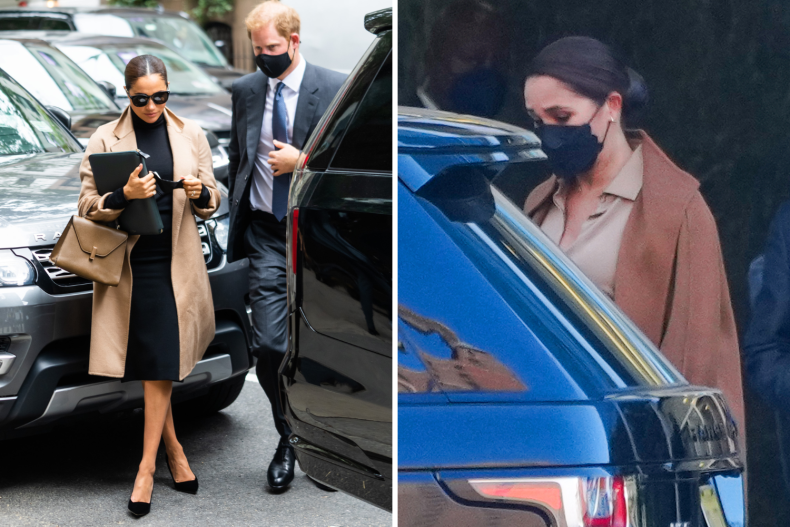 Despite this admission, Meghan has largely stuck to her neutral color palette since leaving the royal family, repeatedly wearing blacks, beiges, creams and whites.
Kate's return to her more conservative style of dressing on Tuesday comes as she made one of the most avant-garde fashion moves of her public life on Sunday, for the British Academy Film Awards.
The royal made her first appearance at the ceremony wearing an altered version of an Alexander McQueen evening gown paired with statement black opera gloves and gold accessories.
James Crawford-Smith is Newsweek's royal reporter based in London. You can find him on Twitter at @jrcrawfordsmith and read his stories on Newsweek's The Royals Facebook page.
Do you have a question about King Charles III, William and Kate, Meghan and Harry, or their family that you would like our experienced royal correspondents to answer? Email royals@newsweek.com. We'd love to hear from you.