Kate Middleton Becomes Latest Fan of Thrifty Royal Fashion Hack
Kate Middleton proved that she has become a fan of a thrifty royal fashion hack for making wardrobe staples last longer on Sunday, when she attended the annual British Academy Film Awards (BAFTAs) wearing an altered version of a previously worn evening gown.
Kate attended the BAFTA ceremony with Prince William wearing an asymmetric pleated chiffon evening gown that she had previously worn to the same event in 2019. In 2023, however, a corsage of flowers previously embellishing the shoulder strap of the gown had been replaced with a diaphanous bow with flowing tails.
This is not the first time Kate has worn an altered version of the same dress years apart. The princess wore an elegant tiered floral McQueen gown to the 2017 BAFTA ceremony, which featured an open neckline and slip shoulder straps. In 2019 she wore the dress again, this time with altered capped sleeves.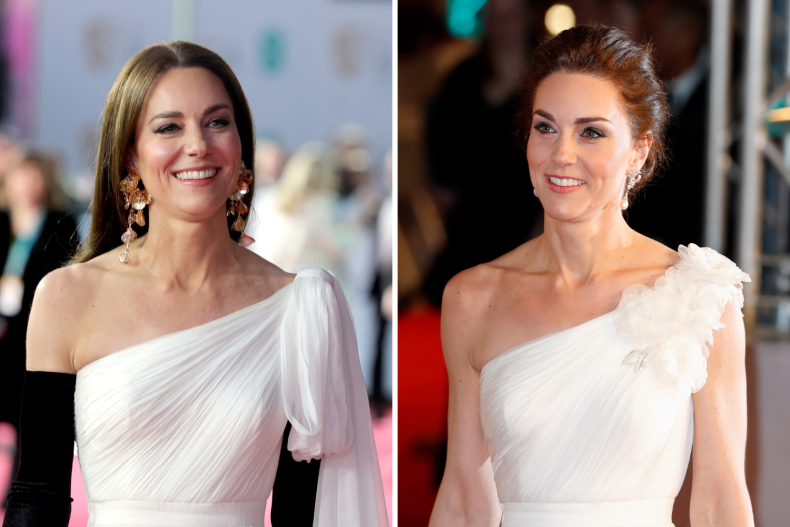 Altering pieces from her wardrobe for re-use appeals to both the Prince and Princess of Wales' commitment to the environment. The fashion industry is one of the world's biggest polluters, according to the U.N., and when it comes to the annual Earthshot prize awards each year Kate has either re-worn existing items from her wardrobes or, as in 2022, rented a dress for the occasion.
Altering couture pieces for re-use also appeals to the royal budget. Though the wardrobe allowance of the princess is not known and only rough estimates at costing her outfits can be made, it is far more economic to transform an existing piece for re-use rather than buying new. It may also reflect the current cost of living crisis that Kate chose not to wear an extravagant new dress for the BAFTA ceremony on Sunday.
Kate has joined a long list of royal recyclers with a number of royal women having been spotted wearing slight variations on old fashion classics while out on official engagements.
Here, Newsweek looks at five times royal women wore, altered and re-wore existing pieces from their impressive fashion collections.
The Princess of Wales, BAFTA 2019/2023
For the 2019 BAFTAs Kate Middleton wore a new white chiffon evening gown with an asymmetric neckline detail and pleated bodice falling into a diaphanous skirt. On the shoulder of the gown was a rosette corsage detail and the royal accessorized plainly with diamonds and pearls so as not to detract from the delicate features of the dress.
For the 2023 BAFTAs, Kate brought back the pleated white McQueen but this time showing how a minor alteration and dramatic collection of accessories can totally re-present an item of clothing. The princess' black opera length gloves added a touch of risk and glamour to the altered corsage detail which replaced the previous rosette for an oversized bow with flowing tails.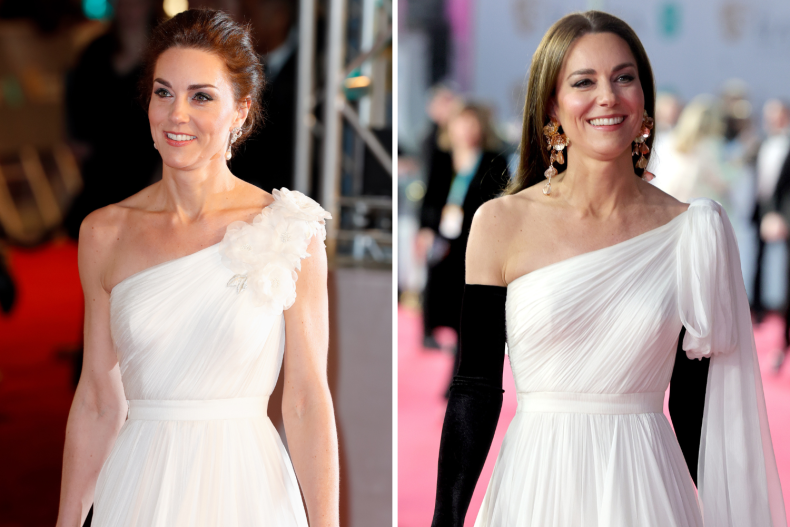 The Princess of Wales, BAFTA 2017 and National Portrait Gallery 2019
Kate Middleton debuted a show-stopping Alexander McQueen evening gown for the BAFTA awards in 2017, comprising a tiered floral printed skirt with banded ribbons and a sleek fitted bodice.
The royal re-wore the dress in 2019 to an event at the National Portrait Gallery in London, this time showing of some expertly tailored alterations to the bodice, neckline and sleeves. The cap sleeves made the gown more appropriate for the non-red carpet gallery event and was widely praised in the fashion press.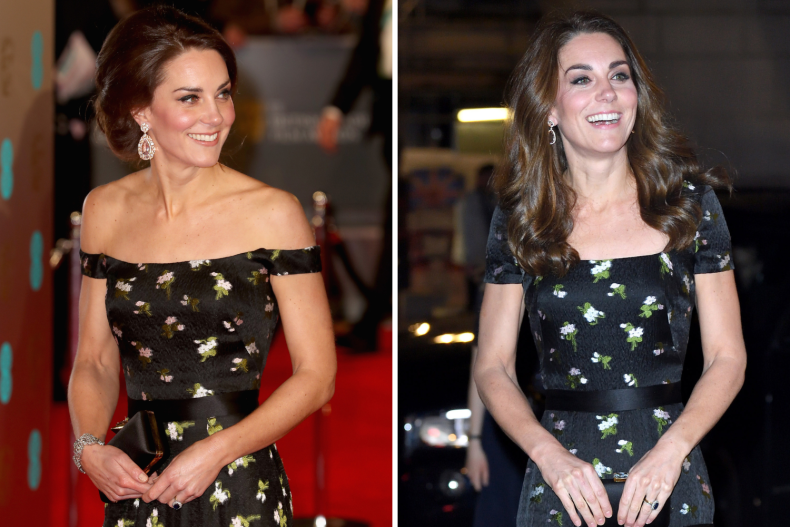 Princess Diana, Qatar 1986 and Savoy Hotel 1989
Princess Diana was well known for using her wardrobe to convey messages but also to get use and wear out of the pieces she loved.
In 1986, the princess had a couture dress made by her friend and designer Catherine Walker in blue embroidered silk with a chiffon waist tie and train. The dress was made for a visit to the Middle East with Prince Charles and, out of respect for the local customs, the princess had all of her dresses made to conform to the modest line, with high necklines and long sleeves.
When the royal returned home she had Walker take back the blue dress and alter it to take away the high neckline and sleeves, leaving her with an sweetheart neckline exposing her arms and shoulders.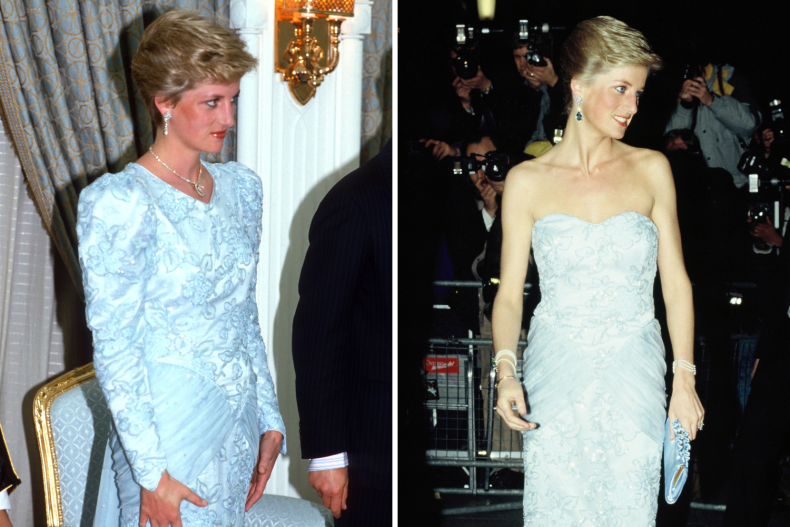 Princess Diana, United Arab Emirates 1989 and Korea 1992
Another dress Diana had made for a visit to the Middle East was made in lilac crepe with a heavily embroidered bodice featuring roses and English flowers.
For the tour, the dress was made with an expansive taffeta skirt, which the princess cut away when she returned home, preserving the embroidered bodice, and had made a simple pillar cut dress to wear underneath.
This altered version of the dress, Diana wore on a visit to Korea in 1992, her last with Prince Charles before they officially separated.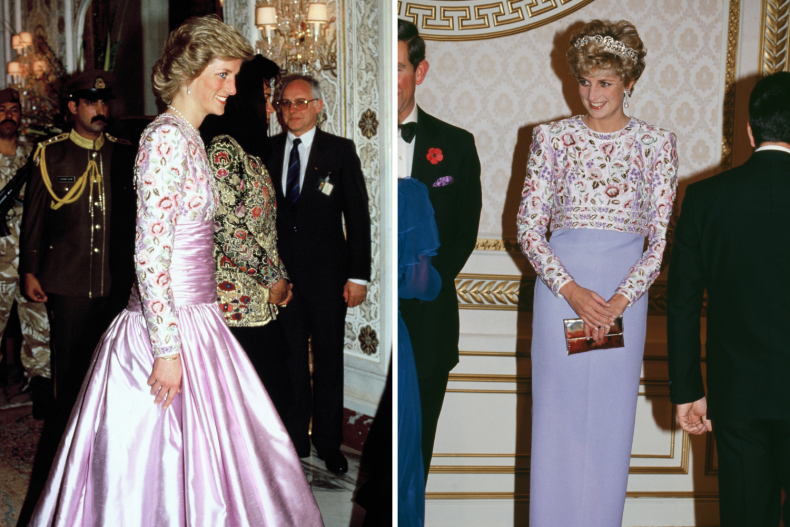 Princess Anne, London 1980s
Princess Anne, the only daughter of Queen Elizabeth II and Prince Philip, is well known to be one of the thriftiest members of the royal family, particularly when it comes to her fashion.
In the 1980s, Anne had a number of dresses made with detachable bodices or had sleeves made to make more revealing pieces of eveningwear suitable for re-use.
Today the princess still wears coats and dresses that have been carefully stored in her wardrobes at her home Gatcombe Park, more than four decades from their first use.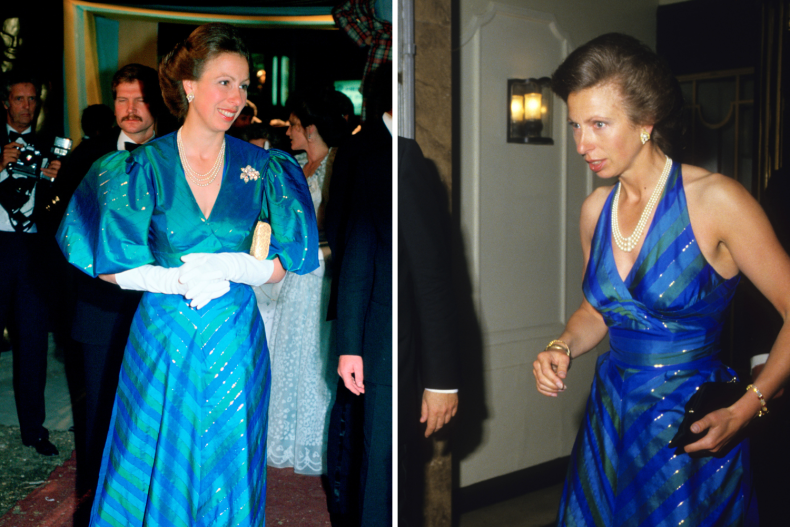 James Crawford-Smith is Newsweek's royal reporter based in London. You can find him on Twitter at @jrcrawfordsmith and read his stories on Newsweek's The Royals Facebook page.
Do you have a question about King Charles III, William and Kate, Meghan and Harry or their family that you would like our experienced royal correspondents to answer? Email royals@newsweek.com. We'd love to hear from you.