Kate Middleton's New Style Shows She 'Means Business' As Princess of Wales
Kate Middleton's style evolution since becoming Princess of Wales six months ago has seen the royal adopt a more "serious" and "business-like mood," Newsweek has heard, which "reflects the gravitas" of her new position.
Kate became Britain's new Princess of Wales in the aftermath of Queen Elizabeth II's death last September. In his first speech as monarch, a day after becoming king, Charles announced:
"Today I am proud to create [Prince William] Prince of Wales. The country whose title I've been so greatly privileged to bear during so much of my life and duty. With Catherine beside him, our new Prince and Princess of Wales will, I know, continue to inspire and lead our national conversations, helping to bring the marginal to the center ground where vital help can be given."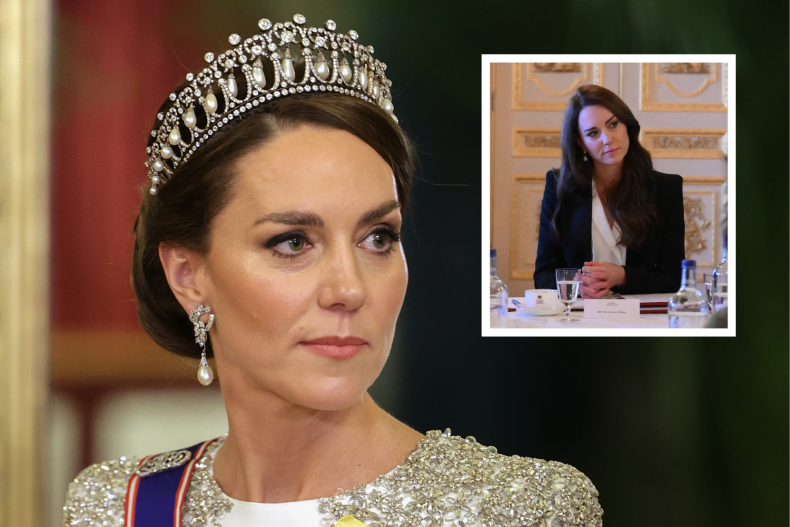 The princess is the first person to use the Princess of Wales title since Princess Diana, despite Queen Camilla legally holding it from her marriage to Charles in 2005 up until Elizabeth's death.
"Kate's look has definitely taken a more serious, business-like mood since she became the Princess of Wales, which reflects the gravitas of her new position within the Royal family as she gets nearer to the throne," celebrity stylist and royal fashion expert, Miranda Holder told Newsweek.
"The fun, feminine, flirty Kate who we all fell in love with in her polka-dot tea dresses seems to have been replaced by a new, more heavyweight incarnation."
The past six months have seen the princess undertake a broad range of royal engagements, from a three-day visit to Boston to celebrating the state visit of the president of South Africa, and a succession of events launching her early years childhood development campaign, Shaping Us.
For many of her daytime engagements, Kate appears to have somewhat abandoned her famous coatdresses that appeared regularly in previous years, in favor of sharply tailored pant-suits or wide-legged trousers with turtle neck sweaters and long-line coats.
"In the last 6 months, trouser suits have most definitely prevailed, whereas before this we were most familiar with the princess in skirts and dresses," noted Holder.
"Indeed, the whole aesthetic is far more formal and occasionally a little austere—it is indeed as if the princess means business and takes her contribution to the many causes she supports extremely seriously, and wishes to refocus the public's attention on the charity in hand rather than the brand she is wearing."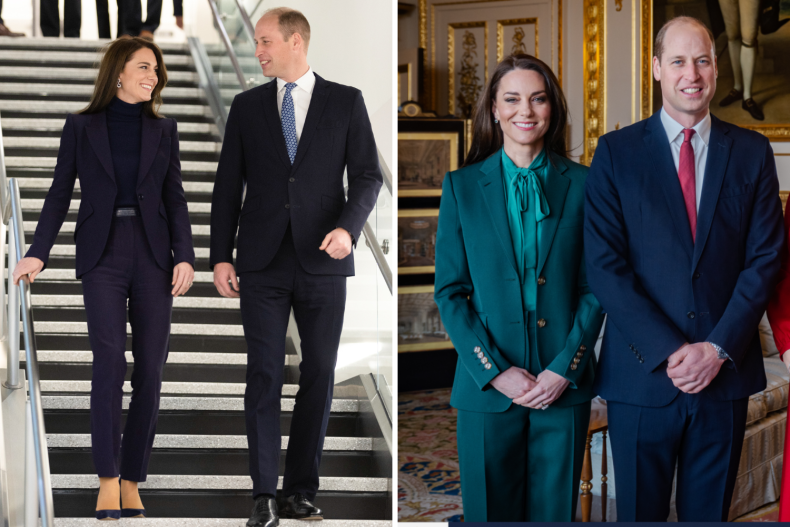 One aspect of her wardrobe that Kate has always had a mindful eye for is color. The princess has paid numerous tributes through the color of her outfits, either to national flags, flowers or scenery. This, Holder offers, is a skilled example of Kate's diplomacy through dress.
"Kate is choosing her colors carefully and wisely and is of course 'diplomatically dressing' having mastered the art learning from the absolute best, her late Majesty the Queen," she said.
"As one of the most photographed women in the world, every element of Kate's outfit is scrutinized by the press, with meanings and symbolism being read from every single flourish, so it's vital that the princess and her team choose wisely and carefully in order to create the right impression—which they do."
Although this evolved serious style has become more and more visible, Kate has also made some surprising style statements throughout the past six months, most prominently in her outfit for the 2022 BAFTAs.
For the awards show in London the princess reinvented a dress worn in previous years and updated the styling with a pair of statement black opera gloves.
"Kate has embraced a fashion formula for previous important state events, typically wearing a coat dress ensemble from her favorite designer Alexander McQueen," Holder noted.
"Before the BAFTAs this year I would have predicted that we may see more of the same, however, after the princess switched things up with the black evening gloves and over-sized earrings I feel we are going to see elements of the traditional Kate such as the coat dress, complimented with some surprising elements to keep us on our toes, going forward. An unusual selection of accessories for example."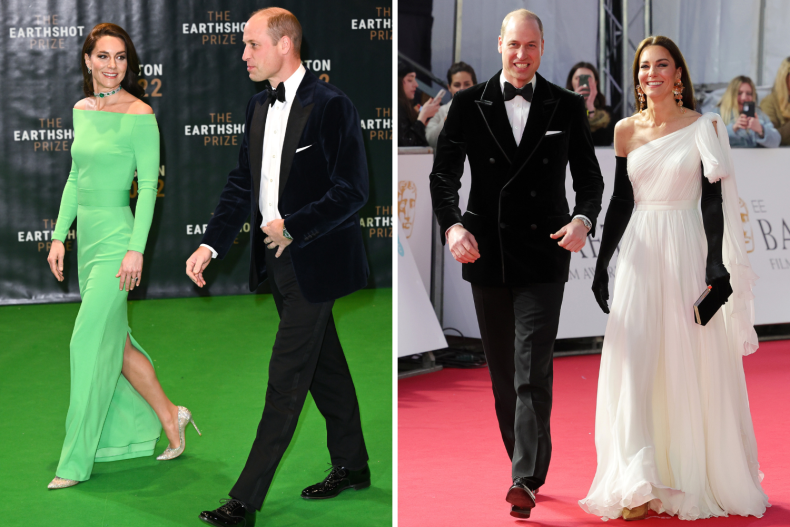 Looking ahead to future fashion milestones, the princess faces one of the most important events of her royal life so far, the coronation of King Charles in May.
Though the dress code for the event is as yet unknown, previous services have seen royal women dress in heavily embroidered evening gowns with velvet trains accessorized with jewelry and tiaras.
Holder offers though, that Kate's styling for the event can be expected not to stand out from the crowd too much.
"We must remember that the coronation, despite its paired down new incarnation, is steeped in pageantry and tradition," she said. "Kate must be careful not to pull focus from the King with her outfit, which is why it won't be too 'out there.'"
James Crawford-Smith is Newsweek's royal reporter based in London. You can find him on Twitter at @jrcrawfordsmith and read his stories on Newsweek's The Royals Facebook page.
Do you have a question about King Charles III, William and Kate, Meghan and Harry or their family that you would like our experienced royal correspondents to answer? Email royals@newsweek.com. We'd love to hear from you.