Kate Middleton Wears Pink Power-Suit For Early Years Meeting With Ministers
Kate Middleton wore a striking pale pink suit to undertake a roundtable meeting with government ministers to discuss early childhood development on Thursday.
The duchess wore a pink pant suit by Alexander McQueen, the designers behind her wedding dress, which she also owns in white and last wore during the controversial royal tour of the Caribbean in March.
Kate took part in the meeting in her capacity as a founder of the Royal Foundation Center for Early Childhood, and comes after the royal's parenting skills came in for some criticism over Prince Louis' behavior during the Platinum Jubilee celebrations earlier this month.
Kate held the roundtable discussion at London's Royal Institution with attendees including Health Secretary Sajid Javid, Children's Minister Will Quince, as well as representatives from the Department for Education, and the Department of Health and Social Care.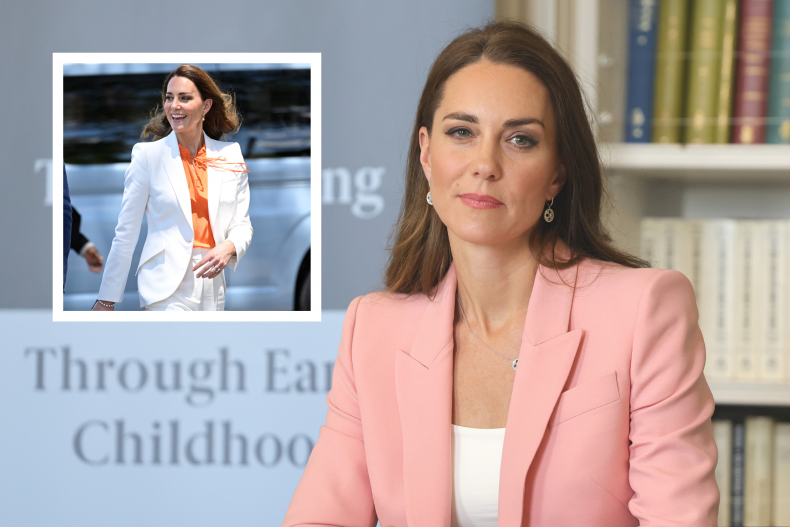 The discussion was based on new research undertaken on behalf of the center, building on the pioneering "5 Big Questions on the Under Fives" survey, which started in 2018.
In a statement released ahead of the meeting for the new study, Kate said:
"Our experiences in early childhood fundamentally impact our whole life and set the foundation for how we go on to thrive as individuals, with one another, as a community and as a society.
"The findings published today present us with a huge opportunity and demonstrate there is real appetite from the public to bring this issue up all of our agendas. There is more we can all do—every member of society can play a key role, whether that is directly with a child or by investing in the adults around them—the parents, the carers, the early years workforce and more.
"If we come together to raise the importance of early childhood development, we'll soon see that healthy, happy individuals make for a healthier, happier world. Which is why every second we spend with a child is an investment in our collective future."
The research presented by the center found 91 percent of British adults agree that early years development is important in shaping a person's life, and that despite growing awareness of children's mental health issues, a majority of parents are likely to seek medical help for their child's physical injuries over their mental ones.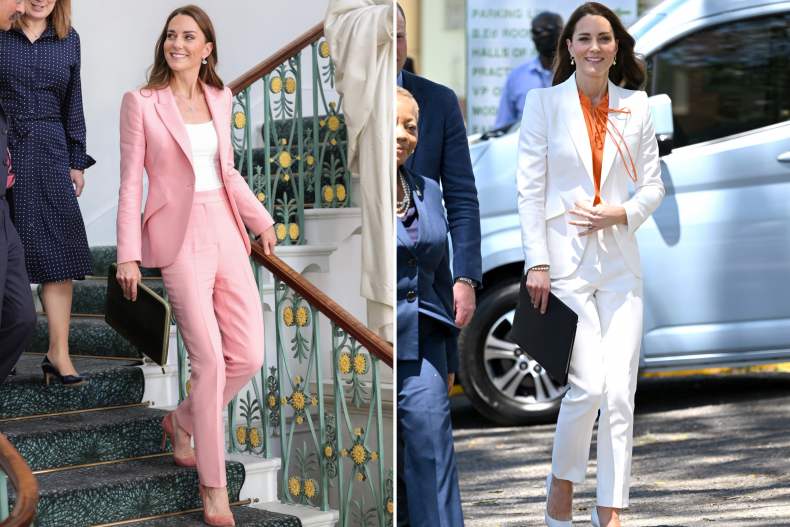 Kate wore her pink McQueen suit with a plain white scoop necked T-shirt and carried a black embossed leather document case in place of her usual handbag.
For jewelry, the royal chose a suit of diamonds from Mappin and Webb, the firm where Mark Appleby, the official crown jeweler, works. Kate first debuted this earring and necklace combination at the christening of Princess Charlotte in 2015.
Pant suits are not a regular feature of Kate's rotating wardrobe with the royal usually opting for one of her famous coat dresses for official daytime events.
When the duchess wore the white variation of the McQueen suit, it was also to an early years engagement but during a visit to Jamaica. Kate wore the sharply tailored suit with a pop of orange color in the form of a high-necked blouse and vintage 1950s handbag.
After meeting with Prime Minister Andrew Holness of Jamaica, Kate and Prince William visited Shortwood Teachers' College in Kingston.
During a speech given at the end of the couple's Jamaican visit, William said:
"Here in Kingston today we've met students and staff at Shortwood Teachers' College, striving to give children a strong foundation for life—and giving Catherine inspiration for her work on early childhood."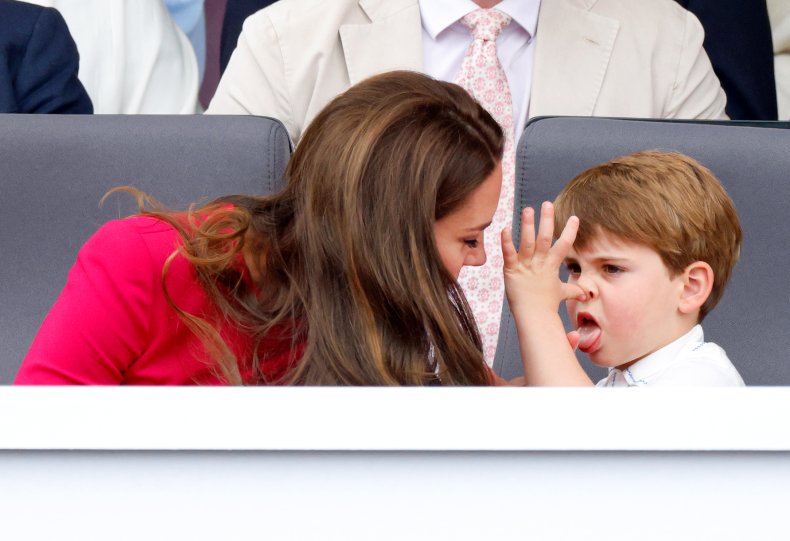 Despite her passion for children's development, Kate found herself the center of a social media storm over the behavior of Prince Louis, 3, during the three-hour-long Platinum Jubilee pageant on June 5.
The royals appeared to acknowledge this furory in a tweet thread, in which they thanked the public for its show of appreciation for the queen's 70-year reign. Closing the thread they said:
"We all had an incredible time, especially Louis..." and then signed off with the initials "W&C" for "William and Catherine," denoting that the message had come from the couple themselves.