Kate Middleton and Prince William's 'Off Duty' PDA Moment Picked Up by Fans
An archive video clip of Prince William and Kate Middleton holding hands on their way to a royal event has gone viral, after being uploaded to social media platform TikTok.
The royal couple have seen a number of their PDA (public display of affection) moments reach high engagement numbers on social media in recent years, most recently when Kate gave William a pat on the butt as they walked the BAFTA red carpet in February.
The TikTok clip, uploaded by user l0velycatherine, has been viewed nearly 300,000 times and received in excess of 28,000 likes and 200 comments.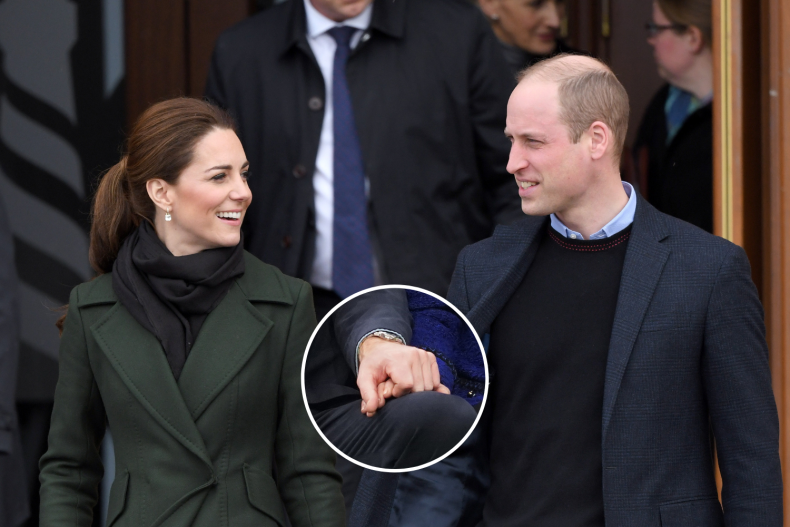 In the video, footage of William and Kate "at work" during a walkabout in the British city of Blackpool in 2019 is contrasted with a clip of the couple "off work," walking to their helicopter hand-in-hand on their way to the event.
The intimacy between the couple has been praised by fans on the platform, with the video caption reading: "They know when and where to show affection for each other."
A number of commenters agreed with the statement, with one posting: "I agree to 100 percent they respect their work and still have time for each other's affection. I love them sm!"
"They look happy together off duty," another user noted, with a further adding: "They are a real power couple."
Despite the couple's reputation for seriousness, particularly when relating to their royal duties, they are often photographed offering each other reassuring touches or presenting intimate body language at events.
During their recent tour of Boston, which took place in December 2022 to mark the second annual Earthshot Prize awards ceremony of which William is president, the couple's PDA went global.
At a basketball game between the Cleveland Cavaliers vs. Brooklyn Nets, the couple were seen at the TD Garden Arena hand-in-hand and, at one point, with Kate's hand resting on her husband's thigh.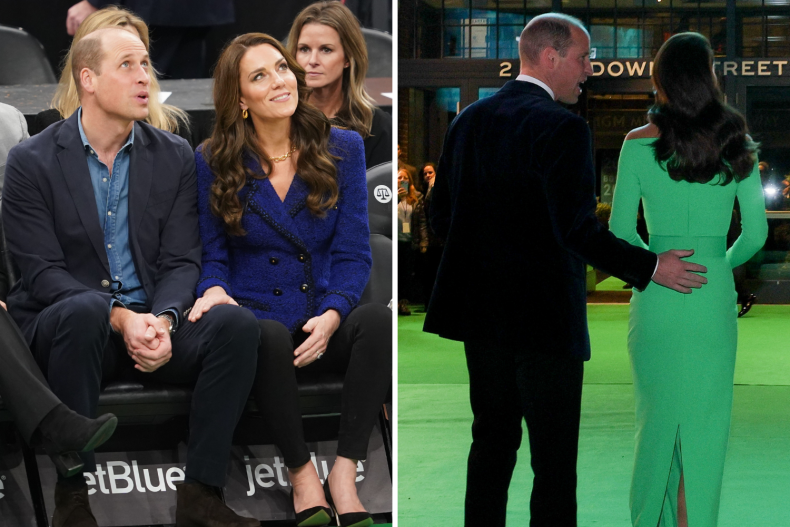 Later at the prize ceremony, William guided his wife through the event, prompting one Twitter user to comment: "We were all mesmerized by Catherine, Princess of Wales on friday. But When I tell you, Prince William was the one who was the most affected! He simply could not keep his hand off her body. Please let her sit!"
William and Kate attended an increased number of prominent public engagements in 2022 owing to the death of Queen Elizabeth II and the state funeral and mourning events that followed.
In one of his first appointments as sovereign, King Charles III made William the new Prince of Wales. By virtue, Kate then became the Princess of Wales, the first royal to use the title since Princess Diana.
The couple face another round of important engagements later this year as Charles prepares for his coronation on May 6 and the traditional Trooping the Colour parade, Royal Ascot and Wimbledon championships.
Newsweek approached Kensington Palace for comment.
James Crawford-Smith is Newsweek's royal reporter based in London. You can find him on Twitter at @jrcrawfordsmith and read his stories on Newsweek's The Royals Facebook page.
Do you have a question about King Charles III, William and Kate, Meghan and Harry or their family that you would like our experienced royal correspondents to answer? Email royals@newsweek.com. We'd love to hear from you.