Kate Middleton Has Stylish St. Patrick's Day Debut as Irish Guards Colonel
Kate Middleton made a patriotic fashion-style statement Friday while attending the St. Patrick's Day parade of the Irish Guards, her first since being made colonel of the regiment by King Charles in December.
Kate attended the annual parade at the Mons Barracks in the town of Aldershot with Prince William, who was the Irish Guards' colonel until his wife took over the appointment after his assignment as the new colonel of the Welsh Guards last year, honoring his title as prince of Wales.
For the occasion, Kate wore a teal-green coat dress from the design house of Catherine Walker & Co. The label was previously responsible for a large number of Princess Diana's most famous dresses.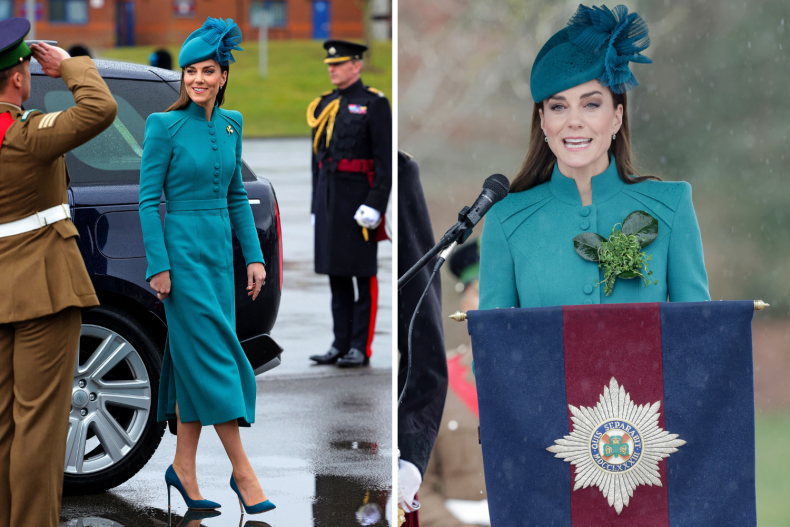 Kate has been a long-term client of Catherine Walker & Co., favoring its highly structured coat dresses. The example worn Friday featured graduated pleating detail around the neckline and princess seam work falling into a straight cut skirt.
The princess accessorized her coat dress with a matching felt hat, suede teal pumps and an heirloom gold and emerald brooch in the shape of a shamrock, which was previously worn by Queen Elizabeth, the Queen Mother.
This is not the first time that Kate has attended the St. Patrick's Day parade. That was in 2012, the year after her marriage to William, and she has attended nearly every year since, except 2016 (owing to family commitments) and 2020 (while most of the regiment was on deployment overseas).
The couple also missed out on the 2021 celebrations because of the COVID pandemic.
For each of her appearances at the St. Patrick's Day parade of the Irish Guards, Kate has paid some form of tribute to the occasion with her outfit, often wearing varying shades of patriotic green.
In 2022, the princess wore an emerald-green wool dress coat by the designer Laura Green London. The coat featured military-inspired epaulets and buttons, with a statement belt and fluted skirt panels.
The royal accessorized her look with a new Lock and Co. green felt hat with incorporated bow detail. She completed her look with the Irish Guards shamrock brooch.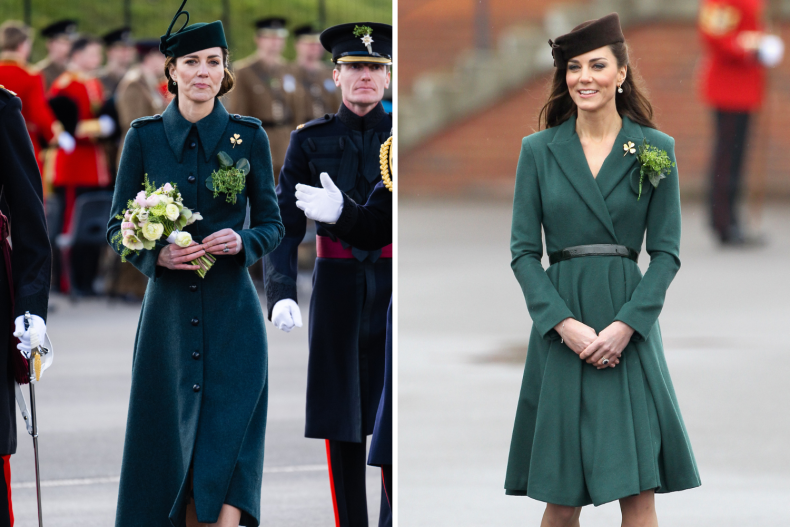 Commenting on Kate's choice of outfit for her first parade as colonel, royal fashion expert Christine Ross told Newsweek that it was a "very thoughtful" decision.
"The Princess of Wales stepped away from her traditional deep-green hue in favor of a bright teal-green shade for her first St. Patrick's Day as colonel of the Irish Guards," she said. The choice made "this very special event with the Irish Guards even more memorable for years to come."
Ross continued: "When her St. Patrick's Day outfits are compared year after year, this teal hue really pops amongst the others. This event with the Irish Guards at Mons Barracks is a very important annual event for the Prince and Princess of Wales, and Kate's choice to wear a new coat, hat and shoes demonstrates how much she values her relationship of the battalion.
"The look was extremely classic Kate, featuring a vintage silhouette and classic design. The sharp shoulders and high neck were reminiscent of military dress uniforms, tying nicely with the uniforms worn by others at the event," Ross said.
During Friday's engagement, Kate distributed the traditional shamrocks to battalion members, who wear them pinned to their tunics. The princess also wore a sprig of the plant from which Ireland takes its national emblem, pinned to the breast of her coat above the gold and emerald brooch.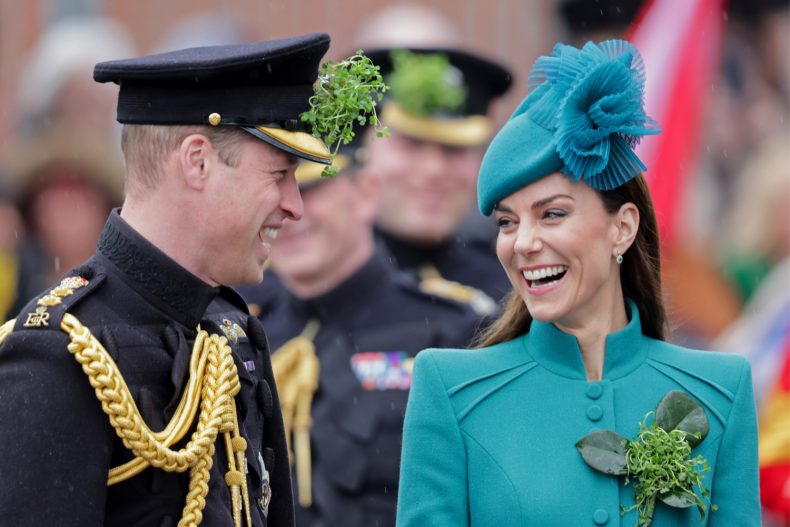 Both William and Kate paid touching tributes to each other in their speeches to the guards on parade as incoming and outgoing colonels.
William spoke fondly of his years observing the regiment and the links he has built with the families of those serving. Before introducing his wife, he said: "In Colonel Catherine, you have a committed, focused and already incredibly loyal 11th colonel."
In her speech, Kate praised "Colonel William" and spoke of her enthusiasm and pride for the regiment she will be closely working with.
"I look forward to spending more time with you and your families, seeing your commitment to duty and service in all you do," she said. "Before I close, however, I want to thank Colonel William. He has always talked about his fierce pride for this regiment. I know he will continue to support us all in the work we do. Finally, I would like to wish you all, a very happy St. Patrick's Day."
James Crawford-Smith is Newsweek's royal reporter, based in London. You can find him on Twitter at @jrcrawfordsmith and read his stories on Newsweek's The Royals Facebook page.
Do you have a question about King Charles III, William and Kate, Meghan and Harry, or their family that you would like our experienced royal correspondents to answer? Email royals@newsweek.com. We'd love to hear from you.
Update, 3/17/23, 12:20 p.m. ET: This story was updated with comments from royal fashion expert Christine Ross.