Kate Moss Reignites Depp Trial Discourse: 'I Had to Tell the Truth'
Kate Moss has discussed her appearance at the Johnny Depp/Amber Heard trial, saying she gave testimony in support of her ex because she believes in the "truth."
The supermodel's appearance at the blockbuster celebrity trial was a major talking point in the multi-million dollar legal battle between Depp and his ex-wife Heard.
Having defended her former boyfriend against claims he once kicked her down the stairs, Moss has explained her reasoning for getting involved and reignited a discussion about the situation on social media.
"I believe in the truth and I believe in fairness and justice," Moss said during an appearance on BBC's Desert Island Discs over the weekend.
"I know the truth about Johnny," Moss said. "I know he never kicked me down the stairs. I had to say that truth."
Moss was called to testify by Depp's legal team to debunk the rumor that Depp once threw her down the stairs. She appeared for just four minutes but was widely praised by Depp supporters on social media.
Depp and Heard were embroiled in a multi-million dollar defamation lawsuit, which Depp and his legal team ultimately won. It related to a 2018 op-ed written by Heard in which she stated she was a survivor of domestic violence.
Heard mentioned Moss at one point during her testimony, which eventually led to Moss appearing virtually to testify later on in the trial. Her incredibly brief testimony was celebrated by Depp's fans online as she confirmed Depp had never physically abused her during their relationship in the 1990s.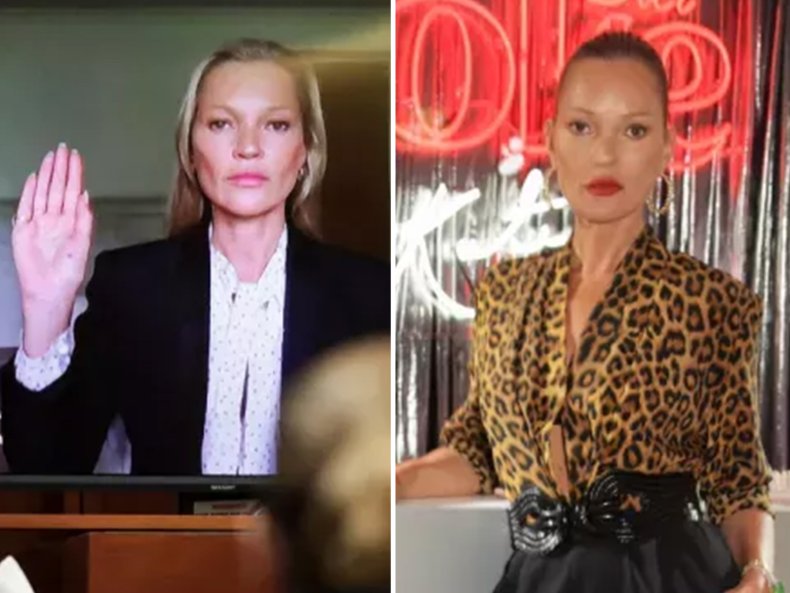 Speaking from Gloucestershire, England, via a live video link, Moss confirmed to the court that she had a romantic relationship with Depp from 1994 to 1998. She was asked about a specific holiday the couple took in Jamaica during that time. Moss testified that as she left their room, she slid on some wet stairs.
"I screamed because I didn't know what happened to me and I was in pain, and he came running back to help me and carried me to my room and brought me medical attention," Moss testified.
Fans are discussing Moss' revelation about her testimony on Twitter today.
"I love this woman. I'll always admire her for speaking up at the trial in defense of Johnny," reads one tweet. "Kate Moss in her Desert Island Discs interview said 'I know the truth about Johnny. I know he never kicked me down stairs. I had to say that truth.'"
While another added: "A Queen and a Truthteller, Kate Moss took the initiative to come forward in support of Johnny."
Another tweet reads: "Kate Moss saw an injustice, she insisted on taking the stand, to correct Amber Heard's lie, and she took the stand. I have great respect for Ms. Moss. I have great respect for anyone that is honest & willing to stand up to injustice. Truth matters."
Newsweek has contacted representatives for Moss and Depp for comment.