Kate Spade Was Obsessed With Coverage of Robin Williams's Death, Sister Claims
The elder sister of fashion designer Kate Spade claims the 55-year-old became obsessed with coverage of Robin Williams's death following his suicide in 2014, according to reports.
Reta Brosnahan Saffo, 57, said Spade's death was not "unexpected" in an interview with Kansas City Star, citing her mental health issues and repeated viewings of news reports about the Oscar-winning actor's death.
"She kept watching it and watching it over and over. I think the plan was already in motion even as far back as then," Saffo said.
Elsewhere, Saffo claimed she tried to help her sister to receive help for her bipolar disorder, for which she claimed Spade refused to receive treatment for.
"After numerous attempts, I finally let go," Saffo wrote in an email. "Sometimes you simply cannot SAVE people from themselves."
However, the family of the designer found dead in the bedroom of her apartment in New York's Park Avenue on June 5 has hit out at the claims made by Saffo in media interviews.
"The family is disgusted and saddened that at this time of great sorrow, Kate's sister who has been estranged from the entire family for more than 10 years would choose to surface with unsubstantiated comments," the family said in a statement, reported People. "Her statements paint a picture of someone who didn't know her at all."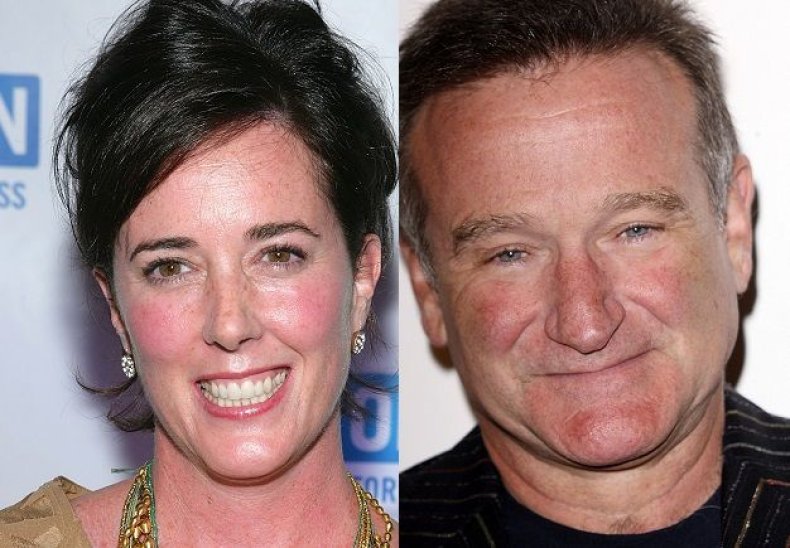 Spade's husband, Andy Spade, also issued a statement contradicting several claims made by Saffo, including that that she did not seek treatment for her mental illnesses, while paying tribute to his "best friend for 35 years."
"Kate suffered from depression and anxiety for many years. She was actively seeking help and working closely with her doctors to treat her disease, one that takes far too many lives," he said, reports Variety.
"We were in touch with her the night before and she sounded happy. There was no indication and no warning that she would do this."
He added: "This is the truth. Anything else that is out there right now is false. She was actively seeking help for depression and anxiety over the last five years, seeing a doctor on a regular basis and taking medication for both depression and anxiety. There was no substance or alcohol abuse. There were no business problems."
Andy Spade also described how he is "appalled" that some media outlets reported that the designer had left a note for their 13-year-old daughter.
Kate and Andy Spade had been living separately for around 10 months before the designer was found dead.
If you have thoughts of suicide, confidential help is available for free at the National Suicide Prevention Lifeline. Call 1-800-273-8255. The line is available 24 hours, every day.
Read a note from Newsweek's editor in chief about covering suicide.