Kathy Griffin Blasted for Saying to Vote Republican if You Want a Civil War
Comedian Kathy Griffin ignited a Twitter firestorm after arguing that a vote for Republicans in the midterm elections amounted to an endorsement of a new "civil war."
Griffin, who has often been the object of Republican scorn due to her fierce criticism of former President Donald Trump, suggested that the November elections were a referendum on whether or not voters "want a civil war" in a tweet on Tuesday.
"If you don't want a Civil War, vote for Democrats in November," Griffin tweeted on Tuesday afternoon. "If you do want Civil War, vote Republican."
The tweet was almost immediately followed by outraged replies maintaining that Griffin was personally threatening violence if Republicans won in the midterms. Many referenced the controversy surrounding a 2017 photo of Griffin posing with a fake blood-covered replica of Trump's severed head.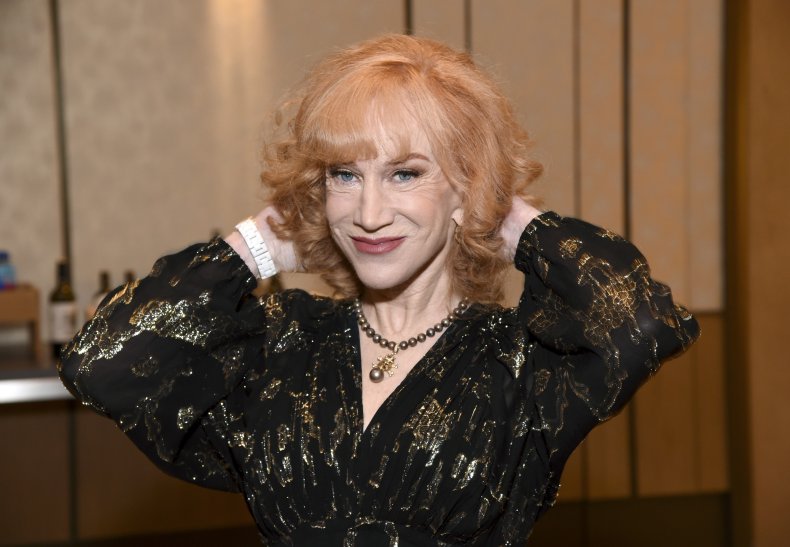 "First, Kathy Griffin threatens to assassinate President Trump with her ISIS-inspired photo," conservative activist Scott Presler tweeted. "Now, she's threatening a Civil War if Republicans win this November."
"Comedian Kathy Griffin threatened a Civil War on Tuesday if Republican candidates win against their Democrat opponents in November's midterm elections," tweeted the account of right-wing website Rebel News.
"Sooo... Kathy Griffin is now threatening a Civil War on behalf of Democrats if Republicans win... got it," conservative columnist Tim Young tweeted.
"Are you actually threatening violence if Republicans win?" tweeted former Libertarian congressional candidate AJ Olding.
"Hey @TwitterSafety this sounds like a threat," Spartan Media founder Jeremy Knauff tweeted.
"This sounds like a threat," tweeted Kristina Wong, a reporter for the conservative news outlet Breitbart.
Griffin responded to Wong's tweet by suggesting that the conservative reporter and others were intentionally misinterpreting her original tweet as a call for violence if Republicans win in November.
"You guys. The maga blue checks are at it again. Because they are constantly threatening Civil War, they are now trying to suggest that I am the one who is threatening a Civil War. Because you know, that's my thing," she tweeted alongside a "face with rolling eyes" emoji.
The comedian also shared tweets from those who were defending her original tweet.
"People purposefully misconstruing what Kathy Griffin tweeted is so 2022," user @MollyTeachesFCS tweeted with an image of a Trump supporter wearing a "MAGA Civil War January 6, 2021" hoodie. "She means that Reps WANT civil war and Dems don't. It's not a threat, it's an observation."
Griffith retweeted the tweet alongside the message "thank you." She also shared a supportive tweet from gun control activist Fred Guttenberg, whose daughter was killed in the 2018 mass shooting at Marjory Stoneman Douglas High School in Parkland, Florida.
"To the MAGA morons complaining about this from @kathygriffin, let me help your flea sized brains understand," Guttenberg wrote. "She is saying we see you lunatics and what you are doing. We understand your desire for violence. If we want to save the country from you, vote Democrat. I agree."
Some of those who responded to Griffin's original tweet suggested that the U.S. could be "peacefully" divided by political ideology by way of a so-called "national divorce," echoing previous suggestions from figures like Republican congresswoman Majorie Taylor Greene.
"I don't want to change your mind or argue with you, but I don't want to share a country with you either," podcaster and author Michael Malice tweeted. "A peaceful divorce leaves everyone better off."
"Translation: 'If my political party can't enslave the rest of the country to our will, there will be civil war!'" tweeted the official account of the Libertarian Party in response to Griffith's tweet. "It speaks volumes that Kathy doesn't seem to acknowledge peaceful alternatives, like #NationalDivorce."
"@LPNational is right," tweeted talk show host Brent Hatley, a former producer for Howard Stern. "Let's all peacefully divorce. @kathygriffin isn't helping by inflaming the situation with violent rhetoric. Let's all go our own way. #NationalDivorce #LeaveEachOtherAlone"
Newsweek reached out to the Republican National Committee for comment.