Katie Hill Condemns Husband for Allegedly Leaking Revenge Porn Photos, Says He's a 'Monster…Driving a Smear Campaign'
Katie Hill—the freshman Democratic congresswoman from California—has resigned following accusations of sexual impropriety and after a series of revenge porn photos were released.
The 32-year-old announced her resignation "with a broken heart," and strongly condemned the publication of personal naked photos without her consent. The release of these types of photos have been criminalized in 46 states including California and are also criminalized in Washington, D.C.
"It is with a broken heart that today I announce my resignation from Congress," Hill said in a letter that was publicly released. "This is the hardest thing I have ever had to do, but I believe it is the best thing for my constituents, my community, and our country.
"This is what needs to happen so that the good people who supported me will no longer be subjected to the pain inflicted by my abusive husband and the brutality of hateful political operatives who seem to happily provide a platform to a monster who is driving a smear campaign built around cyber exploitation.
"Having private photos of personal moments weaponized against me has been an appalling invasion of privacy. It's also illegal, and we are currently pursuing all of our available legal options."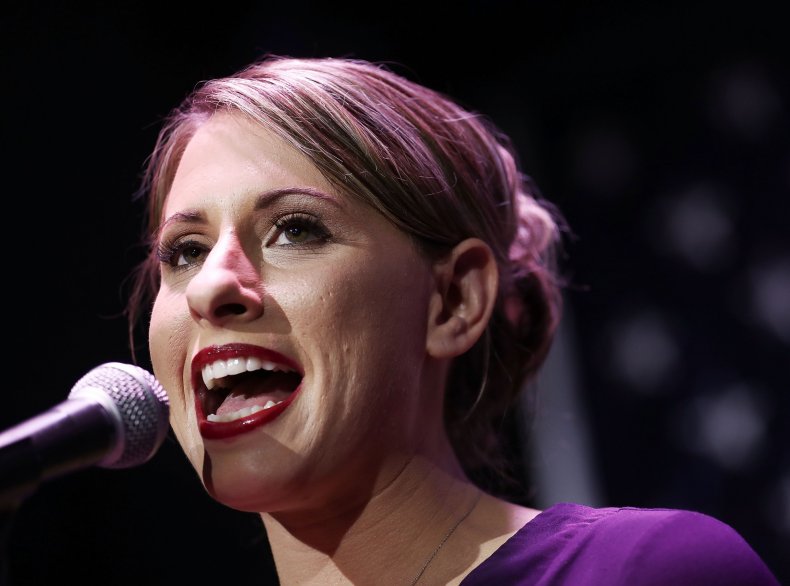 Capitol Police confirmed to Newsweek that an investigation has been launched into the release of the photos, but said no further information could be provided as "We do not comment on ongoing investigations."
The photos allegedly came from Hill's soon-to-be ex-husband, Kenny Haslop, and have since been published in two publications.
In one of the images, Hill can be seen naked holding a bong—a large glass pipe usually used for smoking cannabis—while another shows Hill combing her partner's hair in the nude. A third shows Hill lying naked while sunbathing on a beach.
Although Red State, the Conservative website who first published one of the photos has since taken the image down, the Daily Mail—a British tabloid—has not removed any pictures since publication.
Lawyers for Hill have written cease and desist letters to the outlet's executive editor Candace Trunzo, threatening further legal action, however the Daily Mail has so far not responded publicly. Newsweek has contacted the Daily Mail for comment.
Alongside the publication of the photos, reports also included allegations of an extramarital affair with one of Hill's campaign staffers that the Democrat has since confirmed. The relationship ceased before Hill was a Congresswoman therefore they do not fall under the purview of the House Ethics Committee.
A further allegation of an affair with a different aide was also made and was under the investigation by the committee, this time with a male in Capitol Hill, however this claim was not yet supported by any evidence and Hill denies this took place.
Hill was the first openly bisexual Congresswoman and was the first female lawmaker to be subjected to such allegations of public misconduct.
She addressed her "mistakes" in the resignation letter to Congress.
"For the mistakes made along the way and the people who have been hurt, I am so sorry and I am learning," she said. "I am not a perfect person and never pretended to be.
"It's one of the things that made my race so special. I hope it showed others that they do belong, that their voice does matter, and that they do have a place in this country. That is something I believe with all my heart."
A number of people have said Hill should not have resigned, in spite of the ongoing investigation.
They contrast her case with Republican Rep. Duncan Hunter, who has been charged with stealing campaign funds, some of which he allegedly used on trips with five lovers including lobbyists and congressional staff, but has not resigned and was even re-elected in 2018.