Who Is Katie Waldman? Four Facts about Stephen Miller's Wife After Pair's Wedding at Trump Hotel
President Donald Trump returned from the Daytona 500 NASCAR race to attend the wedding of his special advisor Stephen Miller at the weekend.
In a statement issued to reporters on Sunday, the White House said: "The President is at Trump International Hotel for the wedding of Mr. and Mrs. Stephen Miller," according to Politico.
Although the White House did not name the bride, Miller was engaged to Katie Waldman, who has been serving as press secretary for vice president, Mike Pence.
One of the few staffers left from the 2016 intake, 34-year-old Miller wrote Trump's inauguration speech.
He was also central to the Trump administration's controversial immigration policie, such as the discontinued "zero tolerance" policy, in which adults illegally crossing the border into the U.S. faced criminal prosecution.
This resulted in children being taken from their parents and put into government custody, and was reversed in June 2018.
President Donald Trump spoke at the couple's wedding
Philip Wegmann from Real Clear News tweeted that Trump spoke at the couple's wedding, reportedly telling those present: "He is the only one who could have a damn wedding in the middle of Presidents' Day weekend. I'm sure it didn't affect anybody here."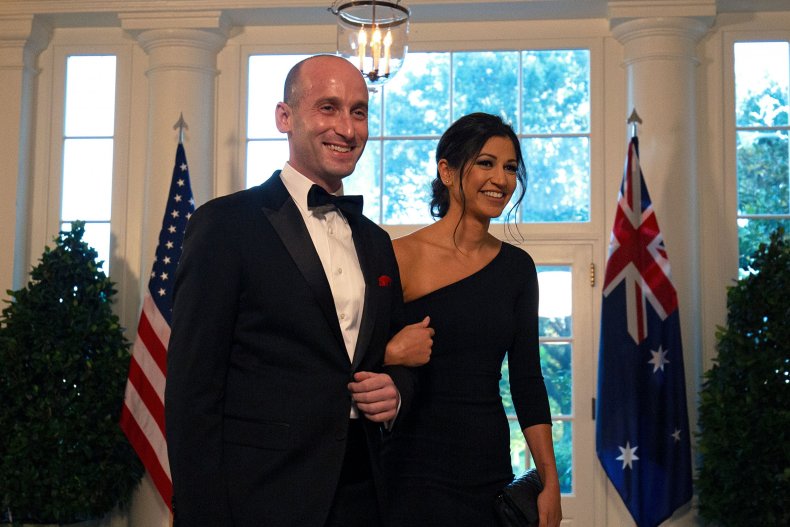 Also at the wedding was former White House chief of staff, Reince Priebus, who tweeted a picture of the Millers on Twitter, with the message: "Spectacular and very special wedding tonight with new bride and groom Stephen and Katie Miller."
Waldman defended the White House's immigration policy
While serving as the Department of Homeland Security's deputy press secretary under Secretary Kirstjen Nielsen, Waldman defended the policy that caused such controversy.
She insisted, according to ABC News, that the administration "never had a blanket policy of separating families in custody," although admitted that "of course separations occurred—but not at the rate of "thousands" they are claiming."
She also described on CNN how a "violent mob of migrants" trying to enter the country illegally from Mexico into California, needed to be stopped by border agents using tear gas and pepper spray.
Waldman enjoyed a swift rise serving the Republican Party
According to her LinkedIn profile, Waldman first worked as a press assistant at the National Republican Senatorial Committee in 2014, before taking on the role of press secretary to Republican Senator Steve Daines in January 2015.
She then took up the post of deputy press secretary to the U.S. Department of Homeland Security in November 2017, a post she held until February 2019.
She then became communications director for Arizona Senator Martha McSally before being appointed to her current role.
Waldman will be key to the vice president during election year
Before she replaced Alyssa Farah as Pence's press secretary, a former DHS official told NBC News that she "impressed a lot of people in the administration" during her stint there.
She is considered to be a Trump loyalist and Montana Senator Steve Daines praised her as having a "very strong personality and "incredible work ethic."
A senior administration official with her at the DHS said she had a wide range of experience and that "she's pro-Trump and that checks all the boxes."
However last September, Richard Painter, a former chief ethics lawyer under President George W. Bush, told Newsweek that Waldman should not be involved in any political decisions that also involved Miller.
Painter said that as Pence distanced himself from some of Trump's policies, he was worried Waldman could "lock the vice president into the pro-Miller faction."
"When I think about it, I am very worried that she doesn't completely recuse herself from making any comments that have anything to do with Stephen Miller or the policies Stephen Miller is pushing," Painter said.