Kavanaugh: I Was a Virgin in High School and 'Many Years Thereafter'
In an interview with Fox News on Monday, embattled Supreme Court nominee Brett Kavanaugh defended himself against two sexual misconduct allegations, claiming he had been a virgin in high school and for many years after.
Kavanaugh has been accused of sexual misconduct while at both Georgetown Prep—an elite all-boys Catholic high school he attended in Rockville, Maryland—and Yale University.
The scandal threatens to derail the judge's bid to secure a lifetime appointment to the Supreme Court, and Monday's interview was an unusually candid effort to win back control of a narrative that appears to be spiralling out of the Republican Party's surveyance.
Earlier this month, psychology researcher and Palo Alto University professor Christine Blasey Ford claimed Kavanaugh attacked her while both attended a high school party in 1982, when she was 15 and he 17. Ford said Kavanaugh and his friend Mark Judge coaxed her into an upstairs bedroom, where the future judge held her down, covered her mouth and attempted to pull off her clothes.
On Sunday, one of Kavanaugh's Yale classmates, Deborah Ramirez, came forward with an allegation that he had exposed himself to her at a dorm party during the 1983-84 academic school year. Ramirez said Kavanaugh had pushed his penis in her face during a drinking game.
Sitting next to wife, Ashley Estes Kavanaugh, on Monday, the nominee told Fox News host Martha MacCallum he flatly denied both allegations that had been brought against him.
The District of Columbia Circuit judge even suggested he had not had sexual intercourse "or anything close to [it]" until long after he had left Georgetown Prep. MacCullum asked, "So you're saying through all these years that are in question that you were a virgin?" He replied, "That's correct."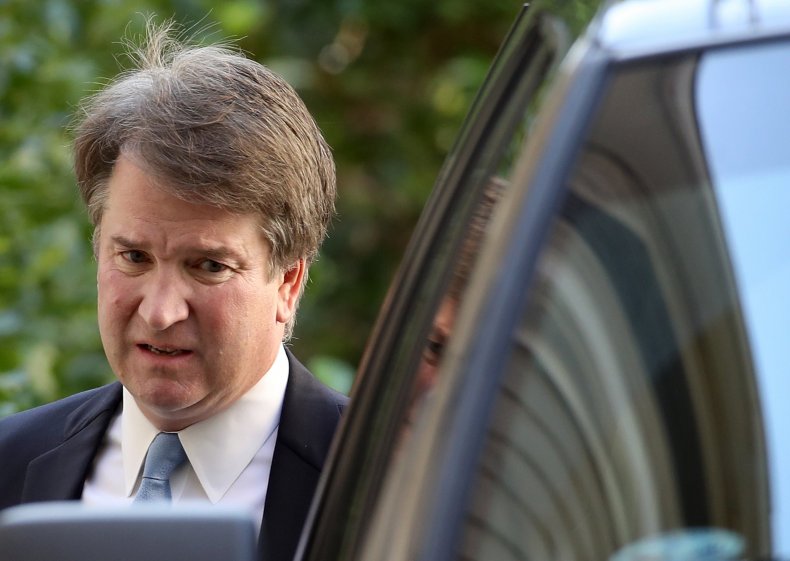 MacCullum also asked how long he remained a virgin while in college, to which Kavanaugh replied, "Many years after, I'll leave it at that… Many years after."
Neither accuser claimed to have ever had intercourse with Kavanaugh, consensual or otherwise.
The vote on Kavanaugh's confirmation to the Court has been delayed so he can formally answer to the allegations. Ford is also scheduled to testify before the Senate Judiciary Committee Thursday, though tough negotiations continue regarding the details of the session.
Senate Majority Leader Mitch McConnell dismissed the allegations as a smear campaign by the Democratic Party to sink Kavanaugh's nomination, and indicated the Republicans still intend to "plow right through" with his confirmation.
President Donald Trump was initially reserved when the allegations first surfaced, but in recent days has made increasingly belligerent statements in support of his nominee. On Monday, he tweeted Kavanaugh was being attacked "with an array of False Acquisitions the likes of which have never been seen before!" He later corrected "Acquisitions" to "Accusations."
But there may be more accusations to come. Michael Avenatti, the lawyer made famous by his defense of adult movie star Stephanie Clifford (also known as Stormy Daniels) said Monday he was representing a third woman who claimed to have knowledge of Kavanaugh's past sexual behavior.
On his Twitter account, the lawyer posted parts of emails sent to Mike Davis, the chief counsel for nominations on the Senate Judiciary Committee. In the messages, Avenatti claimed to have "significant evidence" that Kavanaugh and Judge had targeted women "with alcohol/drugs in order to allow a 'train' of men to subsequently gang rape them."