Kayleigh McEnany, Bill Kristol Float Idea of Kamala Harris as Biden SCOTUS Pick
Associate Supreme Court Justice Stephen Breyer's potential retirement already has people throwing around names for a possible replacement—like Vice President Kamala Harris.
Former White House press secretary under Donald Trump, Kayleigh McEnany, said that Harris was on her mind "from the moment we heard about [Breyer's] retirement" during a Wednesday interview on Fox News.
She alluded to recent polling showing a high disapproval rating of Harris and speculation that the White House is not pleased with the vice president's job performance.
"If you're unhappy with your vice president and you want her in a different role, there is no greater role than on the Supreme Court," McEnany said.
"I think it's a theory that could be credible," she added after host Harris Faulkner brought up the possibility that the vice president could be President Joe Biden's nominee to replace the liberal justice. McEnany went on to clarify that "this is speculation" and there is no indication that Biden is thinking of nominating Harris to the court.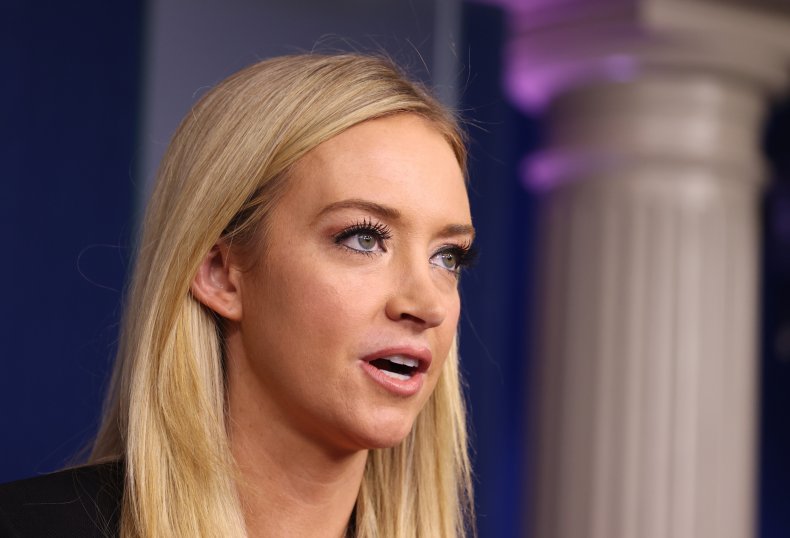 Political commentator Bill Kristol also theorized on Twitter that Harris could be Biden's pick to replace Breyer, laying out a timeline in which, on July 4, Biden selects Harris and she then steps down from her post.
As to who Kristol believes may step in for Harris as vice president: Utah Republican Senator Mitt Romney.
Despite the conjecture from McEnany and Kristol, Biden has already stated that Harris would be his running mate if he runs for reelection in 2024. In response to a reporter's question last week about committing to Harris on the ticket, Biden said, "She's going to be my running mate, number one."
During a Wednesday afternoon press briefing, White House press secretary Jen Psaki shot down the possibility of Biden selecting Harris as his Supreme Court nominee, reiterating the president's comments from last week.
"The president has every intention, as he said before, of running for reelection and for running for reelection with Vice President Harris on the ticket, as his partner," Psaki said.
During the 2020 campaign, Biden promised to appoint an African American woman to the Supreme Court. If confirmed by the U.S. Senate, this nominee would be the first Black woman to sit on the highest court in the land.
Potential Biden nominees include Ketanji Brown Jackson, Leondra Kruger and Leslie Abrams Gardner.
Jackson currently sits on the U.S. Court of Appeals for the D.C. Circuit, having been confirmed last June. Kruger, a member of the California Supreme Court, was previously a solicitor general under former President Barack Obama. Gardner, a U.S. District Court judge in Georgia, is voting rights activist Stacey Abrams' sister.
Whomever Biden selects to replace the retiring Breyer will be his first Supreme Court nominee as president.
Newsweek reached out to the White House for comment.