Despite What Kayleigh McEnany Said, 'Paw Patrol' Hasn't Been Cancelled
During a press conference on Friday, White House Press Secretary Kayleigh McEnany spoke about cancel culture, as it pertains to portrayals of police officers in the media, and falsely claimed that Nickelodeon's popular show Paw Patrol was cancelled and that Lego had stopped sales of its "Lego City Police Station" playsets. Despite her comments, Paw Patrol has not been cancelled, and Lego still sells police-themed playsets on its website.
Speaking before members of the press, McEnany transitioned to the subject of the children's show and the toy line in response to a question about funding for Operation LeGend, the order from President Donald Trump to send federal agents to assist local and state officers.
McEnany first spoke about efforts that Trump has made to reduce violence in different cities. "He's very keen on seeing the violence in our streets end. He wants to protect the people of this country, when derelict Democrat mayors and governors do not," she said, before pivoting to cancel culture.
"He's also appalled by cancel culture and cancel culture specifically as it pertains to cops. We saw a few weeks ago that Paw Patrol, a cartoon show about cops, was cancelled. The show Cops was cancelled. Live PD was cancelled. Lego halted the sales of their Lego City Police Station," McEnany said. "It's really unfortunate, because I stand with, and the president stands with, the 63 percent of Americans who think police officers are one of the most important jobs in this country."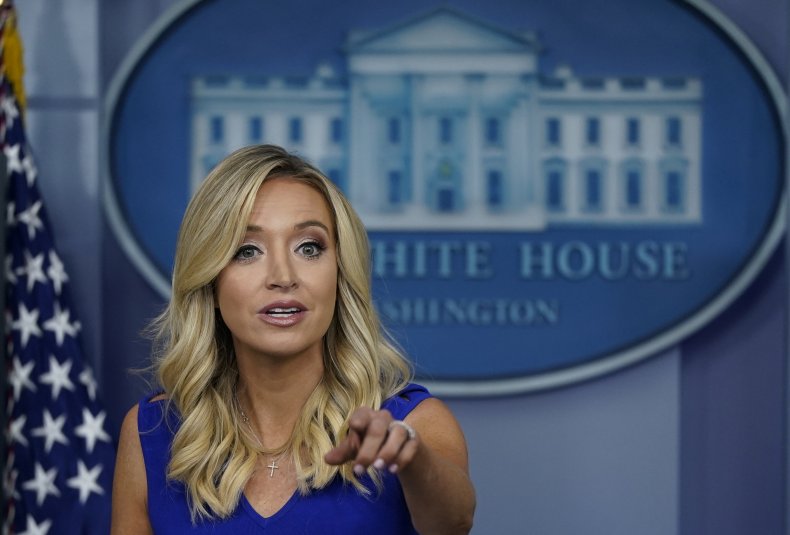 While both Cops and Live PD were in fact cancelled amid protests against police brutality following the death of George Floyd, Nick Jr.'s animated show Paw Patrol was not. Rumors of the show's cancellation likely stem from a campaign for the show to get cancelled or get rid of the character Chase, the police dog.
Paw Patrol did announced on June 2 that it would be muting its content on Twitter, as a demonstration of solidarity with the movement to amplify black voices, until June 7. The account has not tweeted since, save for one reply to a tweet in which a fan was mourning the loss of her own dog.
Despite the cancellation rumors, the show is still regularly showing on Nick Jr—even as McEnany was appearing on news networks, saying it was cancelled. A spokesperson for Nickelodeon confirmed to Newsweek that Paw Patrol has not been cancelled.
The official Paw Patrol Twitter account also responded to McEnany's comments. "No need to worry," the account shared on Friday afternoon. "PAW Patrol is not canceled."
As for Lego, the building-block toy company did put marketing on hold for sets involving depictions of police officers, in observance of June's Blackout Tuesday. The company clarified its decision in a June 3 statement given to The Toy Book. "We requested that our affiliate partners refrain from posting promotional LEGO content as part of our decision to respect #BlackOutTuesday and pause posting content on our social media channels in response to the tragic events in the US," the company said.
Also in early June, Lego shared a tweet announcing that it would donate $4 million to organizations that support Black children and seek to educate about racial equality. A day after sending out that message, the company also tweeted that reports that it had stopped selling certain sets were false.
Police-themed Lego City playsets are still on sale via the company's website. A Lego spokesperson confirmed to Newsweek that the company didn't halt the sales of any Lego sets.
Press contacts for the White House did not respond to Newsweek's emailed request for comment in time for publication.
Updated 7/24/2020, 4:55 p.m. EDT: This post has been updated to include a tweet from the official Paw Patrol Twitter account.