Kellogg Company, the maker of Eggo Waffles, Frosted Flakes and Rice Krispies, announced on Tuesday that it plans to split the company into three independent companies, prompting Twitter users to theorize that the company is taking measures to prevent unionization.
Kellogg announced that they plan to split into three spinoff companies in order to focus each one on cereals, snack foods and plant-based foods. The cereal and plant-based food companies have yet to be named, but Kellogg CEO Steve Cahillane stated the individual companies will be better equipped to reach their standalone potential.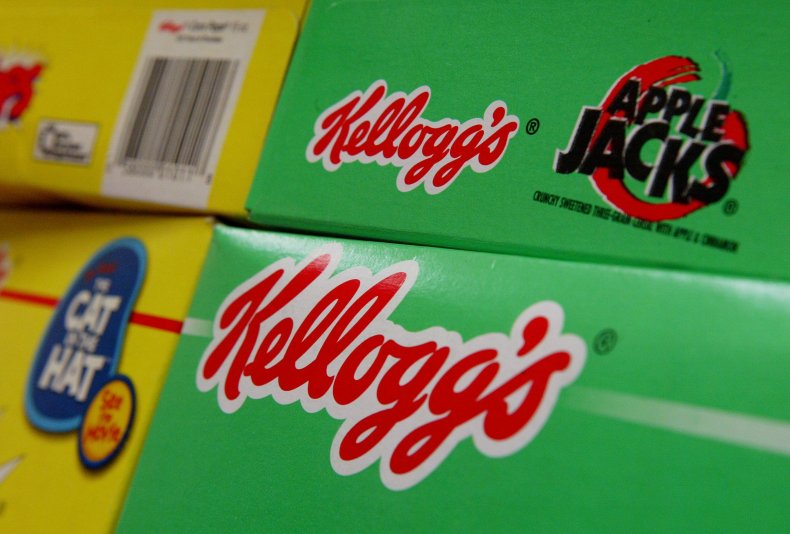 "These businesses all have significant standalone potential, and an enhanced focus will enable them to better direct their resources toward their distinct strategic priorities," Cahillane said in a press release. "In turn, each business is expected to create more value for all stakeholders, and each is well positioned to build a new era of innovation and growth."
The decision to split has already moved shares in the right direction, as shares of the company increased 6.5 percent in premarket on Tuesday following the announcement.
According to Statista, the Kellogg Company led the breakfast cereal market in 2017 with approximately 30 percent.
However, some Twitter users believe that Kellogg's newest announcement is an effort to minimize the probability of a union occurring.
Growing unionization efforts across the U.S. have involved several major companies, including Starbucks and Amazon. Companies have taken preventative measures against unions, including firing pro-union employees and pushing anti-union propaganda.
One user on Twitter pointed out, "Kellogg's is already split into over 30 brands. This is just a marketing ploy to make boycotts more difficult."
"This is 100% to deter the strikes and collective action that we saw a few months ago at Kellogg," another user who goes by the name Jake the snake wrote. "Divide the company (while still being control [sic] by the same people) and you divide the workforce and the Unions' abilities."
The incident the user referred to was an 11-week strike at four of Kellogg's cereal plants which took place in November 2021. The strikes came to an end after workers ratified a labor contract that provided raises and increased benefits to all workers.
Another Twitter user retaliated against the unionization theory, however, writing, "I'm a big union guy, this has nothing to do with unions. This move by Kellogg's is to separate the divisions so that the massive increase in price on wheat can only hurt 1 of the 3 companies. This is 100% pushing loses and profits to one company or the other."
Newsweek reached out to Kellogg's for comment.