Kelly Loeffler, David Perdue Trailing Democratic Challengers in Georgia Senate Races: Poll
Just two weeks ahead of Georgia's critical Senate runoff races, a new poll shows Republican incumbents Kelly Loeffler and David Perdue trailing behind Democratic challengers Raphael Warnock and Jon Ossoff.
The survey, conducted by SurveyUSA, shows Warnock leading Loeffler by 7 percentage points among likely voters. Ossoff maintains a 5-point advantage over Perdue.
The survey took place between December 16 and 21 and involved 800 respondents, 600 of whom said they were likely to vote in the January contests.
According to the new data, Ossoff has widened his lead by 2 points after a SurveyUSA poll conducted three weeks earlier, while Warnock's lead remains unchanged.
The two Democrats' leads appear to be partly due to Republican infighting over President Donald Trump's allegations that the election process is "rigged." After weeks of Trump challenging the results of the presidential election with unsubstantiated claims of voter fraud, some Georgia conservatives have said they will sit out the Senate runoffs.
Among those who identified as "very conservative" in the poll, 55 percent said they are not voting in the runoffs because "the voting process is rigged," while 7 percent said they are "intentionally boycotting" the runoffs. That number compares with the zero percent of those who identify as either "liberal" or "very liberal," according to the data.
Even so, Georgia's unprecedented double runoffs have generated a record-breaking number of early voters. Significantly, more people participated on the first day of early in-person voting than in the November general election.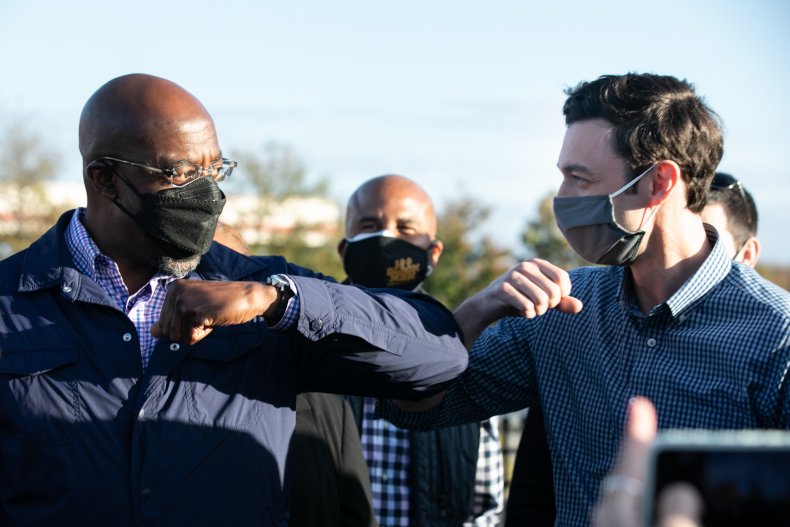 According to voting data from the website Georgia Votes, over 1.6 million people have already cast their ballots for the January 5 contests.
On Monday, Vice President-elect Kamala Harris told Georgia voters that "everything is at stake" ahead of the runoffs.
"You know, 2020 has been a difficult year, 2020 has been rough," Harris said at a drive-in rally in Columbus. "But you know what, as far as I'm concerned, Georgia, Columbus, 2020 ain't over until January 5. That's when 2020 will be over."
She continued, "That's when we will get this thing done, because, as you know, everything is at stake when it comes to the need to elect Reverend Raphael Warnock, to elect Jon Ossoff.... Everything that was at stake in November is at stake leading up to January 5," she added.
The president's daughter Ivanka was also in Georgia Monday, urging Republican voters to support Loeffler and Perdue and "save America."
"Georgia will decide whether our children will grow up under an oppressive government or whether America will remain the land of the free," she said at the campaign event.
"With your help, your voice and, critically, your vote, Georgia—Georgia will save America," she added.
If both Democratic challengers win their races, party control of the Senate would be split 50-50 and Harris would cast any tiebreaking votes. But if Perdue and Loeffler hang on to their seats, Republicans will maintain their majority in the upper chamber.