Kellyanne Conway Defends Tucker Carlson, Says White Supremacy Gets 'Outsized Coverage' Compared to Antifa
White House counselor Kellyanne Conway defended Fox News host Tucker Carlson on Thursday, arguing that his assertion that white supremacy is a "hoax" was getting "outsized coverage" compared to other threats.
Conway made the comments during an interview with pundit Eric Bolling on his show America This Week. Bolling asked the Trump aide whether or not white supremacy was a "quote unquote hoax" as Carlson had asserted on his show this week. Although Conway said that white supremacy is not a hoax, she deflected to other perceived threats.
"I think perhaps what Tucker is saying, but you'd have to ask him, is that the outsized coverage it gets versus all forms of hate," the Trump administration official said, pointing specifically to the left-wing ideology of Antifa and calling out anti-semitism. Notably, many white supremacists often spout anti-semitic rhetoric. As for Antifa, the far-left group has been known to damage property and occasionally fight with police, but no killings have ever been linked to them.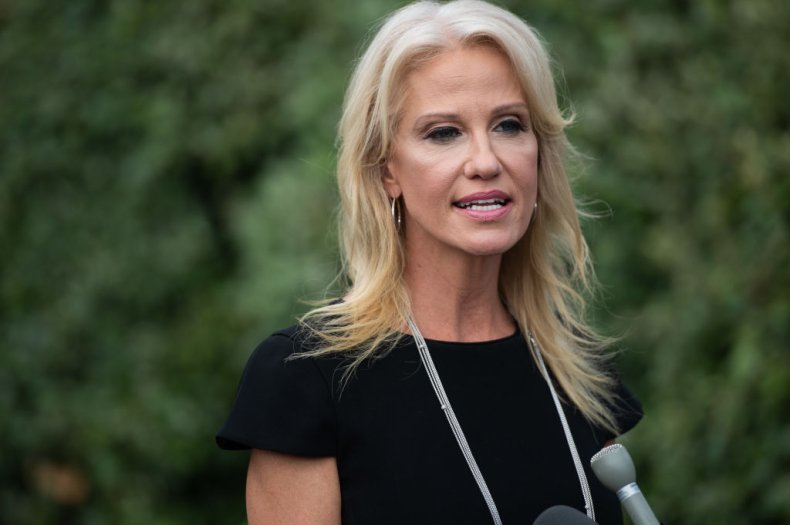 "All forms of hate have to really – they have to be reined in," Conway continued. "We have to look at the motivations. We have to try to keep firearms out of the hands of those who are capable of doing such evil," she added.
On Tuesday evening, Carlson claimed on his Fox News show Tucker Carlson Tonight that white supremacy was a "hoax" and a "conspiracy theory used to divide the country."
"It's actually not a real problem in America. The combined membership of every white supremacist organization in this country would be able to fit inside a college football stadium," the Fox News host argued. Continuing, he said, "it's a conspiracy theory used to divide the country and keep a hold on power."
Despite Carlson's assertions, FBI director Christopher Wray, who was appointed by President Donald Trump, testified before the Senate Judiciary Committee last month saying that "the majority of the domestic terrorism cases that we've investigated are motivated by some version of what you might call white supremacist violence." Government and watchdog stats have also pointed to a rise in white supremacist violence in recent years, with many Trump critics arguing that the president has emboldened such attackers and hate groups.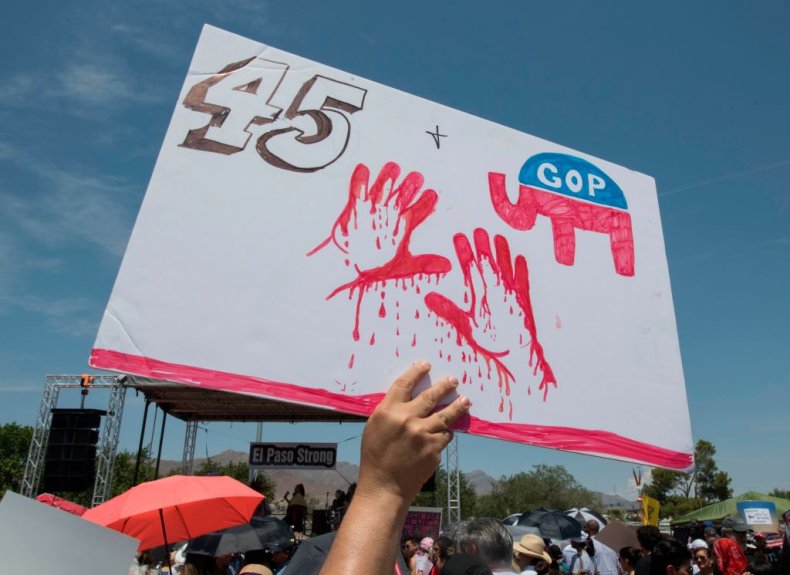 Carlson's remarks about white supremacy came in the wake of a mass shooting in El Paso, Texas, which left 22 people dead and more than two dozen wounded. The alleged shooter in that attack, 21-year-old Patrick Crusius, has been linked to an online manifesto by investigators that ranted against a "Hispanic invasion of Texas" and argued that Latin American migrants should be killed. Prosecutors have said that they are considering filing federal hate crime charges against Crusius, as the shooting is believed to be racially motivated.
Many were quick to note that Trump has used similar language to that of the El Paso manifesto to describe migrants. The president has repeatedly referred to Hispanic immigration to the U.S. as an "invasion," and referred to migrants broadly as "criminals. He also previously said that Mexicans were "rapists."
Despite the violent attack in El Paso, which critics have argued was encouraged by Trump's rhetoric, the president's reelection campaign has doubled-down on its use of the word "invasion" in ads to refer to Hispanic immigration, arguing that the term is "accurate."