Kellyanne Conway Reacts to Tom Brady Unretirement Rumors Amid Divorce
Kellyanne Conway, who is getting divorced, managed to find time for some Twitter interaction with NFL legend Tom Brady, who was reacting to unretirement rumors following his own marital breakdown.
Former Trump campaign manager, Conway is going through divorce proceedings with lawyer George Conway after 22 years of marriage. The situation has been subject to much speculation over the past week, with the couple's daughter being forced to speak out, and former President Donald Trump also reacting to the news.
Brady recently retired from the NFL for the final time in his words, but he also finalized his own divorce from Gisele Bündchen in October 2022 after 13 years of marriage.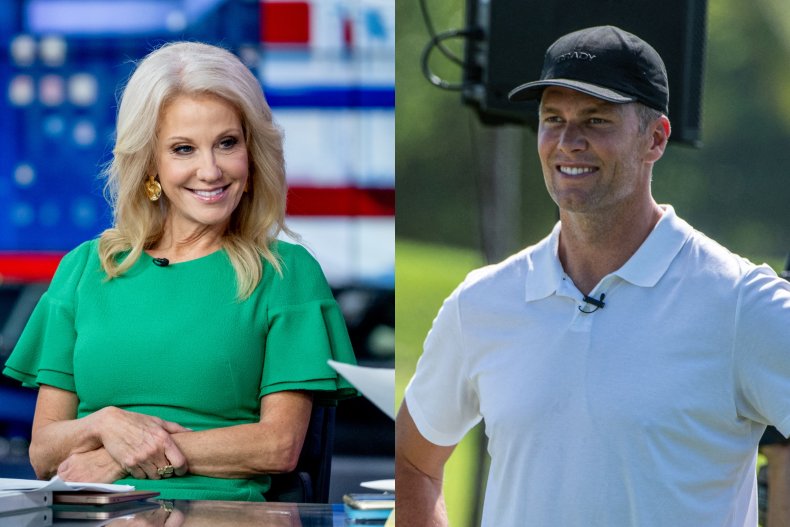 While Brady retired for the second time on February 1, 2023, there is speculation that he might make a second comeback, as he did for the 2022 season. The Rich Eisen Show reported that he might not be "done after all" with his career, as they teased: "Folks are saying keep an eye on Miami," implying the 45-year-old may be signing for the Dolphins.
Seeing this tweet go viral, Brady himself responded to deny the rumors. "Anyone who thinks I have time to come back to the NFL has never adopted a 2 month old kitten for their daughter," he wrote.
Hundreds of thousands of people liked Brady's definitive tweet, including Republican politician Conway.
Brady has three children, a son from his relationship with actress Bridget Moynahan, and a son and a daughter from his recent marriage to Bündchen. The daughter he bought the cat for, Vivian Lake Brady is 10-years-old.
Conway's Twitter activity comes days after the pair released a joint statement confirming their separation. "We are in the final stages of an amicable divorce," read the statement. "We married more than two decades ago, cherish the many happy years (and four corgis) we've shared, and above all else, our four incredible children, who remain the heartbeat of our family and our top priority."
Trump reacted to the news on his social media platform Truth Social, and made it very clear who he was siding with.
"Congratulations to Kellyanne Conway on her DIVORCE from her wacko husband, Mr. Kellyanne Conway," Trump wrote on Friday March 3. "Free at last, she has finally gotten rid of the disgusting albatross around her neck."
He added: "She is a great person, and will now be free to lead the kind of life that she deserves...and it will be a great life without the extremely unattractive loser by her side!"
The couple's relationship was often subject to scrutiny, as Kellyanne was a supporter and colleague of Trump's, while activist and lawyer George eventually became one of his biggest critics. They married in 2001 and have four children together.
On Wednesday, the couple's daughter Claudia Conway, slammed people for "hatefully commenting" on her parents' marriage.
On her Twitter account, she wrote, "Why does the media love to tear women down. [For real] all these journalists hatefully commenting on another woman's marriage are either divorced, will be single forever, or haven't met their husband's secretary yet."
Newsweek has reached out to Kellyanne Conway for comment.