Kentucky Governor, Louisville Mayor Agree Federal Troops Not Yet Needed Amid Breonna Taylor Protests
Kentucky Governor Andy Beshear and Louisville Mayor Greg Fischer both said on Thursday that there is not currently any need for federal troops to assist local authorities' responses to the latest wave of protests.
President Donald Trump offered federal assistance after two Louisville Metro Police Department (LMPD) officers were shot during a protest on Wednesday evening. LMPD Police Chief Robert Schroeder publicly identified the injured officers on Thursday morning and said both are expected to recover. A suspect in the shooting was arrested Wednesday night and identified Thursday morning, and Federal Bureau of Investigation Louisville said it is assisting in the investigation into the shooting.
"Praying for the two police officers that were shot tonight in Louisville, Kentucky," Trump tweeted Wednesday night. "The Federal Government stands behind you and is ready to help. Spoke to @GovAndyBeshear and we are prepared to work together, immediately upon request!"
Beshear confirmed that Trump called him on Wednesday night as he was monitoring protest developments from the Kentucky State Capitol. The president agreed that no federal assistance was immediately necessary, Beshear said during a Thursday news conference.
"His comments were that it appeared that we had things under control," Beshear said. "He did make an offer if, at a later point, we needed additional assistance, he would provide it. But he stated, and I agreed, that at this time we have appropriate levels of law enforcement or peacekeepers there and that, if necessary, we have the ability on the state level to increase that level of support."
Fischer, who declared a state of emergency earlier this week in anticipation of Wednesday's grand jury update on the investigation into Breonna Taylor's death, also said earlier Thursday that federal troops were not needed.
"We feel like we have the resources that we need on the ground right here in Louisville," Fischer said during a news conference Thursday morning.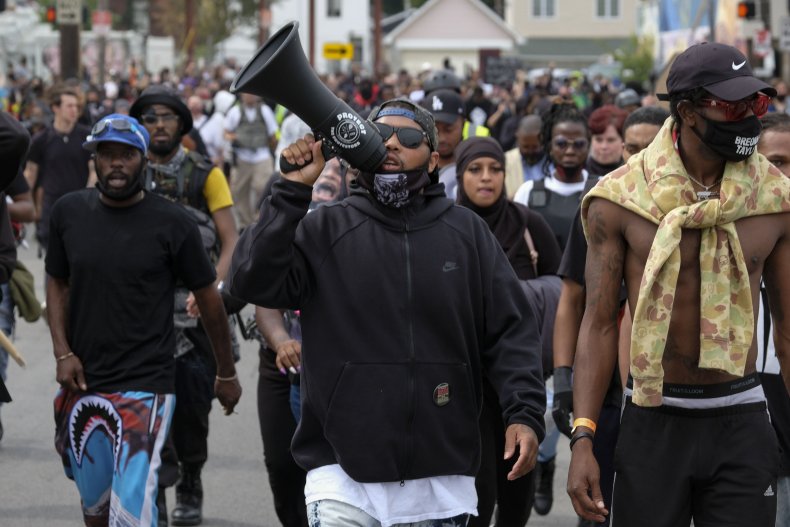 A curfew went into effect on Wednesday evening, and several government buildings in Louisville's downtown area were closed in anticipation of the demonstrations. Fischer announced on Thursday afternoon that the original 72-hour curfew would extend through the weekend, as would the closures of government buildings.
"This step helps us balance our responsibility to keep everyone—protesters, first responders and bystanders—safe, while still allowing people the time and space to voice their calls for racial justice and equity during the day," Fischer said in a tweet announcing the curfew extension.
In addition to Fischer's curfew, LMPD cancelled all vacation and time-off requests for all personnel earlier this week to bolster its response to the anticipated protests, which began immediately following the grand jury's announcement.
On Wednesday afternoon, a grand jury charged one former LMPD officer with three felony counts of wanton endangerment in connection with the shooting that took Taylor's life. Taylor, a 26-year-old Black woman, was at home with her boyfriend, Kenneth Walker, the night of March 13 when officers tried to serve a no-knock warrant to her Louisville apartment. Walker later told police he believed the officers were intruders and fired a gun in their direction when they forcibly entered the home. The officers returned fire, and Taylor was fatally struck.
The grand jury did not indict the other officers involved in the incident. Kentucky Attorney General Daniel Cameron said Wednesday that the federal investigation into the case was ongoing.
A new wave of protests began in Louisville and across the country as people reacted to the grand jury's announcement. In addition to the officers who were shot, Schroeder said at least two other officers were injured in Wednesday night's protests and another was spit upon. A total of 127 people were arrested in Louisville in connection with the protests, and police departments in several other cities also reported arrests and property damage following protests in their areas.
Kentucky State Police and the Kentucky National Guard assisted LMPD efforts on Wednesday and would continue to do so as needed, according to Schroeder. Beshear said he could not confirm how many Kentucky National Guard troops were expected to assist on Thursday evening but said their involvement was not meant to restrict peaceful demonstrations.
"That presence is in no way intended to stifle people's First Amendment rights to give voice to any anger, frustration," Beshear said. "It is there to both keep people safe and ensure that things like our hospitals can continue to operate when, last night, they were absolutely needed for these two officers and for those that might be suffering from COVID or other injuries."
Beshear called upon protesters to demonstrate peacefully and abide by the curfew—encouragements that Fischer and Schroeder both relayed earlier in the day.
"If you're going to demonstrate, please do so in the daylight hours. Come out, be peaceful, be heard," Fischer said. "Moving forward as a city obviously requires that we listen to each other, we respect the differences that we have, but we work toward a better future that we can own together."
Newsweek reached out to Beshear's office for further comment but did not receive a response in time for publication.