Kevin McCarthy Dismisses Claims Dan Crenshaw Denigrated Female Vet, Calls Him a 'Hero'
House Minority Leader Kevin McCarthy brushed aside allegations that one of his members, Rep. Dan Crenshaw (R-Texas), was part of an orchestrated effort led by a top Trump administration official to disparage the reputation of a female veteran who was sexually assaulted at a government facility.
Crenshaw, a former Navy SEAL, gave damaging information to Veterans Affairs Secretary Robert Wilkie about a woman whom he served with to discredit her claim that she was sexually assaulted at a VA facility, according to an independent government watchdog report released last week.
"Dan Crenshaw is a hero to this nation. I know a lot of people try to do a lot of things with Dan because he's willing to stand up," McCarthy, a California Republican, told Newsweek. "I see the attacks, and they should stop."
McCarthy was neither familiar with nor had read a VA inspector general's report that said Crenshaw provided dirt about the victim, Andrea Goldstein, to Wilkie in order to discredit her accusation that a male VA contractor "bumped his entire body against" her and made sexual remarks at a VA facility in September 2019.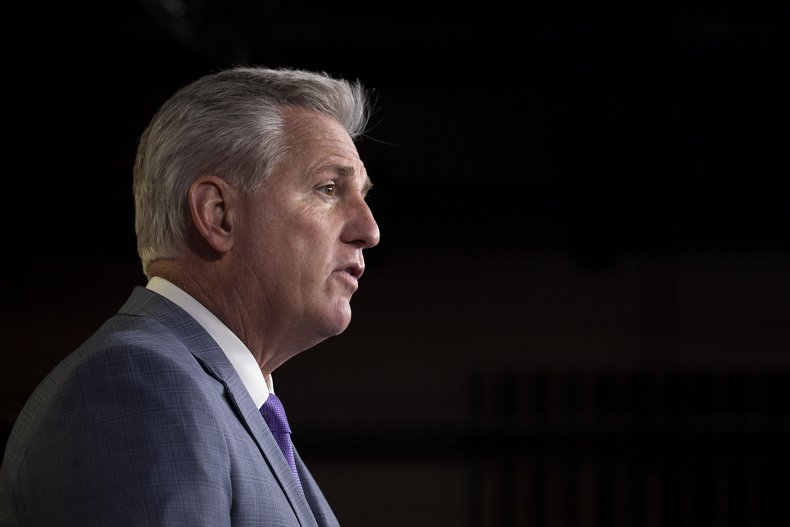 Crenshaw and Goldstein served in the same command unit together. As part of an endeavor by Wilkie and his top deputies to collect dirt that could erode the credibility of her claims, the first-term lawmaker told Wilkie that Goldstein filed false sexual assault claims while in the Navy, according to prior Newsweek reporting and the IG report that came after a 10-month-long investigation.
Crenshaw's alleged actions have caused veterans groups and more than a thousand individual veterans and Department of Defense civilians to demand the Republican's resignation from Congress. At least two Democratic lawmakers—Reps. Jackie Speier (D-Calif.) and Jason Crow (D-Colo.), both of whom are veterans—have called for a congressional ethics probe.
When asked whether an ethics investigation would be appropriate, McCarthy responded in the negative.
Crenshaw has fiercely denied any wrongdoing, including ever speaking about Goldstein with Wilkie. This despite the VA secretary himself writing in a private email to staff—obtained by Newsweek and detailed in the IG report—that said the two men discussed Goldstein after Crenshaw approached Wilkie at a fundraiser event in the wake of the assault allegations.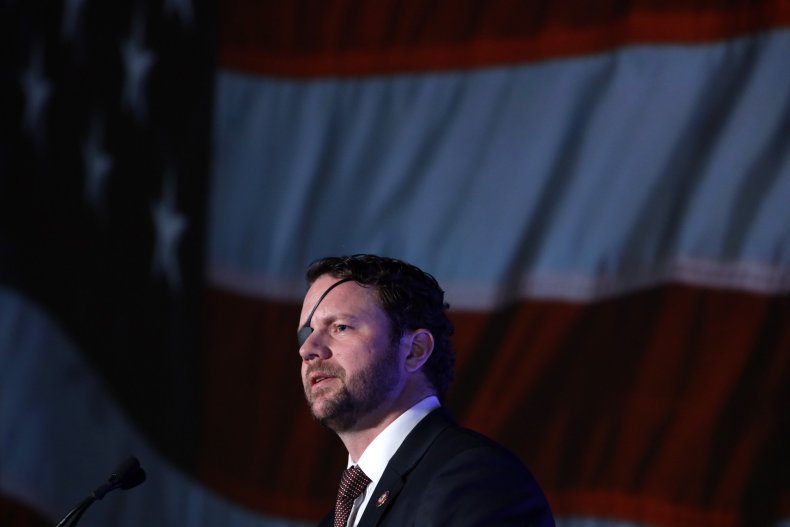 Similar to Wilkie, Crenshaw has said his alleged role is part of a plot by Democrats, including House Speaker Nancy Pelosi (D-Calif.), because Goldstein is a staffer for House Veterans' Affairs Committee Chairman Mark Takano (D-Calif.). More than two dozen Democratic lawmakers have demanded Wilkie's ouster while nearly two dozen veterans organizations have said the same.
"For a smear campaign to be a smear campaign, there has to be a smear in the first place, and *no one has identified what that is.*" Crenshaw wrote in a string of tweets on Thursday. "Why? Because the smear does not exist. There is no truth to it. It is a lie."
The IG report concluded there was no illegal activity by either Wilkie or Crenshaw, nor were there any policies violated. However, the watchdog noted that it's investigation could not be pursued in its entirety because Crenshaw refused to cooperate and Wilkie rejected requests for follow-up interviews. The IG concluded that the men's actions, along with Wilkie's top aides, were "unprofessional and disparaging."
Crenshaw, in his posts on Twitter, went on to label the allegations that he sought to disparage Goldstein's reputation as "completely fabricated."
"I have no reason or incentive to do so, nor do I think it is the right thing to do as a fellow veteran and especially as a Member of Congress," he wrote. "I have the utmost respect for fellow veterans and especially the challenges that many female veterans face."