Kevin McCarthy Questions Energy Secretary's Military Jet to Ukraine During Kabul Exit
House Republican Leader Kevin McCarthy has questioned why Energy Secretary Jennifer Granholm took a military jet to attend a summit in Ukraine as the U.S. raced to evacuate Americans and allies from Afghanistan.
Granholm chartered a military jet to attend Monday's inaugural Crimea Platform Summit in Kyiv, the Washington Free Beacon reported.
The White House defended Granholm's use of a military plane. "It is standard protocol for Cabinet Members serving as dignitaries representing POTUS to use Military Air on international travel—not just Granholm, but any Cabinet Secretary," a spokesperson told Newsweek.
However, the flight's timing raised questions as it came amid the frantic bid to airlift thousand of people from Kabul airport ahead of the August 31 deadline to pull troops from Afghanistan after the Taliban's takeover of the country. It also took place days before a suicide bombing at the airport claimed the lives of 13 U.S. service members and more than 160 Afghans.
"Who in the Biden White House approved a chartered military jet to Ukraine for the Energy secretary at a time when all our resources and focus should be on getting Americans out of Afghanistan?" McCarthy tweeted.
McCarthy has been contacted for additional comment. The Department of Energy has also been contacted for comment.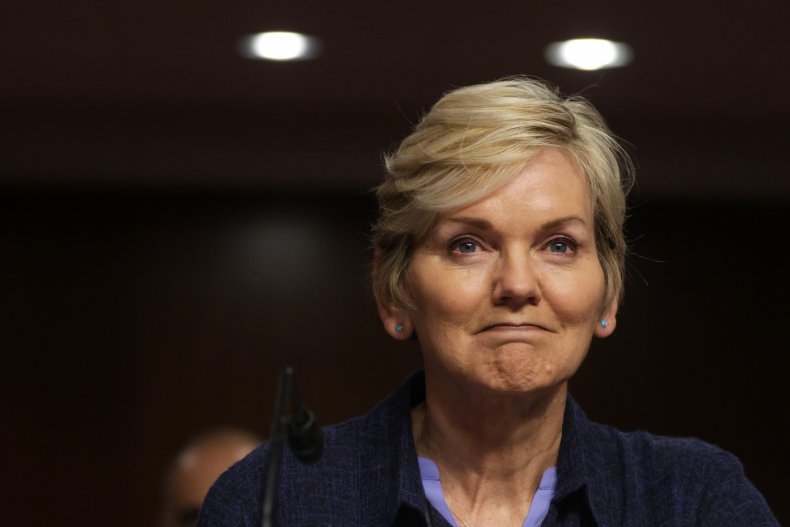 The summit in Ukraine took place as the U.S. enlisted commercial airlines to help with the evacuation from Afghanistan.
The Pentagon said it had activated an emergency program called the "Civil Reserve Air Fleet," with aircraft from United Airlines, American Airlines, Delta Air Lines and others assisting in carrying people from temporary locations after they arrived on military jets from Afghanistan.
"It's a program that was designed in the wake of the Berlin airlift after World War Two to use commercial aircraft to augment our airlift capacity," President Joe Biden said last Sunday.
The president said the flights would bring people from "staging locations and transit centers" like Qatar and Germany to the U.S. or a third country. "None of them will be landing in Kabul," he said.
The questions about Granholm's travel come after several officials serving in former president Donald Trump's administration came under scrutiny over excessive travel spending.
Tom Price was forced to step down from his role as Health and Human Services Secretary in 2017. A report from the Health and Human Services inspector general later found that the department wasted at least $341,000 on Price's travel, including by booking charter flights without considering less costly alternatives.
Scott Pruitt, Trump's former Environmental Protection Agency administrator, resigned the following year amid ethics investigations into several controversies, including his use of military flights.
Trump's former Treasury Secretary Steven Mnuchin also came under fire after it was revealed he took eight trips on military aircraft between spring and fall 2017, costing almost $1 million.