Kevin McCarthy Appears To Shush Marjorie Taylor Greene During SOTU
Kevin McCarthy appears to have shushed Marjorie Taylor Greene during Joe Biden's State of the Union address to Congress on Tuesday.
The president was speaking about U.S. relations with China—which have been a hot topic since the U.S. military shot down what officials suspect was a Chinese spy balloon traveling through American airspace on Saturday.
"I will make no apologies that we are investing to make America strong," Biden said. "Investing in American innovation, in industries that will define the future, and that China's government is intent on dominating."
Before starting his next sentence, a female voice could be heard shouting what sounds like "that is lying," at which point the newly-elected House speaker turns towards where Greene is seated and shakes his head before silently shushing.
Newsweek has contacted Greene for comment.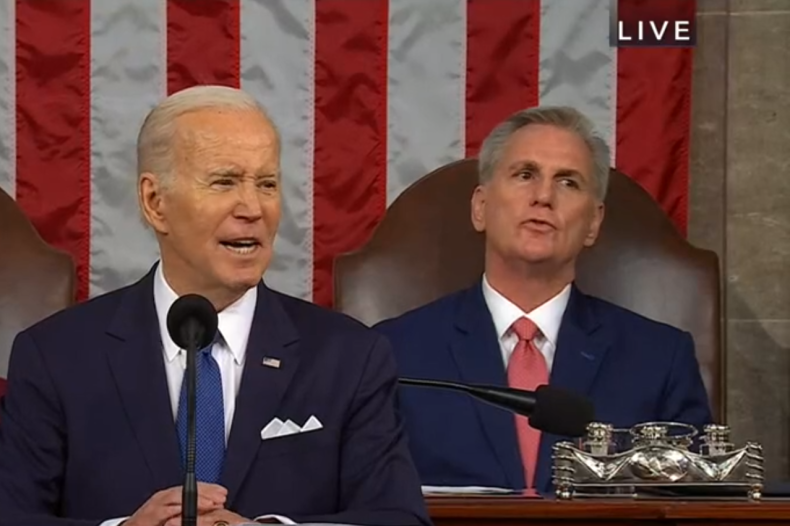 Partisan divisions were clear throughout the 73-minute speech, with statements from the president at times being met by jeering, laughter and heckling from GOP lawmakers, including Greene. Other attempts by McCarthy to silence them largely fell on deaf ears.
Biden attempted to strike a unifying tone in his speech, calling for support from the new Congress, which is divided with a Republican majority in the House and a slim Democrat control in the Senate. "If we could work together in the last Congress, there's no reason we can't work together and find consensus on important things in this Congress," Biden said.
At one point during his remarks, he addressed the divisions head-on. "The people sent us a clear message," the president told lawmakers. "Fighting for the sake of fighting, power for the sake of power, conflict for the sake of conflict, gets us nowhere. That's always been my vision for the country: to restore the soul of the nation, to rebuild the backbone of America—the middle class—and unite the country."
Biden sought to portray the U.S. as a nation that had significantly improved since he took office in 2021, claiming credit for a return to economic stability, an end to the coronavirus pandemic and the survival of democracy following the January 6, 2021 uprising.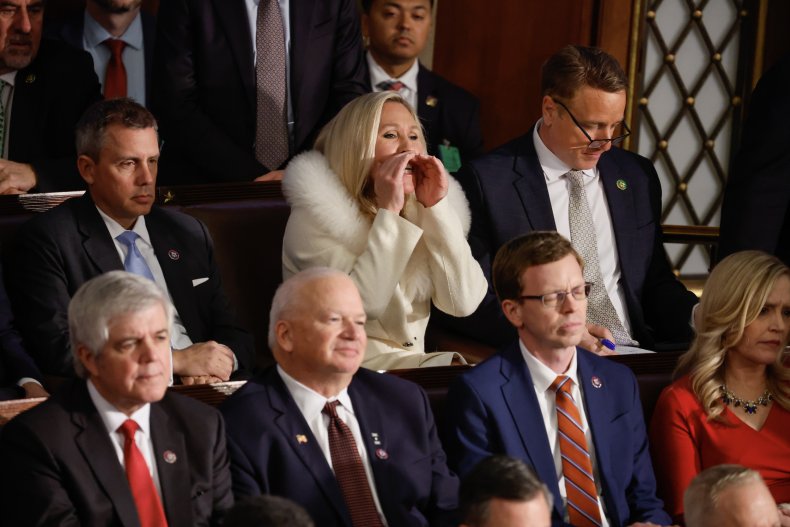 "The story of America is a story of progress and resilience. Of always moving forward. Of never, ever, giving up," he said. "It's a story unique among all nations. We're the only country that has emerged from every crisis we've ever entered stronger than when we got into it."
McCarthy has been cast as a weak leader, after facing 15 rounds of votes to be confirmed as speaker following an open rebellion by some GOP members. Greene has been seen as an ally of McCarthy, backing him through all 15 votes, and presided over the speaker's chair on Monday while McCarthy was away.