Key Moments From Beto O'Rourke and Greg Abbott's Only Texas Debate
Texas' Republican Governor Gregg Abbott and Democratic gubernatorial candidate and former U.S Representative Beto O'Rourke clashed in their first and only debate ahead of the election in November.
While the debate remained largely civil, both candidates accused the other of holding an extreme position on the issue of abortion, while former President Donald Trump did not feature.
While O'Rourke and Abbott discussed issues from immigration to women's healthcare to the southern border, the debate may not have much of an impact on a race where the governor is viewed as highly likely to win.
Here are key moments from Friday's debate.
1. Candidates Accuses Each Other of Being Extreme
Both candidates took the opportunity to accuse each other of holding an extreme position on abortion. The issue has garnered greater importance following the U.S. Supreme Court's landmark decision in June that found abortion rights were not constitutionally protected.
"Beto's position is the most extreme because he not only supports abortion of a fully developed child to the very last second before birth, he's even against providing medical care for a baby who survives an abortion. He is for unlimited abortion at taxpayer expense," Abbott said.
O'Rourke responded: "That's not true. It's completely a lie."
"I never said that. And no one thinks that in the state of Texas. He's saying this because he signed the most extreme abortion ban in America. No exception for rape, no exception for incest," the former Democratic congressman said.
2. Abbott Takes Aim at Biden
President Joe Biden is likely to be a major focus of Republican attacks during the final few weeks before the midterm elections and the Texas gubernatorial debate was no different.
Abbott criticized Biden for his handling of the southern border. The Texas governor has helped to push immigration to the top of the news agenda in recent weeks by bussing undocumented migrants to northern cities.
He was asked about funding for Operation Lone Star, which aims at tackling border crossings between Mexico and the U.S.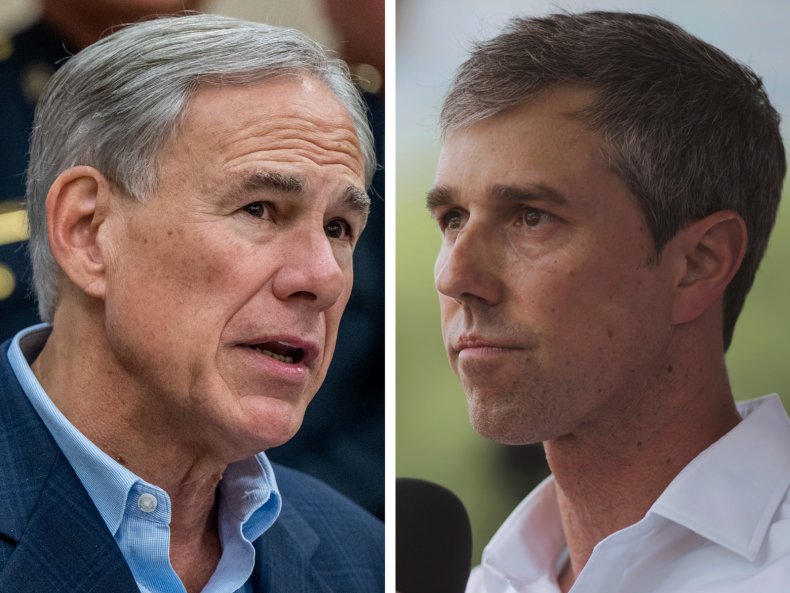 "We shouldn't have to allocate any money for it because this is all because of Joe Biden's failure to do the president's job to secure the border," Abbott said.
"We're only having to do that because of Joe Biden's failure and because it would be the same pathway that Beto would take us down," the governor added.
3. Abbott's 'Hateful Rhetoric' Linked to Mass Shooting
O'Rourke suggested on Friday that the governor's "hateful rhetoric" could be linked to the 2019 mass shooting in El Paso where 23 people were killed. He made the remarks during an exchange about immigration.
"This hateful rhetoric, treating human beings as political pawns, talking about invasions and Texans defending themselves is how people get killed at the WalMart in El Paso," he said, and also referenced the recent fatal shooting of a migrant in Hudspeth, Texas.
"This is incredibly dangerous for Texas and is not reflective of our values," O'Rourke said.
4. O'Rourke Highlights the Electric Grid
Failures in Texas' electricity grid during severe cold weather in February, 2021 was seen as a potential liability for Abbott heading into the gubernatorial election and O'Rourke took the opportunity to remind voters of the issue.
"Governor Abbott's grid failure is part of a pattern over these last eight years. Warned about, for example, school violence and gun violence specifically against children, does nothing," O'Rourke said.
"Warned about problems within child protective services, our foster care program, does nothing, and it gets worse. Warned before February 2021 that we had problems in the grid, he did nothing," the Democrat said.
5. Trump's Notable Absence
One issue that was not discussed at Friday's debate was former President Donald Trump, who is still the most prominent Republican on the national scene and widely considered a likely 2024 presidential candidate.
While Abbott mentioned Biden's "failure," O'Rourke did not deploy Trump as a means to criticize his opponent. It may be the case that neither candidate wants the former president to become a campaign issue in the closing stages of the election.
Trump has made a series of high profile interventions in this year's elections and endorsed Abbott before the GOP gubernatorial primary.
Newsweek has asked the Abbott and O'Rourke campaigns for comment.