Former President Donald Trump addressed his legal battles, abortion and the Russia-Ukraine War during a wide-ranging interview on NBC News' Meet the Press that aired Sunday morning.
Trump, who is running in the Republican presidential primary, sat down for an interview with NBC host Kristen Welker for his first broadcast network interview since leaving office in January 2021. The interview comes less than four months before the votes are cast in the Iowa caucus, the first nominating contest of the 2024 election.
The former president remains the frontrunner to win the 2024 presidential nomination despite a tumultuous summer, according to recent polls, which have found him securing support from many conservative voters as he's widely expected to dominate the GOP primary next year. Trump has now been indicted in four separate criminal cases which span from his alleged attempts to thwart the 2020 election results, his retention of classified documents found at Mar-a-Lago and an alleged hush money payment made during his 2016 campaign. He maintains his innocence in each case.
Welker pressed him on his legal troubles, as well as a number of policy issues that are leading concerns for voters of all political affiliations leading into the election next year. Newsweek reached out to Trump's campaign for comment via email.
Here is a look at five key moments from Trump's Meet the Press interview.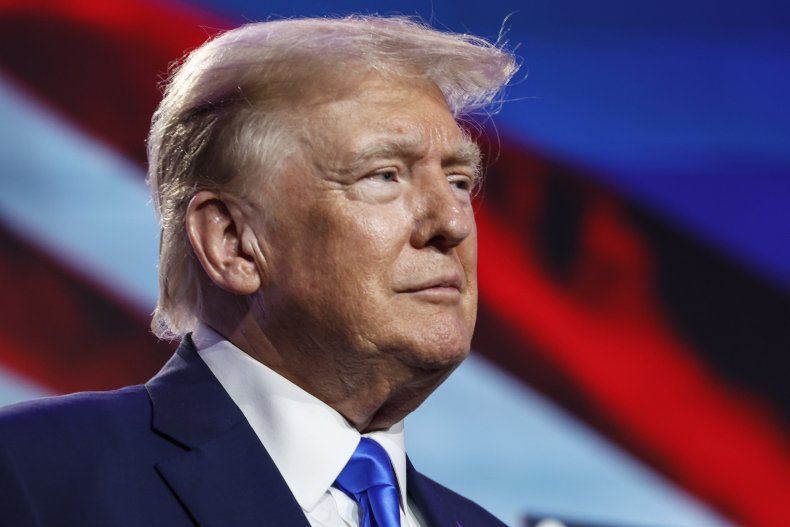 Trump Doesn't 'Think' About Going to Prison
Welker pressed the former president about whether he worries about the possibility that he could be sentenced to prison in any of his criminal cases, the trials of which are set to begin next year.
Trump responded by saying that he does not "even think" about that possibility, and that all he thinks about it is "making America great."
"I don't even think about it. I'm built a little differently I guess, because I have had people come up to me and say, 'How do you do it, sir? How do you do it?' I don't even think about it," he said.
Trump cast his charges as politically motivated, claiming that Biden "went to the attorney general of the United States, and he told them to indict Trump." This comment sparked pushback from Welker, who pointed out that no facts have been proven to back up that assertion.
"There's just no evidence of that, Mr. President," she said.
Trump Addresses Possible VP Choices
Trump said he likes "not to think too much about" who he may pick as his potential vice president should he win the Republican primary election.
Speculation has already begun about who Trump might pick as his vice presidential running mate in 2024, with former Arizona gubernatorial candidate Kari Lake and South Dakota Governor Kristi Noem being viewed as potential contenders.
Trump, however, told Welker he doesn't think it's time to pick his running mate. But he said he likes the "concept" of picking a woman and suggested Noem would likely be considered for the role.
"When you get down to the vice president, no one's ever made that kind of a difference," he said. "It's still about the person that's going to be president."
Trump Says He 'Liked' Putin's Praise
Welker also questioned Trump about Russian President Vladimir Putin's recent praise for him. Trump has been critical of Biden's handling of the Russia-Ukraine war, arguing that he would be able to quickly end the conflict if he were president, though experts dispute that claim.
NBC News reported that Putin said: "We surely hear that Mr. Trump says he will resolve all burning issues within several days, including the Ukrainian crisis. We cannot help but feel happy about it."
"Well, I like that he said that, because that means what I'm saying is right. I would get him into a room. I'd get Zelenskyy into a room. Then I'd bring them together. And I'd have a deal worked out. I would get a deal worked out. It would've been a lot easier before it started," Trump responded.
Trump Pledges to Bring 'Both Sides' Together on Abortion
Trump criticized his fellow Republicans on abortion, a key issue for millions of American voters that has become a sore spot for Republicans recently. The Supreme Court overturned Roe v. Wade last summer, turning the matter to the states, resulting in some conservative states rolling back abortion states.
Trump knocked some Republicans for speaking "very inarticulately" about abortion, voicing support for exceptions for rape, incest and when the mother's life is in danger.
"We're going to agree to a number of weeks or months or however you want to define it," Trump said. "And both sides are going to come together and both sides — both sides, and this is a big statement—both sides will come together. And for the first time in 52 years, you'll have an issue that we can put behind us," he said.
Trump Backs GOP Hardliners' Shutdown Threats
Trump voiced support for Republican hardliners' threats to shut down the government. House Republicans remain divided over legislation to fund the government through the next fiscal year, with the conservative Freedom Caucus listing several red lines for a funding bill. But those requirements coulkd kill the bill's chances of passing the Senate.
Should Republicans fail to reach a funding deal, the government could shut down as soon as next month.
Welker asked Trump if he thinks conservatives should "abandon" their government shutdown threats.
"I think if they don't get a fair deal, we have to save our country. We have $35 trillion in debt. We have to save our country," he said. "I'd shut down the government if they can't make an appropriate deal, absolutely."