Woman Shares 'Most Ridiculous' KFC Location in Front of the Pyramids of Giza
A woman has shared "the most ridiculous place you'll ever have KFC," after finding a restaurant right in front of the Pyramids of Giza.
Kimmie Conner, who describes herself as a travel blogger, shared a "Giza pyramids hack" to her TikTok account, @kimmconn, which has been viewed more than a million times since being uploaded on Thursday.
Conner was visiting Egypt, with a trip to the African country not complete until you've seen the iconic pyramids.
There are a few sites dotted around, but none are more famous than the iconic Pyramids of Giza, which date back around 4,500 years, with the tallest some 451 feet high.
The impressive structures, which were among the seven wonders of the ancient world, were designated a UNESCO World Heritage site in 1979, along with other historically important locations.
You'd think a view of the priceless pyramids would command an exorbitant fee, but Conner managed to find an unobstructed—and private—viewing platform, for the price of a Zinger burger.
Speaking to Newsweek, Conner said: "I actually heard about the KFC from a local who told me it had the best view. I was surprised, but when we realized we only had an hour before we wanted to get on a shuttle to view an art exhibition going on around the pyramids, we thought... 'why not?'"
In her now-viral clip, she said: "Here's the most ridiculous Giza pyramid hack you'll ever hear. So outside the exit there's a Pizza Hut and a KFC with this view.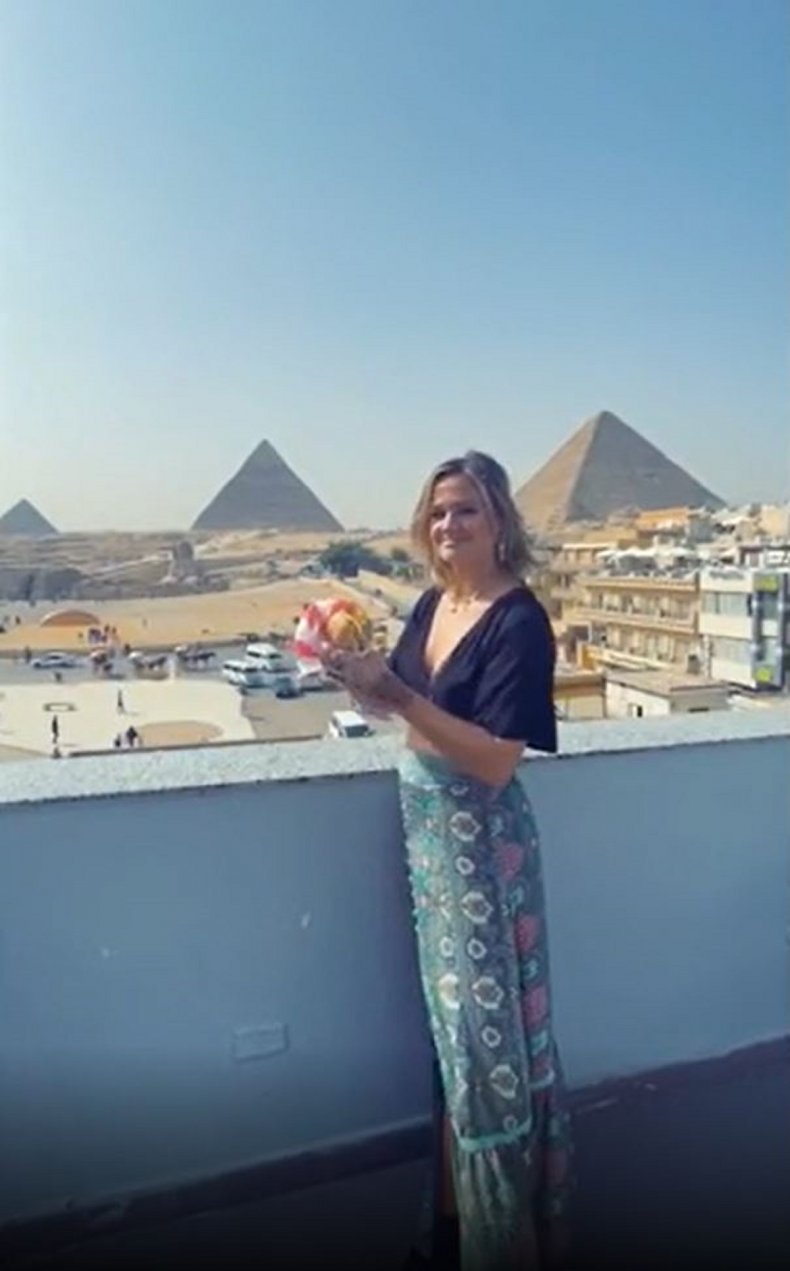 "Would you actually believe they have a view from the top. So if you go in and order some s***** food, walk all the way up to the top. That's right, keep going past, here is the view from the roof of the KFC.
"Sure there are other rooftops around but this is completely empty and you can have it all to yourself. Just you and your Zinger.
"I bet you anything this is the most ridiculous place you'll ever have KFC. Honestly just buying one burger is a lot cheaper than getting to some of the other views, or paying taxis or camels.
"Here's a close up of the view you get from the top of the KFC and the Pizza Hut. How unreal is that. It's actually one of the most central and closest restaurants in Giza. Save the expensive restaurants for later for sunset. And also save some fries for walking around for the rest of the day. You're welcome."
Conner, whose bio states she's been traveling with her other half for six years, also shared the clip, which can be seen here, to her Instagram page.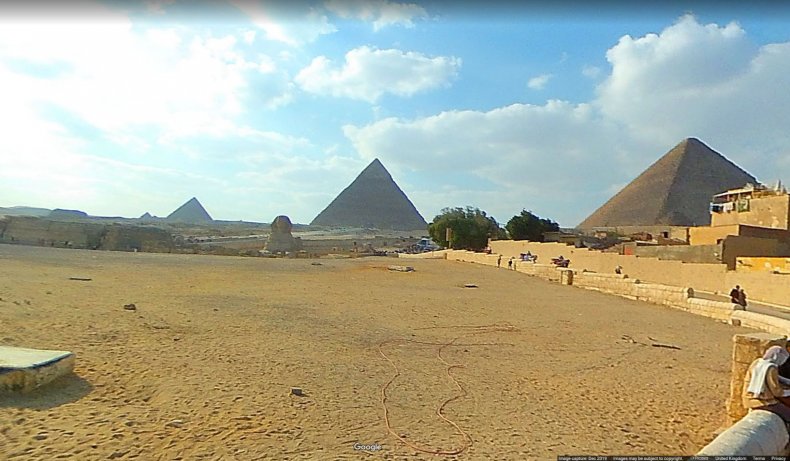 The blogger, whose account suggests she's from America, and her partner from Australia, said: "Yes, there are also tons of local restaurants around... this one is cheap, has a direct view, and is quite hilariously and slightly depressingly ironic, which is why I made a video about it. Clearly everyone has an opinion, which helped it go viral.
"This was our quick lunch stop and view after spending half the day in the pyramids complex before going back in to spend the rest of the day exploring and checking out an art exhibition inside too.
"After the pyramids closed at 4, we went to a more local (and nicer/more expensive) spot to watch the sunset from the rooftop, which I highly recommend."
As Conner indicated, her hack received mixed reviews on TikTok, as TalkingCities said: "Seeing an American chain restaurant right in front of this site is so sad my god."
Celia Ortega318 wrote: "It's awful that a KFC is in front of a World Heritage Site and not a local food chain."
While Evelynlucille commented: "Same thing for the Eiffel Tower in Paris. There's a cafe on top of a museum that has amazing views."
And Joshua Lee wrote: "This a top level travel hack."
While DJT 45 joked: "Starbucks game slipping if Colonel Sanders pulled that location."
Referencing the controversy surrounding visiting the chain, Conner told Newsweek: "I think that people who consider it so awful to have a KFC near the pyramids clearly haven't traveled very much. You can find fast food chains like this in most every country on Earth and always at least something within proximity to monuments.
"I don't regret going to the KFC at all for a few reasons... Firstly, it was fast, and we didn't have much time. Secondly, it was ironic to be all the way in Egypt going to an American fast-food restaurant. Thirdly, it's fun trying familiar fast-food restaurants in all different countries because you will find that they are a little bit different in each place, whether a different quality or different menus entirely.
"It's important to support local businesses but there's absolutely nothing wrong with getting fast food once in a while, while traveling. Even at the pyramids!"
KFC's website states: "We have more than 25,000 KFC restaurants in over 145 countries and territories around the world."
They have 154 outlets in Egypt alone, as they added: "In fact, every six hours, a new KFC restaurant opens somewhere in the world."
The KFC's view hasn't gone unnoticed, with TripAdvisor reviews and a Reddit thread popping up about the chain's prized location over the years.
Newsweek reached out to KFC for comment.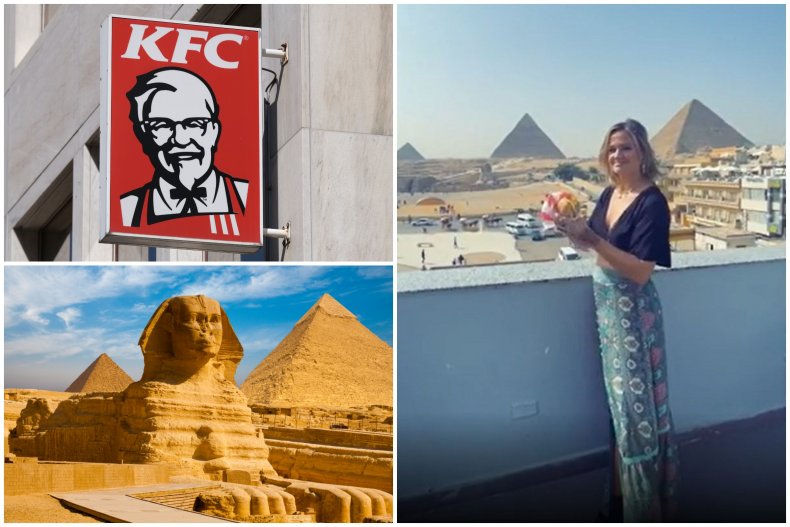 Update 11/2/21, 11:44 a.m. ET: This article was updated with comment, video and photos from Conner.