Kid Hilariously Caught Eating Rotisserie Chicken While Bathing in a Bucket
A video of a kid being caught brazenly eating a rotisserie chicken—after running herself a bath—has gone viral online.
In a viral post shared on TikTok, user tashpointohhh92 explained how she found her child snacking on the dish, which was meant to be for their dinner.
Since being shared online last week, the clip—which can be seen here—has been viewed some 561,000 times.
The user, who goes by Tash Pointoh, left a caption on the video which read: "POV (point of view): You come downstairs from laying the baby down to find your toddler got herself a rotisserie chicken from the fridge and ran herself a bath."
As the clip played, the woman could be seen entering the bathroom where a plastic container of rotisserie chicken was laying next to the toddler, who was inside a bathing bucket with some toys. All the while the toddler was munching on the now-soggy meat.
In a zoom-in shot of the chicken leftovers, the user added: "I guess we'll just eat something else for dinner."
The hilarious clip attracted many comments from people who were keen to praise the toddler's independence. Since being uploaded last week, the video has attracted some 67,300 likes as well as more than 915 comments.
One TikTok user commented: "She just needs a glass of sparkling apple juice and a few candles lit and she's all set."
Another added: "That's what I call an independent woman who knows what she wants and isn't afraid to go out and get it."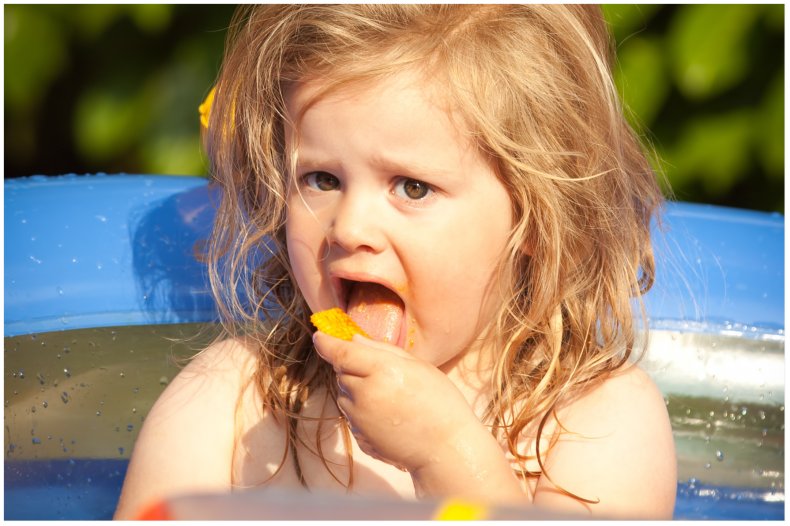 A third posted: "That kid is going places. She already knows her self-care is important."
"Out here living most of my dreams," another said.
Pointoh added in a follow-up comment: "She knows how to live life," adding she "just totally leveled up the bathing experience."
And she clarified she let her daughter continue, saying she just "deboned" the rest of the chicken.
Newsweek has contacted Tash Pointoh for comment.
Toddlers and young children can be picky eaters, but there are ways to broaden their pallets and encourage them to eat healthy foods.
According to the U.K.'s National Health Service (NHS), it could take 10 tries or more to get your child used to new food, flavor and textures.
It said: "Be patient and keep offering a variety of fruits and vegetables including ones with bitter flavors such as broccoli, cauliflower, spinach and cabbage."
The NHS also recommended the following meal ideas for younger children, saying carrot, cucumber and pepper sticks are a great snack, as is apple slice and peanut butter.
Sneaking vegetables into classic dishes such as spaghetti bolognese or casseroles is a good way to get greens into their diet.
The NHS also advised parents to remove bones from meat or fish when introducing young children to solid food.