Kid Rock Starts Concert With Video Announcement From Donald Trump
Kid Rock kicked off his new tour with a video message from former President Donald Trump last week.
Video of the concert in Evansville, Indiana, on Wednesday, that showed Trump greeting the audience at the concert has been viewed more than 500,000 times on TikTok by Saturday. Rock, whose real name is Robert Ritchie, has been a longtime supporter of the former president.
In the video, Trump praised the audience as "hard-working, God-fearing rock-and-roll patriots."
Video contains language that may be considered offensive.
"Bob is truly one of the greatest entertainers of our time. Not the best golfer by any means, his golf game could use a little work," he said in the video. "But a great, great entertainer, and that's why you're there. Let's all continue to love one another, fight for our God-given freedoms, and most of all, let's make America rock again."
The video then panned to Rock performing his expletive-laced pro-Trump song "We the People," which includes insults to President Joe Biden, Dr. Anthony Fauci and the "media." He started his latest "Bad Reputation" tour with his Indiana show last week, which is meant to coincide with his latest album.
The video was met with mixed reception on Twitter, with several Trump supporters commenting praise on the video. However, others offered criticisms of the video, including writer Paul Waldman of The Washington Post, who tweeted: "Nothing captures the rebellious spirit of rock 'n roll quite like a corrupt 75 year old plutocrat with a fake tan talking about golf."
The musician has also backed several right-wing causes in recent years. Ahead of his latest tour, he announced that he would cancel any shows at venues requiring COVID-19 protocols, including vaccination and masking requirements.
"You'll be getting your money back because I won't be showing up either," he said in a Facebook video.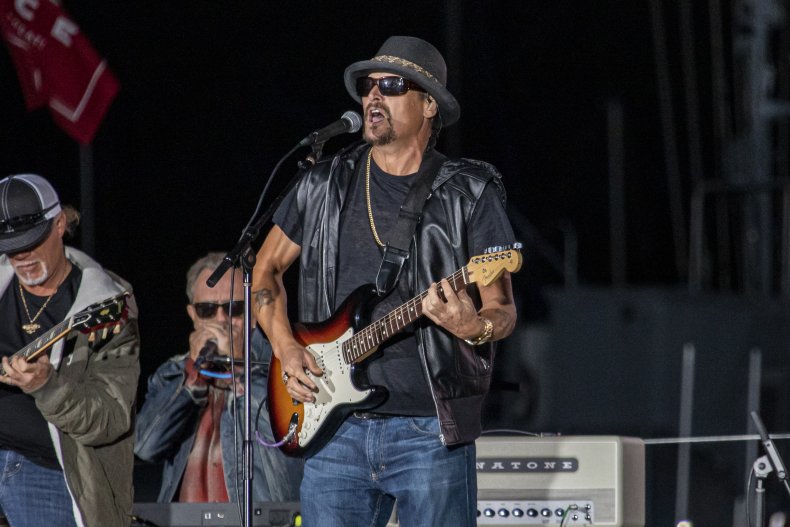 Last month, Rock spoke with Fox News in an extensive interview about his friendship with the former president, whom he continues to play golf with, he said. He also revealed that Trump once asked the musician for his advice on how to handle a situation involving North Korea.
"And I'm like 'What? I don't think I'm qualified to answer this,'" he recounted.
He supported Trump's reelection effort in 2020 and performed at a Trump rally in Michigan that year. He's also faced criticism after he publicly teased a possible Senate campaign for himself after the Federal Election Commission (FEC) determined he was only using the possible campaign as a stunt to sell his music.
Newsweek reached out to the office of former President Trump for comment Saturday morning.