Killer Fatally Shot Victims After Following Them on Public Transit: Police
Police in Philadelphia arrested a man on Thursday who they say fatally shot three people who he followed on public transit in recent days.
The suspect, 21-year-old Derrick Jones, allegedly committed the murders on June 28 and July 7, after the victims got off city buses. He has been charged with three counts of murder.
In late June, after getting off the bus one stop after 20-year-old Zamir Syrus, Jones allegedly shot him, local news station WCAU reported. Philadelphia Police Department Captain Jason Smith said that after passing Syrus on the street in the opposite direction, Jones allegedly turned around and opened fire.
In a statement to Newsweek, the Philadelphia Police Department said that Syrus was found on a highway "suffering from numerous gunshot wounds to his torso. Medic 24 transported the male to Albert Einstein Medical Center where he succumbed to his injuries and was pronounced dead at 10:40 pm."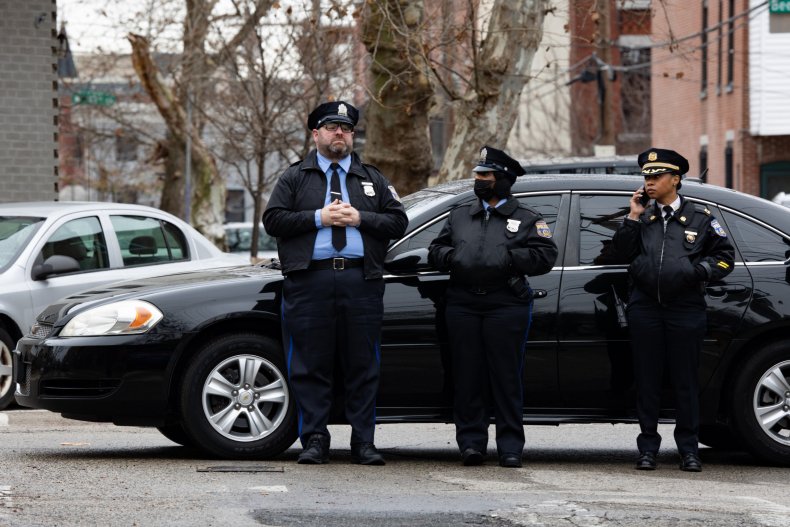 In early July, Jones is also accused of getting off a bus one stop after 20-year-old Justin Robert Smith, and 21-year-old Tyheim Tucker, and shot the pair multiple times. The two men died at the scene, WCAU reported.
The department told Newsweek that Smith and Tucker were also found on a highway "suffering from multiple gunshot wounds."
After investigators traced Jones to his home by using surveillance video of the killings, police allegedly found a Glock handgun as well as the same bullets that were found at the crime scenes at Jones' apartment, according to the station.
Once Jones was arrested, he refused to give police a statement on why he did what he did, WCAU reported.
"This is a total random act of violence, which we may never get to the bottom of and uncover why," Smith said, according to WCAU. "The motive is unknown, but that is the burning question. Why? Why did Mr. Jones murder, in cold blood, three males?"
In a separate incident in Virginia in December, police said they arrested a man who they said was responsible for the deaths of four women. Police dubbed the alleged murderer the "shopping cart killer" because he allegedly transported his victims' bodies in a shopping cart. Police said that he would meet his victims on dating apps, and then at motels.
"We have a serial killer. The good thing is he's in custody. The challenge that remains is identifying other victims," Fairfax County Police Chief Kevin Davis said at the time. "After he inflicts trauma to his victims and kills them, he transports their bodies to their final resting place, literally in a shopping cart."
Last month, police in Georgia said they arrested a man who is suspected of fatally shooting three people on Mother's Day, after they found him hiding in a closet.