Alex Murdaugh, who is serving two life sentences for murdering his wife and son, is now preparing to face a string of other charges relating to a slew of alleged financial crimes.
Murdaugh, 55, was seen publicly for the first time since his murder trial when he appeared at Beaufort County state court in South Carolina on Thursday. Lawyers agreed that a new trial into some of the 101 financial charges laid against him will kick off on November 27. A separate federal hearing is scheduled for next Thursday in Charleston, with the Associated Press reporting that the disgraced and disbarred attorney is expected to plead guilty to charges of theft and wire fraud.
Murdaugh fatally shot his wife Maggie Murdaugh, 52, and their 22-year-old son Paul Murdaugh on June 7, 2021, at their home in Colleton County, South Carolina. Hailing from a powerful legal dynasty in South Carolina, Murdaugh's trial gripped the nation when it unfolded earlier this year. Murdaugh's other son, Buster Murdaugh, supported his dad in court, and Murdaugh is appealing the conviction. He is also facing a string of fraud charges after being accused of stealing millions of dollars from his clients.
Newsweek has reached out to defense attorney Dick Harpootlian via email for comment.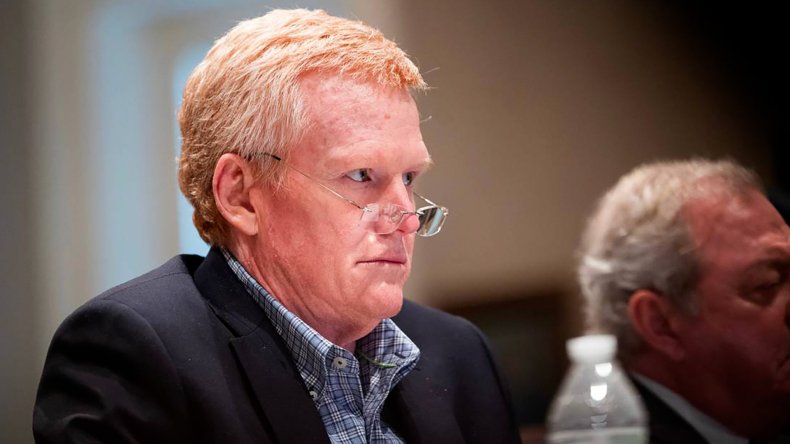 Attention has also turned to the deaths of people linked to Alex Murdaugh or his family, including his two children's friends, Mallory Beach and Stephen Smith, as well as the family's long-time housekeeper Gloria Satterfield. Satterfield died after an apparent fall at the Murdaugh's second home in Moselle in 2018. Satterfield's family is among those named in Murdaugh's financial fraud charges, as he is accused of stealing millions in insurance money that was meant to go to her sons after her death.
There had been an attempt to delay the financial court cases until all legal processes had concluded relating to the murder trial. Murdaugh's lawyers alleged earlier this month that court clerk Rebecca Hill improperly influenced the jury by allegedly telling them not to trust his testimony and urging them to reach a verdict quickly.
Newsweek has contacted Hill via email for comment.
Murdaugh's lawyers have requested a new trial on that basis. Defense attorney Harpootlian argued the state trial should wait until the jury tampering allegations have been dealt with, and all federal case litigation has finished. He suggested his client would be unable to get a fair trial within a year of his widely publicized murder trial.
But Circuit Court Judge Clifton Newman—who also presided over the murder trial—disagreed, saying he would not presume jurors could not be assembled from across the various counties where the alleged financial crimes took place.
During his latest court appearance this week, Murdaugh, who wore an orange prison jumpsuit, occasionally leaned across to whisper with his lawyers during the hearing.
Murdaugh has been indicted for allegedly stealing $8.8 million in legal settlements from clients who received the payouts after being seriously injured, or the families of those who lost their lives. He is accused of stealing almost $7 million from his law firm over a nine-year period. He is accused of being involved in an eight-year money laundering scheme surrounding a drug ring, as well as facing nine counts of tax evasion.
Two men accused of being Murdaugh's co-conspirators have been found guilty in federal court.
Former CEO of Palmetto State Bank Russell Laffitte was sentenced to seven years in federal prison for helping steal nearly $2 million from clients by wire and bank fraud. He still faces 21 state charges, but a trial date has not yet been set.
Cory Fleming, 54, a former attorney and old college friend of Murdaugh's, had previously received almost four years in prison on federal charges for similar crimes. After pleading guilty last month to 23 state charges of helping steal millions of dollars from Murdaugh's housekeeper's sons and the family of car crash victim Hakeem Pinckney, he was sentenced to 20 years in prison on Thursday, which will be served concurrently with the federal prison term.
Fleming read a statement saying: "I offer this court no excuses. There are no excuses. I place the blame for my actions on my shoulders, nobody else's. I have a profound and deep disappointment in myself. It is a very difficult and constant feeling I will carry with me for the rest of my life."
Newman said he had never sentenced a lawyer until Murdaugh, and now sentencing Fleming added: "I cannot imagine anyone going to a lawyer in South Carolina at this moment and having complete trust in what a lawyer says to them."