Kim Kardashian has expressed regret over arguing with her estranged husband Kanye West over his insistence on wearing a MAGA cap.
Rapper West made headlines back in 2018 when he made an appearance on Saturday Night Live sporting one of the distinctive red hats emblazoned with the acronym of former President Donald Trump's campaign slogan, "Make America Great Again."
And Kardashian, who earlier this year filed for divorce from West, has opened up about her behind-the-scenes objection to his bold political statement which proved to be controversial at the time.
During an interview on the Honestly with Bari Weiss podcast, Kardashian said: "I was very nervous. I didn't want him to wear the red hat. I'm not really a rule breaker, so my personality would be like, 'OK, you guys don't like the red hat? I'll take it off.'
"I remember other people were around and it became a thing where he wasn't going to go on because he wanted to be who he is. I'm very neutral, but that night I was very forceful with him, and argued with him like, 'You have to take that hat off.'"
Looking back, Kardashian, who shares four children with West, said that she finds the rapper and designer's move to stand up for what he believes in "commendable."
"Now looking back, I think, why should he take that off if that's what he believes in?" Kardashian told journalist Bari Weiss. "Why can't he wear that on TV? Half of the country voted for [Trump], so clearly other people like him.
"I learned a lot from that situation," she went on. "No matter what, it taught me to be a little bit more empathetic for people that just want to do what they want to do: freedom of speech!
"And if you want to wear the hat, wear the hat. I respect the fact that he knew exactly what he believed in and always stood by that. To me, that's a good quality to have, no matter who is against you and no matter what the circumstances are.
"I think that it's just admirable and it's just a really cool quality. Even if it's not what I agree with, or even if I would have done it differently, I think it's commendable."
In November, West shared an Instagram post titled "Thanksgiving Prayer," in which he discussed the Keeping Up with the Kardashians star's objection to his choice of hat.
"Good lord, my wife did not like me wearing the red hat," he said. "Being a good wife, she just wanted to protect me and our family. I made me and our family a target by not aligning with Hollywood's political stance, and that was hard for our marriage."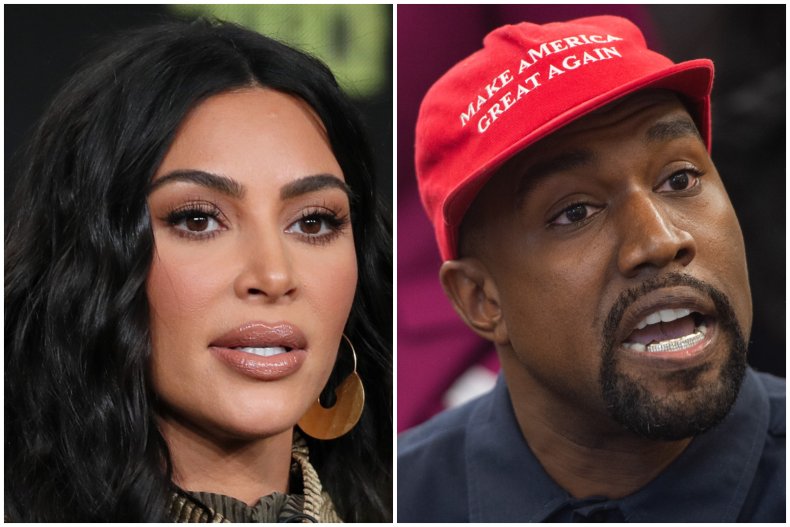 Elsewhere in her interview with Weiss, Kardashian, who recently passed the baby bar exam—taking her further along the road to becoming a lawyer—revealed that her interest in clemency cases inspired her detour.
In 2018, she successfully petitioned Trump to commute the sentence of Alice Marie Johnson, a great-grandmother serving a life sentence in Alabama for a nonviolent drug conviction. She worked with Trump's daughter, Ivanka Trump, and her husband, Jared Kushner.
At the time, Kardashian was criticized for working with the former president to grant Johnson clemency, though she told Weiss that it was about doing the right thing over popularity.
"I really don't care about the criticism," she said. "My reputation over someone's life? Destroy me, then, I really don't care. It was not even an option. And he did the right thing.
"I'm just about doing the right thing; I'm really not about politics at all. It's really about the people inside and if I can do anything—no matter if it's [Barack] Obama, [Joe] Biden, Trump, I'm willing to work with anybody. It's not really about being liked. If I could change someone's life, that's what it's about for me."
As for her own political leanings, Kardashian revealed: "I believe in the rights that the Democrats want, but I believe in the taxes that the Republicans want. I'm a mix of both."
However, while West, who now goes by Ye, launched an unsuccessful run for president in 2020, Kardashian has no ambition to make a bid for office—at least not in the immediate future.
When Weiss asked Kardashian if she would ever run for public office, she responded: "As of right now, no. I understand the responsibility, and it's an extremely hard job, and I don't know if I'd ever want that."