'Kingdom Hearts' Cloud Versions for Nintendo Switch: Release Date and Price
Nintendo Switch owners will soon be able to binge the mainline Kingdom Hearts franchise, with four bundle collections being added to the cloud.
Blending Final Fantasy and Disney properties into the ultimate crossover experience, these games have been delighting and bewildering fans in equal measure for almost two decades.
They're best known for their hectic combat, convoluted storylines (that typically involve alternate realities, simulated worlds, doppelgangers, amnesiacs, triple-crosses, and Winnie the Pooh trying to collect pots of honey) and the fact that they let you explore areas from some of your favorite childhood movies.
If you can keep up with the dense lore and make sense of the tangled web of subplots, then you will be rewarded with plenty of memorable Disney themed moments. For example, you may get to sail the seven seas with Captain Jack Sparrow, join Hercules in the colosseum, escape the grid of Tron, fly over the London skyline with Peter Pan, or explore Andy's room from the perspective of Woody and Buzz.
The first entry in the series was released back in March 2002 and since then there have been over a dozen releases. Some of these are just mobile spin-offs or prologues for bigger games, but they're all integral to the saga's narrative in some waty.
All of which is to say that, if you are new to Square Enix's franchise, you've certainly got a lot of catching up to do. Luckily, the upcoming Nintendo Switch ports (which are being released to coincide with the twentieth anniversary of the original Kingdom Hearts) have you covered.
Which 'Kingdom Hearts' Games Are Coming to Nintendo Switch?
In keeping with the series' nonsensical plotting, the Nintendo Switch collections have mind-boggling titles. Yet rest assured that they do (more or less) flow into one another.
Accessible via the cloud, you will soon be able to purchase the following bundles:
Kingdom Hearts 1.5 + 2.5 ReMIX
Kingdom Hearts HD 2.8 Final Chapter Prologue
Kingdom Hearts III + Re Mind DLC
Kingdom Hearts Series Collection
If you think that list is confusing, just wait until you find out what each of those collections includes.
Broadly speaking, Kingdom Hearts 1.5 + 2.5 ReMIX provides a complete experience of the first two mainline games and their respective spin-offs. In terms of the latter, you will get Re:Chain of Memories, 358/2 Days, Birth by Sleep, and Re:Coded.
Meanwhile, Kingdom Hearts HD 2.8 Final Chapter Prologue comprises everything that builds up to the third game. That means you get Dream Drop Distance, Kingdom Hearts 0.2 Birth by Sleep: A Fragmentary Passage and the prequel movie Kingdom Hearts X Back Cover.
Kingdom Hearts III + Re Mind DLC is comparatively straightforward, including a Switch port of the franchise's third mainline installment and its 5-hour add-on campaign.
Finally, the Kingdom Hearts Series Collection features all of the above in one complete package.
If you purchase Kingdom Hearts 3 + Re Mind (either as its own bundle or as part of the Series Collection) then you will also get an Advent Red Keyblade weapon for use in that game.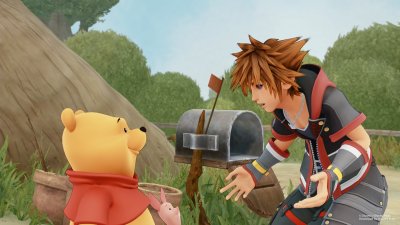 When Are the 'Kingdom Hearts' Cloud Versions Coming to Nintendo Switch?
If you don't need a quick lie down to recuperate after digesting all of that information, then you might be wondering when you will actually be able to dive into these collections.
They are all available to pre-order now on the Nintendo eShop and will be accessible via Cloud from Thursday, February 10.
If you're not confident that your internet connection is strong enough to stream the games, then you can test it out beforehand using free demos that have just been added to the eShop. It's recommended that you do this before you commit to a purchase.
How Much Do the 'Kingdom Hearts' Games Cost on Nintendo Switch
This is how much each Kingdom Hearts collection costs to pre-order from the Nintendo Switch eShop.
| | |
| --- | --- |
| Bundle | Price |
| Kingdom Hearts 1.5 + 2.5 ReMIX | $39.99 (Currently discounted to $31.99) |
| Kingdom Hearts HD 2.8 Final Chapter Prologue | $49.99 (Currently discounted to $39.99) |
| Kingdom Hearts III + Re Mind DLC | $49.99 (Currently discounted to $39.99) |
| Kingdom Hearts Series Collection (All in one bundle) | $89.99 (Currently discounted to $71.99) |