Kinzinger Blasts McCarthy as 'Standard Weak Man' After RNC Censure Remarks
Representative Adam Kinzinger hit back at GOP House Minority Leader Kevin McCarthy, calling him a "standard weak man" following a Friday vote by the Republican National Committee to censure Kinzinger and Representative Liz Cheney.
The RNC voted with a substantial majority to censure Cheney, a Wyoming Republican, and Kinzinger, an Illinois Republican, due to their involvement with the House select committee investigating the January 6, 2021 attack against the U.S. Capitol and their opposition to former President Donald Trump. The resolution stated that the two GOP lawmakers "are participating in a Democrat-led persecution of ordinary citizens engaged in legitimate political discourse, and they are both utilizing their past professed political affiliation to mask Democrat abuse of prosecutorial power for partisan purposes..."
McCarthy was asked about the RNC decision in a Friday interview with Fox News. The California Republican responded by criticizing Kinzinger and Cheney, saying that "those two individuals would have a hard time ever coming back to Congress."
Kinzinger then tweeted a link highlighting McCarthy's remarks and wrote: "Standard weak man here."
In a previous Twitter post, Kinzinger shared an image from the pro-Trump riot that was placed within an online security check frame, asking viewers to "select all squares with legitimate political discourse." The Republican congressman wrote "What do you say Kevin?" and tagged the GOP House minority leader.
Similarly, Cheney slammed the language of the censure resolution in a Friday Twitter post. She wrote: "This was January 6th. This is not 'legitimate political discourse,'" including a clip of the violent pro-Trump riot.
Cheney and Kinzinger have become some of Trump's harshest critics, consistently criticizing the former president for his lies about the 2020 election and his encouragement for the assault last year targeting the federal legislative branch of government. Both Republicans joined eight other GOP House colleagues and Democrats in voting to impeach Trump for inciting the violence.
Kinzinger and Cheney now serve on the House select committee investigating the January 6, 2021 attack. They have repeatedly condemned McCarthy and fellow GOP lawmakers who continue to align with Trump. Meanwhile, pro-Trump House Republicans have argued that Kinzinger and Cheney are "spies for the Democrats" and have urged McCarthy to oust them from the House Republican Conference. While Cheney is seeking reelection in a face-off against a Trump-backed GOP challenger this year, Kinzinger decided not to seek another term.
Ahead of the RNC censure vote, Cheney and Kinzinger both said publicly that they have no regrets over their decision to stand against Trump and his faction of the GOP.
"I'm a constitutional conservative and I do not recognize those in my party who have abandoned the Constitution to embrace Donald Trump. History will be their judge. I will never stop fighting for our constitutional republic. No matter what," the Wyoming congresswoman said in a Thursday statement.
"I have no regrets about my decision to uphold my oath of office and defend the Constitution. I will continue to focus my efforts on standing for truth and working to fight the political matrix that's led us to where we find ourselves today," Kinzinger tweeted on Thursday.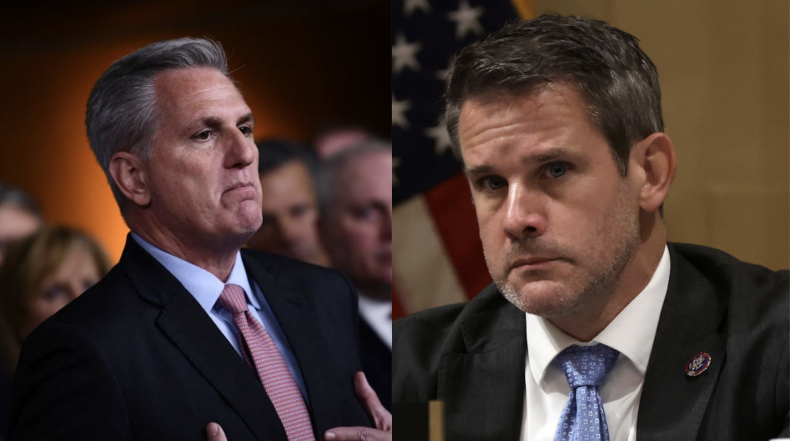 Several prominent Republicans defended Cheney and Kinzinger while condemning the RNC effort.
"Shame falls on a party that would censure persons of conscience, who seek truth in the face of vitriol. Honor attaches to Liz Cheney and Adam Kinzinger for seeking truth even when doing so comes at great personal cost," tweeted Senator Mitt Romney, a Utah Republican who twice voted to convict Trump in the 2020 and 2021 Senate impeachment trials, on Friday.
"The GOP I believe in is the party of freedom and truth," Republican Governor Larry Hogan of Maryland posted to Twitter. "It's a sad day for my party—and the country—when you're punished just for expressing your beliefs, standing on principle, and refusing to tell blatant lies." Hogan has been a consistent Trump critic.
Newsweek reached out to McCarthy's press secretary and the RNC for comment but did not immediately receive responses.