Kinzinger Knocks Haley for 'Still' Doing Trump Bidding After Ukraine Remark
Representative Adam Kinzinger, an Illinois Republican, knocked former U.S. Ambassador to the United Nations Nikki Haley after she argued on Sunday that Russia's invasion of Ukraine would "never" have happened under the leadership of former President Donald Trump.
As Russian President Vladimir Putin began his invasion of Ukraine, Trump described the strongman leader as a "genius" and said his decision was "savvy." He also described Putin as "very smart," after years of speaking favorably about the Russian leader. But Trump has also insisted that Putin would not have launched the invasion if he was still president.
Haley, who served as Trump's ambassador to the United Nations from 2017 to 2018 and as the GOP governor of South Carolina from 2011 to 2017, argued Sunday that Trump's administration would have prevented the invasion of Ukraine.
"This never would have happened under Trump. What we have to look at now is how do we make sure this doesn't go further under Biden," the former Trump administration official said to NBC's Meet the Press host Chuck Todd.
Shortly after the interview aired, Kinzinger, a staunch Trump critic, took aim at Haley and her assessment. "Watching @NikkiHaley makes me shake my head. She used to be straight shooting, now doing the bidding for Trump still," the GOP congressman wrote in a Twitter post.
Despite the arguments of Trump and his allies, others who served in the former president's administration have pushed back against suggestions that he would have somehow prevented Putin from invading Ukraine.
"The fact is that he barely knew where Ukraine was," John Bolton, who served as Trump's national security adviser from April 2018 to September 2019, told Newsmax in a recent interview. "It's just not accurate to say that Trump's behavior somehow deterred the Russians," Bolton insisted.
Then on Friday, Bolton told The Washington Post that he believed Trump aimed to withdraw the U.S. from NATO if he'd won a second term. He pointed out that this would play directly into Putin's goals.
"In a second Trump term, I think he may well have withdrawn from NATO," Bolton said. "And I think Putin was waiting for that."
Russia launched the internationally condemned full-scale invasion of Ukraine on February 24. In response, the U.S., Western European allies and other nations around the world have implemented stringent financial sanctions targeting the Russian economy, Putin and other members of the Moscow elite. NATO nations have also pledged further military and humanitarian aide to Ukraine, which has already outperformed many analysts' expectations in holding back the Russian advance.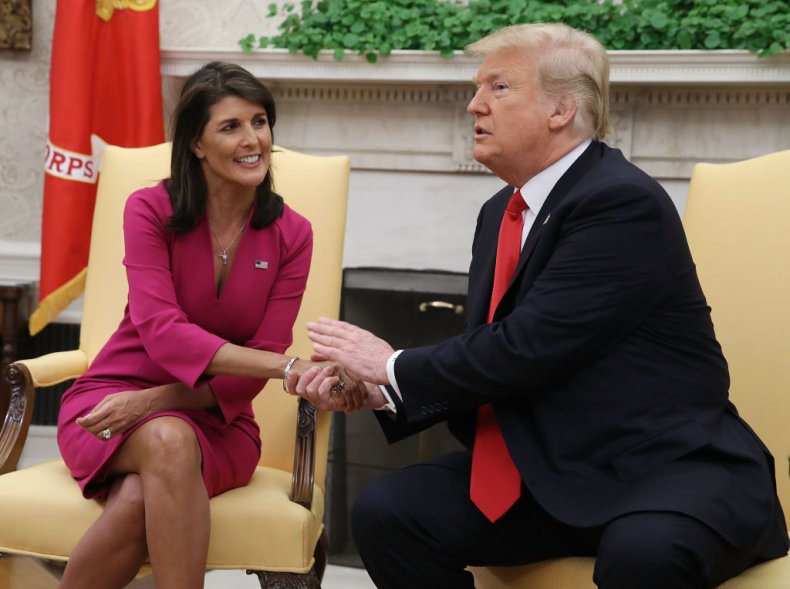 A number of prominent Republicans have appeared to criticize Trump and other members of the GOP who have spoken favorably of Putin amid the invasion.
"There is no room in this party for apologists for Putin. There is only room for champions," former Vice President Mike Pence said at a Republican National Committee retreat in New Orleans, Louisiana on March 4.
"How can anyone with any understanding of the world call Putin's decision to invade Ukraine 'genius' and 'very savvy' as we watch him unite the rest of the world against Russia in nearly an instant?" New Jersey's former GOP Governor Chris Christie tweeted on February 28.
Newsweek reached out to Trump's press office and Kinzinger's spokesperson for additional comment.