Kinzinger Mocks Macron Over Warning to Not Humiliate Putin: 'Feel Goodsies'
Congressman Adam Kinzinger ridiculed French President Emmanuel Macron on Sunday for saying the West should avoid humiliating Russia over the war in Ukraine, sarcastically tweeting that it's "important" to make Russian President Vladimir Putin "have the 'feel goodsies.'"
Macron's comments, published in regional newspapers on Saturday, dovetailed with his efforts to promote diplomacy after more than 100 days of war. Though the French leader has condemned the invasion and signaled support for Ukraine, he has continued dialogue with Putin and stressed the importance of maintaining diplomatic speech.
"We must not humiliate Russia so that the day when the fighting stops we can build an exit ramp through diplomatic means," he said, adding that Putin's invasion is a "historic and fundamental mistake for his people, for himself and for history."
Macron's comments were met with pushback from Western and Ukrainian figures who believe he is being too lenient toward Russia's aggression.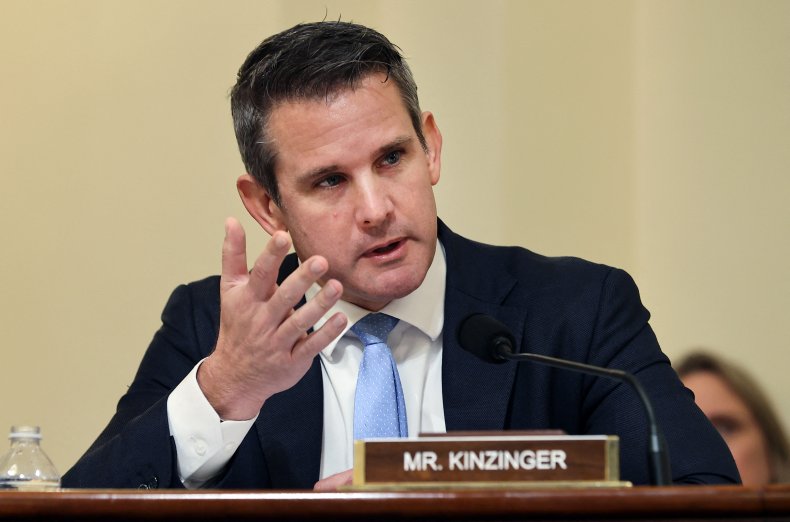 On Sunday, Kinzinger, an Illinois Republican, wrote in response to a tweet and photo of Russian missile strikes on Kyiv, in which a defense reporter added, "But hey, let's make sure we're not humiliating Putin, god forbid."
Kinzinger responded: "Ya it's very important, As @EmmanuelMacron says, to make Putin have the 'feel goodsies.' We can't make him sad, or he may.... Threaten the west over and over and over...."
In a tweet on Saturday, Kingzinger stated the French president is "humiliating himself."
'Misunderstanding' Putin and the Ukraine War
Other House lawmakers, including California Democrat Ted Lieu, tweeted that Macron's speech could make Putin feel more successful and encourage him to continue his attacks on the Eastern European nation.
"This speech by Macron shows a fundamental misunderstanding of Putin and the war in Ukraine. Russia is gaining ground in Ukraine, although slowly. Putin believes he is winning. There are only two ways to stop this war. Let Ukraine lose. Or show Putin he cannot win militarily," he wrote.
Ukrainian Foreign Minister Dmytro Kuleba similarly slammed Macron and said that Russia must be "put in its place."
"Calls to avoid humiliation of Russia can only humiliate France and every other country that would call for it. Because it is Russia that humiliates itself. We all better focus on how to put Russia in its place. This will bring peace and save lives," Kuleba wrote on Twitter.
Macron's latest comment echoed previous remarks he made last month, in which he urged for diplomatic negotiations between Russia and Ukraine.
"We will have to do this with Ukraine and Russia around the table. The end of the discussion and the negotiation will be set by Ukraine and Russia. But it will not be done in denial, nor in exclusion of each other, nor even in humiliation," he said, according to European news outlet Euractiv.