Kinzinger Pushes 'Red Line' Resolution for US Force if Russia Deploys WMDs
Representative Adam Kinzinger, an Illinois Republican, announced Sunday that he has introduced a resolution to use military force against Russia if the U.S. adversary chooses to use weapons of mass destruction (WMDs) in its internationally condemned war against Ukraine.
Concerns have mounted from Ukrainian, American and Western European officials that Russian President Vladimir Putin could deploy chemical, biological or even nuclear weapons against Ukraine as his military continues to face setbacks and losses. While Putin reportedly believed that he would easily and quickly take control of much of Ukraine when he launched the full-scale invasion on February 24, the war has now entered its third month with Kyiv's government remaining firmly in place.
Accusations and rumors have swirled throughout the conflict that Russia may turn to WMDs if it grows desperate in the conflict. Moscow has been widely condemned in recent years over credible accusations that it deployed such weapons against rebel groups and civilians in Syria as it militarily propped up the embattled government in Damascus.
Kinzinger, who has pushed the administration of President Joe Biden for weeks to establish firm red lines in the Eastern European conflict, announced his new congressional resolution—Authorization for Use of Military Force to Defend America's Allies Resolution of 2022—during an interview with CBS News' Face the Nation. He shortly later released a statement outlining his call for the "red line" in the ongoing war.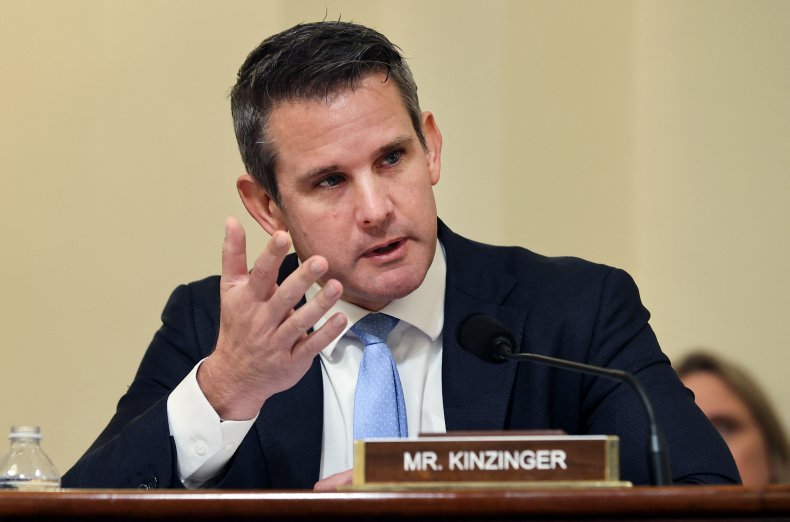 "I'm introducing this AUMF as a clear redline so the Administration can take appropriate action should Russia use chemical, biological, and/or nuclear weapons. We must stand up for humanity and we must stand with our allies," the congressman, who currently serves a a lieutenant colonel in the Air National Guard and also sits on the House Committee on Foreign Affairs, said in a statement posted to his House website.
"As the President of the United States has said, Putin must be stopped. Accordingly, the Commander in Chief to the world's greatest military should have the authority and means to take the necessary actions to do so," the Republican lawmaker added.
Newsweek reached out to the White House, House Speaker Nancy Pelosi's press representatives and the Russian embassy for comment.
After Putin launched the assault on Ukraine, the U.S. and its NATO allies responded quickly with harsh sanctions targeting the Russian economy and Moscow elite. Those sanctions have been ramped up repeatedly over the course of the war, as the U.S. and NATO countries have transferred billions of dollars in weapons and humanitarian aid to support Ukraine in its defense.
However, the Biden administration has resisted establishing red lines when it comes to Ukraine, although the president has been clear that any Russian attack against a NATO ally would result in a response from the U.S. Under NATO's charter, an attack on any of the alliance's 30 members is considered an attack against all. While Ukraine has aspirations to join NATO, with its Constitution requiring the country's leaders to seek to join, it is not a formal member of the alliance.
Biden and Democratic leaders have put forward a $33 billion military aid proposal to support Ukraine further as the war rages on. While there continues to be some debate among lawmakers about what will be included in the package and how it will be passed through Congress, Democratic and Republican leaders have signaled that there is bipartisan support to approve the aid quickly. Thus far, support for the Eastern European nation has been largely bipartisan.
"We look forward to discussing it, we look forward to Congress approving it, because this is everything that we need on the ground," Ukraine's ambassador to the U.S., Oksana Markarova, told ABC News' This Week in a Sunday interview.
Pelosi and a congressional delegation made a surprise visit to Ukraine Sunday, meeting with the country's President Volodymyr Zelensky in a showing of support. The House Speaker highlighted the aid package and praised the Ukrainians for fighting to defend freedom.
"We are visiting you to say thank you for your fight for freedom, that we're on a frontier of freedom and that your fight is a fight for everyone. And so our commitment is to be there for you until the fight is done," she said in a video from Kyiv shared by Zelensky on social media Sunday.