Kinzinger Rips Republicans 'Playing on People's Fear' by Fundraising Off of Vaccine Mandates
Representative Adam Kinzinger (R-IL) criticized fellow Republican lawmakers on Sunday for "playing on people's fear" by issuing fundraising campaigns that rail against COVID-19 vaccine mandates.
Speaking on CBS News' Face the Nation, Kinzinger said that there are some Republican lawmakers who work to "manipulate" the GOP base and "only care about what it means for their votes and their bottom line as politicians."
"There are some, you know, Republican members of Congress putting out fundraising-after-fundraising email about, 'First, it's going to be a vaccine mandate, next thing, the Gestapo is going to show up at your door and take your Bible away,'" the congressman added. "That's not going to happen and that's playing on people's fear."
Kinzinger's comments come after President Joe Biden announced a new federal vaccine mandate on Thursday that will require companies with over 100 employees to require staff to either be vaccinated or take weekly COVID tests.
The mandate could impact almost 80 million workers and will be issued by the Department of Labor's Occupational Safety and Health Administration (OSHA). The Biden administration will also mandate vaccines and eliminate testing options for federal government employees and contractors, including those in the healthcare sector, and call for hefty penalties for individuals who don't comply.
The new requirements mark the most aggressive steps taken by Biden to address COVID-19 and have outraged Republican governors across the nation. Several GOP leaders, including the governors of Georgia, Arizona, South Dakota, Nebraska, Oklahoma and Texas, have suggested they will take legal action to fight the mandates.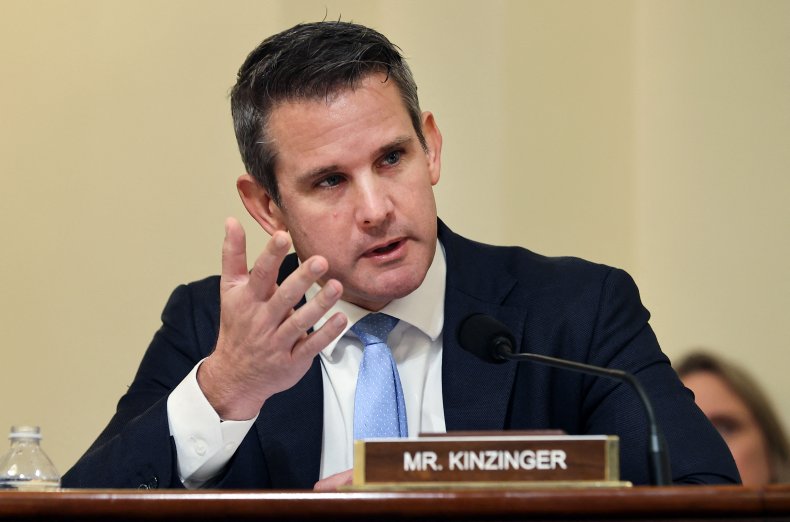 Kinzinger said on Face the Nation that he believes the mandates will "save lives," and added that the politicization of COVID-19 vaccines comes from the "failure" of some Republican leaders.
"The failure here comes in leaders that have basically used vaccine status as some tattoo of what political tribe you belong to," he said.
"I mean we all hear stories of people that are in, you know, very red areas that are embarrassed to say they're vaccinated. That is insane and silly, and that is a problem with leaders, particularly Republican leaders, that don't stand up and give cover to people and say, 'Look, this is not what Republicanism or conservatism should be,'" he added.
Kinzinger has consistently been an outspoken critic of fellow Republican lawmakers – particularly those who support former President Donald Trump – and has subsequently faced backlash within the GOP.
On Thursday, Biden said that around 80 million Americans haven't received a single vaccine dose—despite the fact that vaccines have been free and available to anyone 12 and older since May. The president echoed Kinzinger's statements by blaming the issue on "pandemics politics."
"The path ahead, even with the Delta variant, is not nearly as bad as last winter," Biden said. "But what makes it incredibly more frustrating is we have the tools to combat COVID-19, and a distinct minority of Americans, supported by a distinct minority of elected officials, are keeping us from turning the corner. These pandemics politics that I referred to are making people sick," he said.
Newsweek contacted Kinzinger's office for additional comment, but did not hear back in time for publication.