Republican Adam Kinzinger Says GOP Audits 'About Being Too Scared' to Admit Trump Lost
Representative Adam Kinzinger, an Illinois Republican, took aim at ongoing GOP-backed efforts to audit and investigate the 2020 election results, saying members of his political party are "to scared" to admit former President Donald Trump lost.
Arizona Republicans have conducted a widely mocked and highly controversial audit, and Pennsylvania Republicans have pushed forward with a new review of the November election results. Meanwhile, GOP lawmakers in other states are moving ahead similar efforts driven by Trump's and his allies' discredited claims that the presidential election was "rigged" in favor of President Joe Biden.
During a Friday interview with right-wing news channel Newsmax, GOP Representative Pete Sessions of Texas defended the investigations related to the 2020 election. Kinzinger on Saturday retweeted the interview, which was captioned: "Continuing to investigate the nation's 2020 elections isn't about overturning their results, but to determine what could have caused variances in the results, Rep. Pete Sessions said Friday on Newsmax."
Kinzinger, a staunch Trump critic, rewrote the tweet's caption to align with his perspective.
"Let me take a shot at it... 'it's not about overturning the election, it's about being too scared to tell the truth to the base that Trump lost and is the first incumbent president to lose reelection in 30 years,'" the Illinois Republican remarked.
Newsweek reached out to Sessions' press secretary for further comment, but did not immediately receive a response.
Kinzinger was one of the 10 House Republicans to vote to impeach Trump for inciting hundreds of his supporters to attack the U.S. Capitol on January 6. Ahead of of that riot, Trump told supporters at a nearby rally to "march" to the Capitol and to "fight like hell." The attack was an apparent effort to prevent the formal certification of Biden's election victory.
The Illinois Republican was also appointed by Speaker of the House Nancy Pelosi, a California Democrat, to serve on the House's January 6 select committee, which is investigating the events of that day. Kinzinger was the second Republican nominated by Pelosi after Representative Liz Cheney of Wyoming.
Cheney also voted to impeach Trump, and has repeatedly condemned the former president as well as Republicans who continue to support him. Last week, Representative Bennie Thompson, a Mississippi Democrat who chairs the January 6 select committee, announced that Cheney would be the vice chair—making her the body's second most powerful member.
Kinzinger and Cheney have received substantial criticism from fellow Republicans and GOP leaders due to their opposition to Trump. In a letter addressed to House Minority Leader Kevin McCarthy last week, Representative Andy Biggs, an Arizona Republican who chairs the conservative House Freedom Caucus, called Cheney and Kinzinger "spies for the Democrats."
The Freedom Caucus aims to oust the two anti-Trump GOP lawmakers from the House Republican Conference.
McCarthy has criticized Cheney and Kinzinger, referring to them as "Pelosi Republicans." Although McCarthy initially blamed Trump for the January 6 attack, he quickly reversed course and smoothed things over with the former president. He now regularly defends Trump and has become highly critical of the January 6 investigation.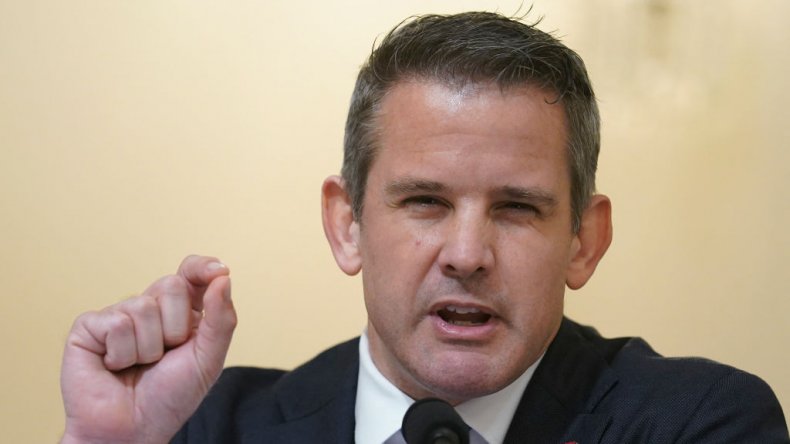 Cheney and Thompson issued a Saturday statement denouncing McCarthy's recent efforts to defend Trump, accusing him of carrying out a "misinformation campaign."
"We will continue to pursue all elements of this investigation in a nonpartisan and thorough manner. We also remind Minority Leader McCarthy of his statements following January 6th, including his statement from the House Floor on January 13th—which are inconsistent with his recent comments," the lawmakers said.
On January 13, McCarthy explicitly blamed Trump for the violence of January 6. "The President bears responsibility for Wednesday's attack on Congress by mob rioters. ... He should have immediately denounced the mob when he saw what was unfolding," the GOP House leader said at the time.