Kinzinger Tells Diamond and Silk 'Quit Playing Victim' in Jan. 6 Tiff
Representative Adam Kinzinger, one of the two GOP members of the House Select Committee investigating January 6, continued to hit back at conservative media figures Diamond and Silk on Saturday amid an ongoing feud.
The tiff between the two parties began on Thursday when Diamond and Silk, real names Ineitha Hardaway and Herneitha Hardaway, posted a Newsmax clip pertaining to security footage from the Capitol building on January 6 to Twitter. In it, they allege that a man that can be seen looking up at something while trying to open a set of doors to let other rioters in. This, the conservative network suggested, suggested that the man was a government agent getting orders on how to open the door, lending credence to the conspiracy that January 6 was somehow an "inside job."
On Saturday, Kinzinger responded to the clip, breaking down what is actually happening in a tweet thread. In fact, the Representative from Illinois explained, the man was having trouble with the mechanism that opens the emergency doors and looked up to another rioter on the second floor of the building, who explained how to do it.
"Think one layer deeper," Kinzinger wrote in the thread's concluding tweet. "And Diamond & Silk lose their grift."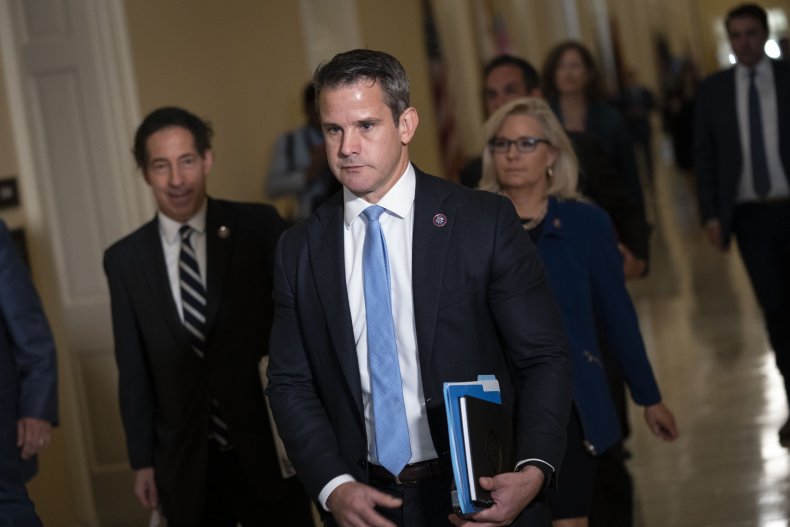 In response less than an hour later, Diamond & Silk accused Kinzinger of "demonizing" for asking questions.
"It's sad that we live in a country where two black women can't ask questions without a white man demonizing them," the pair's tweet read. "Adam Kinzinger you should be ashamed of yourself!"
Around two hours later, Kinzinger hit back at the pair again in another tweet, calling them liars and dismissing their criticism as an attempt at "playing victim."
"Quit playing victim," the congressman tweeted. "When you lie to and abuse your followers I'm going to call you out. Black or white."
Newsweek reached out to Kinzinger's office for comment.
As a prominent GOP critic of former President Donald Trump and one of the only Republicans on the House Select committee, alongside Rep. Liz Cheney of Wyoming, Kinzinger has become a lightning rod for scorn and scrutiny from conservatives. Earlier in July, the lawmaker shared a litany of voicemail messages issuing death threats to him and his family over his opposition to Trump. Some can be heard specifically threatening his wife and newborn son.
"Hey you little c**ksucker," one voicemail said. "Going to protest in front of your house this weekend. We know where your family is and we're going to get you, you little c**ksucker... Gonna get your wife, gonna get your kids."