Adam Kinzinger Warns 2024 Elections Will Be a 'Mess,' Predicts Violence
Representative Adam Kinzinger on Sunday predicted a chaotic election cycle in 2024, as the country becomes increasingly divided when it comes to politics.
Kinzinger, an Illinois Republican, appeared on ABC's This Week when host George Stephanopoulos mentioned the next presidential election in which the congressman said that he was "very worried" about how the 2024 elections will play out.
"One of the things we're focusing on are those [state]-level elections as well, the people that will determine whether they certify an election, what kind of equipment is being used," Kinzinger said. "We focused so much on what goes on in D.C. and Congress and the Senate. But when you have these election judges that are going to people that don't believe, basically, in democracy...2024 is going to be a mess."
The GOP lawmaker referred to the efforts by Republicans loyal to former President Donald Trump to install similar loyalists in state-level offices that would eventually be responsible for certifying future presidential election results, the nonprofit Poynter Institute reported earlier this month.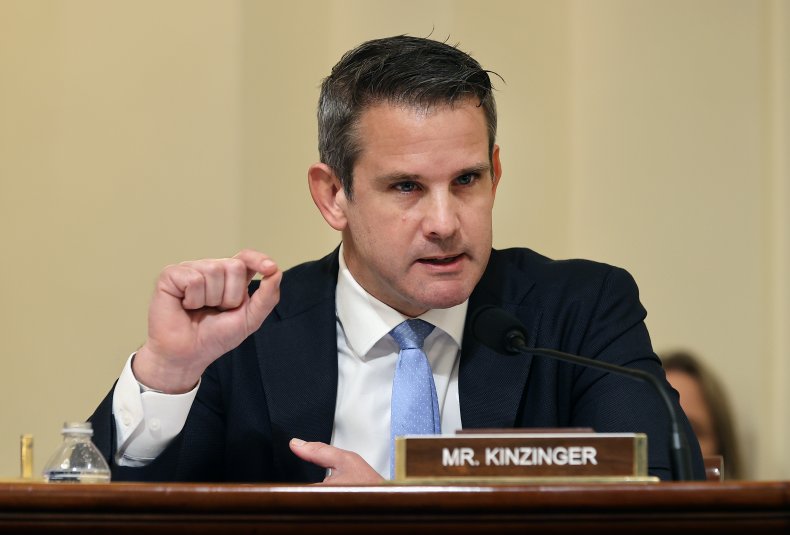 Known as the America First Secretary of State Coalition, the effort includes around a dozen candidates for secretary of state positions across the country, including key battleground states like Nevada, Pennsylvania, Michigan, and Arizona that helped elect President Joe Biden in 2020.
"And wake up, America. Wake up, Republicans," Kinzinger continued. "Because this is not going to be good for you if you think it is."
The congressman, who was first elected in 2010, will not be seeking reelection this year. In a video announcing the move last October, he claimed that he "cannot focus on both a reelection to Congress and a broader fight nationwide."
Trump, meanwhile, celebrated the move, according to CNN, as Kinzinger was, by that time, the second of 10 House Republicans who voted to impeach him after January 6 to decline to seek reelection after Representative Anthony Gonzalez of Ohio. Since then, Representatives John Katko of New York and Fred Upton of Michigan also announced that they would not seek reelection in 2022. Additionally, Representative Tom Rice of South Carolina lost the GOP nomination to Trump-backed primary challenger Russell Fry last week.
Kinzinger is also one of two Republicans serving on the House select committee investigating the Capitol riot, alongside another frequent Trump critic, Liz Cheney of Wyoming. During his This Week appearance, he discussed receiving a death threat over his involvement in the committee.
"This threat that came in, it was mailed to my house. We got it a couple of days ago, and it threatens to execute me, as well as my wife and 5-month-old child," the GOP lawmaker explained. "We've never seen or had anything like that. It was sent from the local area...I don't worry, but now that I have a wife and kids, of course, it's a little different. There's violence in the future, I'm going to tell you. And until we get a grip on telling people the truth, we can't expect any differently."
When reached for comment on the threats, Representative Kinzinger's office directed Newsweek to a Tuesday tweet in which he further addressed them.
Updated 06/21/2022, 6:38 p.m. ET: This story has been updated with comments from Representative Kinzinger's office.