Kinzinger Resurfaces Graham Tweet Warning GOP 'Will Get Destroyed' by Trump
Representative Adam Kinzinger, an Illinois Republican, resurfaced a tweet Saturday from Senator Lindsey Graham, a South Carolina Republican who has generally been viewed as an ally of former President Donald Trump, issuing a dire warning about the then-GOP presidential candidate.
Graham was seen as a key supporter of Trump during his tenure in the White House. However, the former president recently described the GOP senator as a "RINO," an acronym meaning, "Republican in name only." The South Carolina Republican still speaks highly of Trump nonetheless, praising him in a Friday speech at the Faith & Freedom Coalition's Road to Majority Policy Conference in Tennessee.
On Twitter, Kinzinger, one of Trump's harshest conservative critics, retweeted a May 3, 2016 post from Graham. That old tweet came before Trump was officially nominated as the Republican Party's presidential candidate that election year.
"Proof that Lindsey predicted the future 6 years and one month ago. Powerful talent," the GOP lawmaker wrote in his retweet.
The original post from the Republican senator stated: "If we nominate Trump, we will get destroyed.......and we will deserve it."
About two and a half months after Graham tweeted the comment, Trump went on to be formally nominated as the GOP's presidential candidate at the 2016 Republican National Convention. The businessman and former reality television star won 1,441 delegates in the state-by-state primaries and caucuses leading up to the convention. Senator Ted Cruz, a Texas Republican, came in distant second with 551 delegates.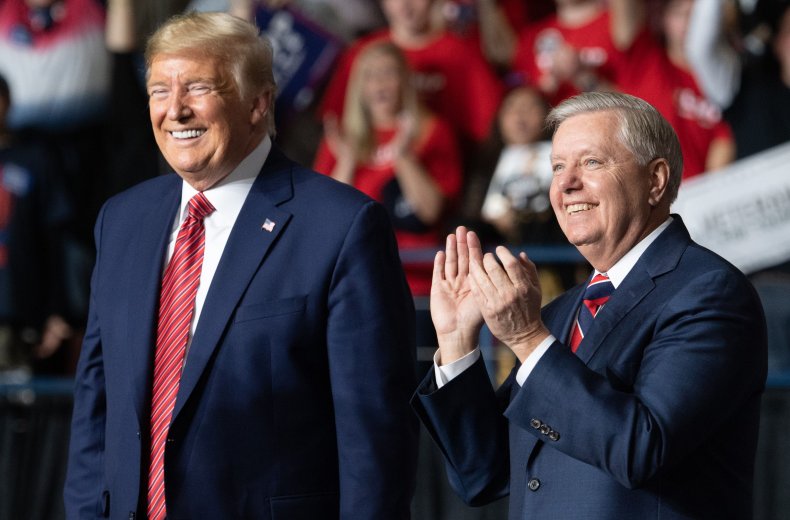 Trump went on to win in the general election against Democratic candidate Hillary Clinton. When he took office, Republicans controlled the House, the Senate, and the White House. By the time he left office four years later, the GOP had lost control of both chambers of Congress and the presidency. However, polling data and political analysts' assessments suggest that Republicans could likely retake control of the House, and possibly the Senate, in the upcoming midterm election in November.
Despite Graham's initial concerns, he put them aside and became close with Trump. In his Friday remarks, the GOP senator spoke favorably of how the former president made everybody scared.
"You know what I liked about Trump? Everybody was afraid of him, including me," Graham told the conservative conference. "But here's one thing I can tell you about him. Don't cross him. Don't you miss that? Don't you miss an America that people respected and were a little bit afraid of?"
Notably, Trump in February criticized Graham. A number of close Trump allies have also taken aim at the Republican lawmaker in recent months.
The former president's recent criticism came after Graham rejected his suggestion that he may pardon January 6, 2021 Capitol rioters if he runs and is elected president again in 2024. Asked about Graham's rejection of the proposal in a Newsmax interview, Trump said: "Well, Lindsey Graham's wrong. I mean, Lindsey's a nice guy, but he's a RINO...."
Kinzinger voted with nine other House Republicans and all House Democrats to impeach Trump for inciting his supporters to attack the Capitol last year. Since then, the Illinois Republican has been a consistent critic of the former president, and serves on the House select committee investigating the January 6 violence. The GOP congressman is not seeking reelection in the upcoming midterm.